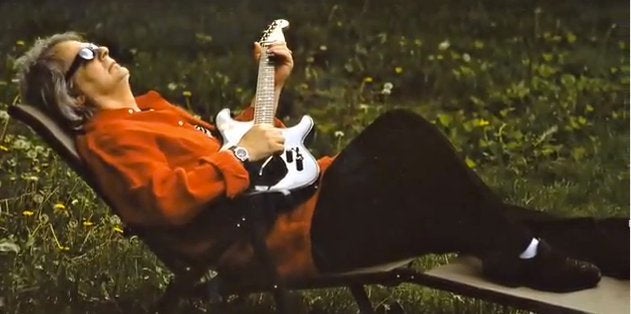 In 1967, Al Kooper's music helped me through the transition from high school to college. Now, his weekly column "New Music for Old People" is an inspiration for passage to the AARP.
Appearing in The Morton Report, each column offers 10 terrific tracks for your listening pleasure -- some old, some new, some obscure even to pop fanatics. While you're soaking up the music, you can read Kooper's entertaining, often fascinating commentary.
Kooper was like a sonic roommate during my freshman year at a small university in a Pennsylvania town with a population under 5,000. My actual roommate was a very nice guy who never said anything. Meaningful contact with attractive females was out of the question for a shy frosh, so I spent my free hours under the headphones happily suffering along with the bluesy sounds of Kooper's adaptation/arrangement of "I Can't Keep From Crying" and other tales of woe from the Blues Project, of which he was a key member.
A few months later, my freshman agonistes were further nourished when Blood, Sweat & Tears -- with Kooper at the helm -- released its now legendary debut album, Child Is Father To The Man. At the end of that year, Al once again provided comfort as I imagined myself the heroic loner of "I Stand Alone," the title track of his first solo album.
By '67, Kooper had already made pop/rock history several times over. At 14, he was a member of the Royal Teens, who had the Top 5 novelty hit "Short Shorts" in 1958. A few years later, he co-wrote the No. 1 hit "This Diamond Ring" for Gary Lewis and the Playboys. (He actually wrote it with the Drifters in mind, but a hit's a hit.)
The next year he serendipitously showed up at a Bob Dylan session, slipped behind the Hammond B-3 organ (at that time, he was a guitarist and didn't know how to play the organ) and, via sheer creativity, played the riff heard round the world on Dylan's "Like A Rolling Stone," one of the greatest singles in pop history.
Kooper played on Dylan's Blonde On Blonde and The Who Sell Out ; recorded Super Session with Mike Bloomfield and Stephen Stills; played several instruments, including the iconic French horn intro, on the Stones' "You Can't Always Get What You Want"; discovered and produced Lynyrd Skynyrd; produced The Tubes; wrote the score and picked the records for Michael Mann's retro TV series Crime Story; wrote the funny, revealing 1998 memoir Backstage Passes & Backstabbing Bastards: Memoirs of a Rock 'n' Roll Survivor; and accumulated a huge body of producing, arranging (his greatest talent), songwriting and solo recordings.
Recent installments of "New Music for Old People" explore field music, doo wop and Beatlemaniacs, which features Beatlesque cuts by Fab Four contemporaries the Knickerbockers ("One Track Mind," not the obvious "Lies"), Adrian Belew (from the '90s) and current L.A. band Great Northern. A personal favorite of Kooper's is the tribute to Jerry Ragovoy, which, he says, "enlightened listeners to the amazing work he did in his lifetime and uncovered some rarer things that fans needed to hear."
Kooper illuminates the old and the new in his own music as well. "Going Going Gone," from his 2005 album Black Coffee is, on its surface, the quintessential curmudgeonly "Nuthin's No Good No More" track: "Things we took for granted that we always counted on/I'd rather play this old guitar than to strap some new one on/I guess I'll play my song this way/Till I'm Going Going Gone." But the track itself couldn't be a better example of something special that is going on.
Kooper, who lives a quiet life in Boston with wife Susan Monosson, a jewelry designer, has lost two-thirds of his eyesight. He has a glass-is-half-full attitude rare among curmudgeons, saying, "It's a blessing, because it wasn't my hands or my ears."
Kooper is working on a documentary and a four-CD boxed set of unreleased material. He's also recording an album, which he says may be his last. Maybe, maybe not. On the one hand, Al did write the fabulously fatalistic song, "My Days Are Numbered." On the other hand, that was 45 years ago.
(Check out the video below for more on Al Kooper's career.)