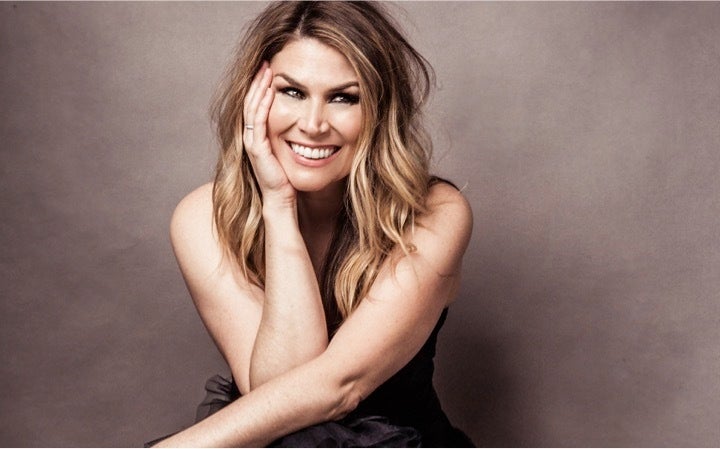 Broadway's Heidi Blickenstaff goes from "Bea" to a role she had a 'psychic vibe' about – but first, she'll head to the cabaret.  It's a freaky Friday – with more, below!
Today, casting was announced for the stage adaptation of Disney's iconic film "Freaky Friday," which will be led by Emma Hunton ("Spring Awakening," "Next to Normal") and Heidi Blickenstaff ("Something Rotten," "The Little Mermaid") as daughter and mother, respectively. It will have a world premiere in October at the Signature Theatre in Arlington, VA.
The film and musical are based on a celebrated novel by Mary Rodgers in which an overworked mother and her teenage daughter – who don't see eye-to-eye – swap bodies. This next, contemporary take on this classic tale, features a score by Tom Kitt and Brian Yorkey ("Next to Normal," "If/Then") book by Bridget Carpenter (TV's "Parenthood") and choreography by Sergio Trujillo ("On Your Feet"). Christopher Ashley ("Memphis") will direct.
The announcement comes just one day before Heidi Blickenstaff ends her year-long hit run as "Bea" in Broadway's "Something Rotten." Prior to "Freaky Friday," however, she will also join the Long Island Musical Theatre Festival in a celebration of the music of Kander & Ebb (more below).
"I'm so excited about it," Blickenstaff told Center On The Aisle's Steve Schonberg about "Freaky Friday," "I'm just so thrilled to be working with all of those talented authors… I'm super excited to be getting back with Disney after my ["The Little Mermaid"] years, and it just seems like the perfect thing to be doing next."
"The material is so fantastic.... When I read it, I laughed out loud many times. That's sort of a rarity," Blickenstaff added. "People will come [to see it] because they know the property, but they will expect it to entertain them like the Jodie Foster movie did (1976), like the book did, like the Lindsay Lohan movie did (2003)."
"They have a preconceived notion of what it should be. You have to, hopefully, entertain them in spite of what they're coming in knowing and thinking."
"I've been such a fan of Tom [Kitt] and Brian [Yorkey's] since 'Next to Normal,' and I was lucky enough to do a production of that in Vermont at the Weston Playhouse," Blickenstaff noted. "It's always my favorite thing to do new stuff. It's always a gamble because you never know what's going to happen with it. I feel very lucky that I'm at a point in my career where I get to do that because that was always my dream. Everyone always asks me what's your dream role, what do you want to play, and really my first choice is to always have the first crack at something, so I'm really excited about this ['Freaky Friday']"
Blickenstaff starts rehearsals for "Freaky Friday" on September 1st (and says she had a dream about being cast in the role – more below) but in between she will join the Long Island Musical Theatre Festival as a guest artist, teaching a master class to the students before joining them for a special musical revue.
The festival is a pre-professional training program that gives students the chance to work with Broadway artists, receive training, and perform in a full-scale production. This year's festival will celebrate the music of theater luminaries Kander & Ebb. It kicks off with the revue, featuring Blickenstaff, on July 22 at Adelphi University Performing Arts Center, followed by a main stage performance of "Cabaret" (July 29 at 8pm, July 30 at 2pm) at Walt Whitman Performing Arts Center.
"I'm very excited to work with the kids on it, because I think [Kander & Ebb] have such staying power, and the fact that I know John Kander as well as I do is a gift in my life that I'm grateful for every day," Blickenstaff told Schonberg. "To kind of pass what I know from him on to the next generation, I'm very excited about that."
Blickenstaff, who joined the starry lineup for "First You Dream: The Music of Kander & Ebb" that aired on PBS, says that the songwriter duo created [her] "favorite music to sing."
"What is so special about their music is that it can be given to a beginner, and it can be given to the most advanced student, too," she remarked. "You sing a song like Cabaret, for instance, and in a beginner's hands, it is still incredibly entertaining. Even if you're just getting the first layer of 'come to the cabaret,' it can be very, very entertaining, but you put that in the hands of a master, and it can mean seventeen different things at once… Their music is simple and complex at the same time," she added. "So it's also one of my favorite things to coach because you really can be at any level and get so much out of their music."
"As a singer and actor who has done a lot of their stuff, every time I sing 'Sing Happy,' for instance, it is a wild discovery of things that I thought I worked out in therapy," she added with a laugh, "but I still have a little bit more to unravel. Their music is very mysterious, both melodically and lyrically."
These are just a few of the insights that Blickenstaff will bring to the students at the festival to aid them in their approach to the show "Cabaret" and the songs in the revue, as well as their long-term development as performers.
"It's one of my very favorite things to do, is to get in there with young people and just be a part of their blossoming process," Blickenstaff shared. "Then to be able to perform with them is really super fun, too, and I get to sing some of my favorite Kander & Ebb songs and set them [the students] free in whatever is next for them. I'm going to be really excited to join them that evening."
"I wrote to Tom [Kitt] because I had a dream that I was a part of it," Blickenstaff says about playing the mother in "Freaky Friday," a production which she had known about while it was in development–but the role had already been cast. "I was like, 'listen, I feel like I would be remiss if I didn't say I have a psychic vibe about this, and I hope you move forward with this actress – who shall not be named – and that you win all the Tony's and it's a huge success for you guys. If for some crazy reason though she can't do it, let me come in and sing for you," Blickenstaff remarked.
"Then lo and behold that actress got a television show, and they called me and said, 'want to do it?' and I was like, 'I knew it! This was written in the stars.' There was something about this, it was always supposed to be. I really do feel like this was pre-ordained.'
Steve Schonberg is the editor-in-chief of www.centerontheaisle.com and is seen regularly on NBC's "Weekend Today in New York."
This post was published on the now-closed HuffPost Contributor platform. Contributors control their own work and posted freely to our site. If you need to flag this entry as abusive,
send us an email
.