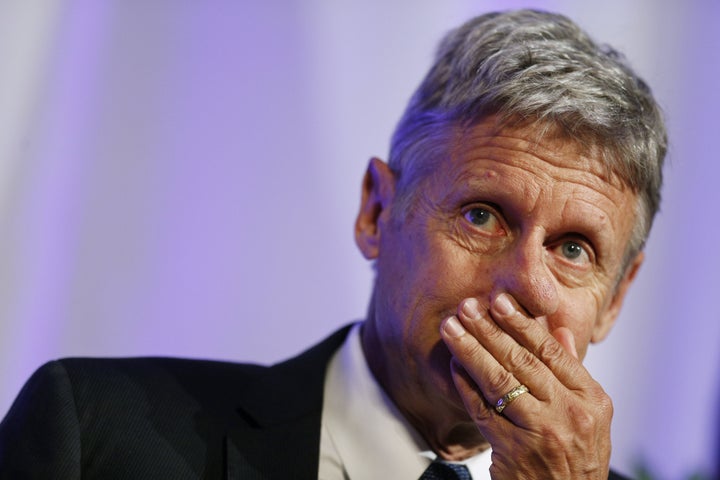 Libertarian presidential nominee Gary Johnson on Wednesday again stumbled over a straightforward question on foreign policy, this time struggling to name a single foreign leader he admires.
During an MSNBC town hall, moderator Chris Matthews asked the former New Mexico governor: "Name one foreign leader that you respect and look up to. Anybody." 
Johnson appeared stumped by the question, but running mate Bill Weld jumped in with an answer of his own.
"Mine was Shimon Peres," said Weld. Peres, the former president of Israel, died Tuesday.
"I'm talking about living," replied Matthews. "You gotta do this. Anywhere. Any continent. Canada, Mexico, Europe, over there, Asia, South America, Africa, name a foreign leader that you respect."
"I guess I'm having an Aleppo moment," Johnson said, a reference to his failure to recognize the name of the northern Syrian city earlier this month.
Johnson finally did land on a leader he admires ― but couldn't remember his name.
"The former president of Mexico," he said. "I'm having a brain freeze." 
With a little help from Weld, Johnson eventually got the name he was looking for ― Vicente Fox. 
"Fox, he was terrific," Johnson said. 
After his Aleppo mishap, Johnson predicted he would flub up again before the campaign ends, but argued such mistakes don't reflect his leadership abilities. 
"I blanked. It happens, and it will happen again during the course of this campaign," he said in a statement. "As Governor, there were many things I didn't know off the top of my head. But I succeeded by surrounding myself with the right people, getting to the bottom of important issues, and making principled decisions. It worked."
UPDATE, Sep. 29: Johnson is apparently still mulling over the question:
BEFORE YOU GO
PHOTO GALLERY
Election 2016