Gavin Grimm, a transgender teen in Virginia, just wanted to use the restroom at his school like any other student.
Instead, he'll be fighting for that right later this month, when his case against the Gloucester County School Board in Virginia is set to go in front of the Supreme Court. And 53 major U.S. companies ― which together constitute $613 billion in revenue and 1.3 million employees ― will have his back, according to an amicus brief filed Thursday. 
The brief, which was filed by large companies including Amazon, Apple, IBM, Intel and Microsoft, argues that diversity and inclusion in the workplace is both a practical matter and the right thing to do.
Notably, all [the companies] have nondiscrimination policies or practices that permit transgender individuals to use the company facilities consistent with their gender identity—policies that amici adopted out of respect for the dignity, autonomy, and privacy of their transgender employees and/or customers and also because [they] know that diversity and inclusion are good for business.

None of these policies has resulted in an increase in sexual assaults or incidents of the kind invoked by the Board and supporters of the Policy. To the contrary, [the companies] find that their policies contribute to a work environment that promotes collaboration, creativity and productivity.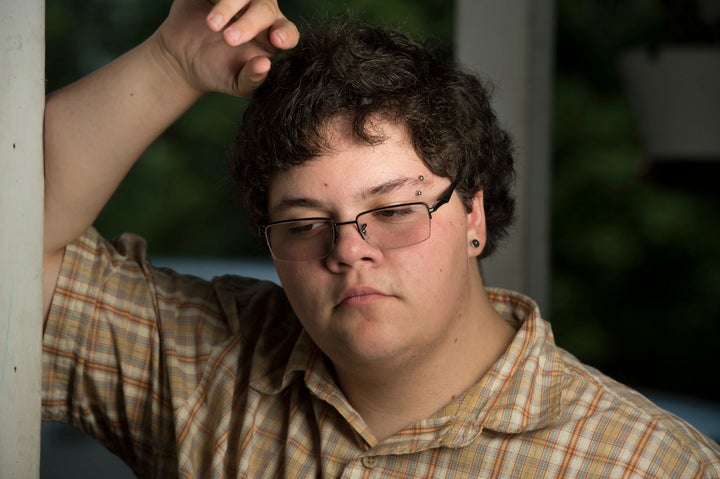 Grimm used the boys restroom for seven weeks, with the support of school administrators. But several parents of other students ― and a number of Gloucester County residents who didn't have school-aged kids ― complained about him to the school board. 
The school said Grimm had to use a single-stall restroom in the nurse's office ― a solution the teen called "humiliating." 
"It's humiliating, it's ostracizing and I don't want to take that walk of shame to the unisex bathroom and know that everyone who saw me go in there knows why I'm in there — because I'm different, and I've been marked different by my school and publicly," Grimm told The Associated Press in 2015. "I'm not comfortable with it whatsoever. I'm not an 'other' and I'm not unisex, I'm a boy." 
The board "enacted a policy that overruled the decision of school administrators and categorically barred transgender students from using restrooms that correspond with their gender identity," according to a lawsuit the American Civil Liberties Union filed against the board on behalf of Grimm in 2015. 
The suit argues that the policy violates Title IX of the U.S. Education Amendments of 1972, which prohibits sex discrimination by schools. 
I'm not an 'other' and I'm not unisex, I'm a boy.

Gavin Grimm
"These companies are sending a powerful message to transgender children and their families that America's leading businesses have their backs," Grimm said.
"Across the country, corporate leaders are speaking out because they know attacking transgender youth isn't just shameful ― it also puts the families of their employees and customers at risk," he added. "Transgender students like Gavin are entitled to the full protection of the law, and must be affirmed, respected and protected in the classroom and beyond."
Here's the full list of the 53 companies included in the brief filed Thursday:
Affirm, Inc., Airbnb, Inc., Amazon.com, Inc., Apple, Asana, Inc., Box, Inc., Codecademy, Credo Mobile, Inc., Dropbox, Inc., eBay Inc., Etsy, Fastly, Inc., Flipboard, Inc., Gap Inc., General Assembly, GitHub, Inc., IBM, Intel Corporation, Kickstarter, PBC, Knotel, Inc., LinkedIn, Lyft, M Booth, MAC Cosmetics Inc., Mapbox, Inc., Marin Software Incorporated, Massachusetts Mutual Life Insurance, Microsoft Corporation, Mitchell Gold + Bob Williams, MongoDB Inc., NetApp, Inc., Next Fifteen Communications Corporation, Nextdoor, Pandora Media, Inc., PayPal Holdings, Inc., Postmates Inc., Replacements, Ltd., RetailMeNot, Inc., Salesforce, Shutterstock, Inc., Slack Technologies, Inc., Spotify, The OutCast Agency, The WhiteWave Foods Company, Tumblr, Inc., Twilio Inc., Twitter Inc., Udacity, Inc., Warby Parker, Williams-Sonoma, Inc., Yahoo! Inc., Yelp Inc., Zendesk, Inc.
BEFORE YOU GO
PHOTO GALLERY
48 Transgender Pioneers