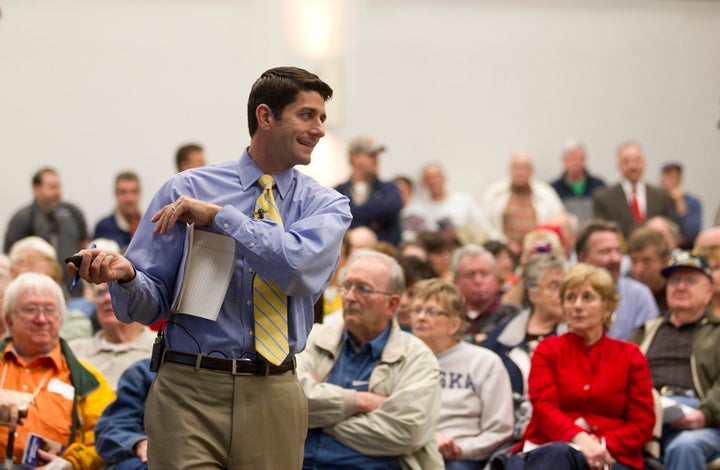 The latest tracking poll by the Kaiser Family Foundation finds strong opposition to the notion of Medicare cuts or premium increases. But the survey released today also finds public opinion on the recent Republican proposal to reshape Medicare largely unformed, malleable and open to persuasion.
The new poll confirms many of the recent findings of other recent national surveys. A majority of Americans (57 percent) want "no reductions" in federal spending on Medicare, while only 10 percent support "major reductions" and 32 percent favor "minor reductions." Kaiser also finds 84 percent opposed, and 59 percent strongly opposed, to "requiring all seniors to pay higher Medicare premiums."
Yet it also finds Americans unfamiliar with the specifics of the plan advanced by House Budget Committee Chairman Paul Ryan. The Wisconsin Republican's budget proposal would transform the Medicare program into a system that would provide seniors with "vouchers," direct payments for private health plans (also referred to by Ryan as "premium support"), rather than direct payment for their medical bills. The new Kaiser survey finds that large majorities of Americans don't know what to make of either label:
Only 30 percent say they are familiar with the term "voucher" in connection with Medicare, while 36 percent say they have heard the term but are not sure what it means and 32 percent have never heard the term at all.
Only 12 percent say they are familiar with the term "premium support," while 28 percent say they have heard of the term but are unsure of its meaning and 58 percent say they have never heard it.
These findings are consistent with the most recent NBC/Wall Street Journal poll. It briefly described the Ryan Medicare plan, but found that 57 percent of Americans say they do not "know enough about this to have an opinion at this time" when offered that option.
In the Kaiser study released today, pollsters also ask a question that attempts to describe the premium support proposals "in as much detail as is allowed by a telephone survey." They pose two alternative statements and ask their respondents to say which "comes closer to your view of what Medicare should look like in the future:"

OPTION A: Medicare should continue as it is today, with the government providing health insurance and guaranteeing the same set of benefits to everyone enrolled in the program.

OPTION B: Medicare should be changed to a system in which people choose their insurance from a list of private health plans that may offer different benefits at different premium amounts, and the government pays a fixed amount, (sometimes called a voucher,) towards that cost.

Exactly half of all Americans (50 percent) choose the first option of leaving Medicare as it is now, while fewer (46 percent overall) opt to change Medicare as described. Although an embedded experiment appears to show a slight drop in support for the Ryan proposal when the private health plan payments are described as "vouchers," from 49 percent to 43 percent, the Kaiser analysts report that the difference is not statistically significant.
Subsequent questions do find, however, that arguments advanced by those on both sides of the debate can produce huge shifts in opinion. As the Kaiser graphic below shows, the presentation of one-sided counter-arguments can cut support for the Ryan proposal to as low as 24 percent of all adults or raise it to as high as 54 percent. In these loaded-language situations, preference to keep Medicare as it is varies from a low of 39 percent to a high of 68 percent.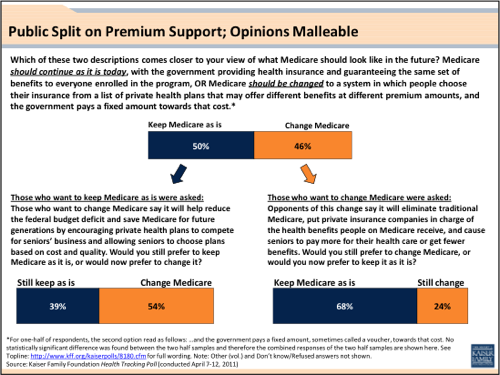 In a separate report, the Kaiser analysts compare their results to a similar range of variation produced by analogous questions on four recent national media surveys, and review potential explanations for the gap.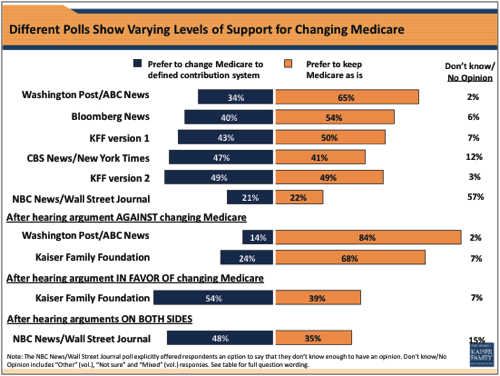 They reach two conclusions:
First, the analysts warn against placing "too much emphasis on the results of a single poll question, particularly when it comes to complex policy debates, the details of which are still largely unfamiliar to the public."
Second, Kaiser's pollsters emphasize again that "arguments on both sides of the debate can have a big impact on public opinion .... whichever side does a better job getting its arguments across to the public may ultimately gain the upper hand."