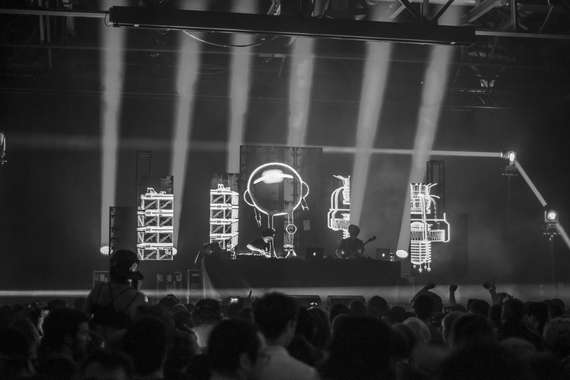 Last Friday night was my first experience at The Fillmore Philadelphia, and it was certainly an intense one. After getting out of work a little bit late, I had to drive straight from New York to reach the venue in time to catch Gramatik's set. A producer dabbling in the genres of funk, hip-hop, and dubstep, Gramatik's live performance is a plethora of extremes woven together to create a heart-pounding whirlpool of headbanging and unrelenting bass.
Once I'd arrived I took my usual lap around the venue to scope out areas from which to shoot, but the place was packed like a sardine can, and I could barely make my way through the crowd. From the onset I could tell that The Fillmore was a special venue; a wonderfully spacious room that combined street aesthetics with a touch of class. On either side of the venue's main floor were neon painted graffiti pieces, while the ceiling was adorned with chandeliers. I scoped out the room, and then proceeded to the front to meet the security guards and get the low down on my access.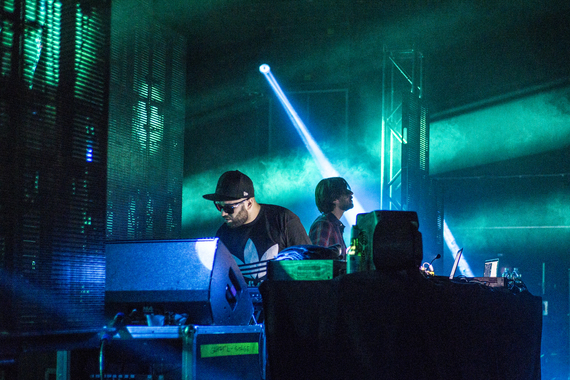 I'd been given two different credentials when I collected my things from will call, one was a red wristband with "photo" scrawled across it while the other was your standard photo badge with the date and a confirmation inscribed. As I approached the security guard, Jai Wolf was on stage keeping things groovin' and trappy. It was here that I learned that second credential, the standard badge had a small little "AA" written on it. "That's all-access man, you can go wherever," the security guard informed me (much to my surprise). The red wristband gave me pit access for the first three songs only, standard procedure. I had poked at the idea of getting to shoot from the stage when I inquired about my pass, but never got a definitive answer. This was some excellent news. I made my way backstage to check out my view from the side-stage area.
After casing the joint a couple times, it was about time for Gramatik to take the stage. As I only had three songs from the pit, this was my time to go and get in position. What transpired over the course of the night was quite the blur of bone-rattling bass and just the right amount of jazzy hip-hop vibes.
Accompanied onstage by Andrew Block providing live guitar throughout the show, Gramatik brought an assortment of artists out to perform with him, adding a level of depth that I'd previously not witnessed at an electronic event. Starting off the night was Gramatik sharing the stage with Adrian Lau, a rapper who stole the show for the first couple of songs, performing Satoshi Nakamoto (an unreleased track off of Gramatik's upcoming album). By the time he was finished, our time within the pit had concluded and it was time for me to see what I could capture from onstage. Included in the group of instrumentalists brought out to play was Brasstracks' trumpeter Ivan Jackson, who slayed it on a wonderfully jazzy piece called "Expect Us" off of Gramatik's album The Edge of Reason. Jackson skillfully belted through his horn with some growling brass while Gramatik's hip-hop grooves kept the crowd moving their feet.
I had gotten my shots, and I decided that it was time to join the frenzy in the crowd. I met up with a couple of friends who had attended the show, and that's when things started to reach extremes, in a good way.
It's rare for a photographer to be happy with only having access to the photo pit for the first three songs (despite it being the standard), but in this case, being a part of the crowd was a welcomed change of pace. It was pure insanity. Not only was the entire venue packed with a sold-out crowd, but everyone's attention was on the happenings onstage. Gramatik created a whirlwind of genres that spanned hip-hop, funk, jazz, trap, dubstep, and everything inbetween. It was an amazing set sprinkled with something that everyone could enjoy. The overwhelming consensus from the crowd however, was that the heavy and exciting tracks off of Gramatik's upcoming album stole the show.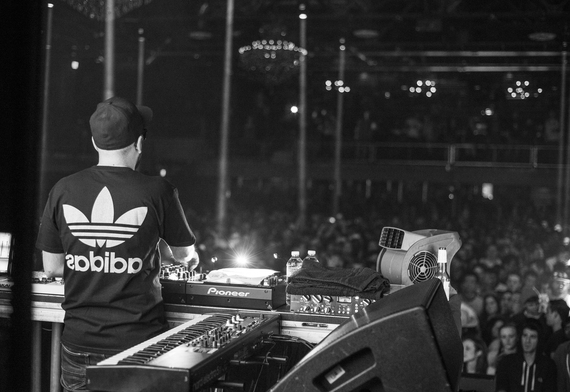 Just three days before the show, Gramatik announced on his Facebook page that every song of his upcoming album Epigram would be played at all shows on his tour. From the way the crowd reacted in Philadelphia, and the enthusiasm that has been circulating around his shows, I don't think that anyone is going to be disappointed when Epigram drops.
Gramatik is set to play a number of festivals this summer, among them are Lollapalooza Brazil, Summer Camp Festival, and Mysteryland. Included at Summer Camp will be a rare collaboration with GRiZ and Big Gigantic that goes by the name Big Grizmatik.