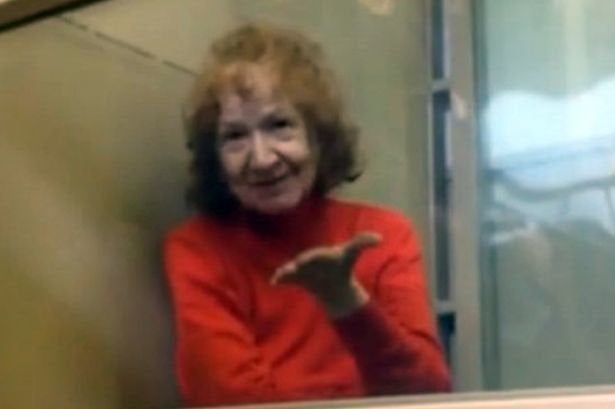 A 68-year-old Russian woman accused of beheading multiple people may have also eaten parts of her victims, investigators fear.
Tamara Samsonova, dubbed the "Granny Ripper" by British tabloid The Sun, was arrested July 26 after she was spotted on surveillance cameras allegedly carrying bags full of the dismembered parts of her latest victim.
After Samsonova's arrest, investigators said they uncovered horrifying evidence that suggests the suspect had been murdering and ripping apart her victims for 20 years.
She reportedly admitted to killing Ulanova -- for whom she was a caregiver -- after an argument over dirty dishes. She allegedly gave her victim sleeping pills and then used a hacksaw to dismember her while she was still alive.
WATCH THE SURVEILLANCE FOOTAGE:

Detectives also believe that she ate her victims' internal organs after sawing off their head, arms and legs. Some of the victims eyed in the case were missing their lungs, pointing to cannibalism, The Sun reports.
Investigators found a diary that reportedly contains confessions of multiple murders. One diary entry reads, "I killed my tenant Volodya, cut him to pieces in the bathroom with a knife, put the pieces of his body in plastic bags and threw them away in the different parts of Frunzensky district."
They also reportedly found a knife and blood in her bathroom, as well as the business card of a man whose body parts were discovered 12 years ago in the same area Ulanova was found.
In jail, she blew a kiss to reporters, saying, ""I knew you would come... It's such a disgrace for me, all the city will know." She also allegedly admitted to her crimes in court, admitting, "I am guilty and I deserve a punishment." 
Police are trying to link her to nearly a dozen unsolved murders, the Daily Mail reports. She's also suspected of killing her husband, who she reported missing in 2005.
She remains in custody in Russia and she's undergoing psychiatric evaluations to determine whether she's fit to stand trial.