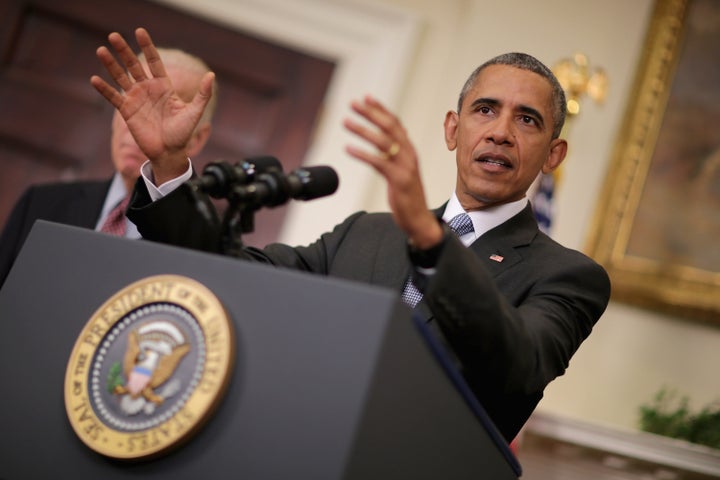 Americans are about evenly split on whether Guantanamo Bay prisoners could safely be held in the U.S., a new HuffPost/YouGov poll finds.
A plan released last week by the Pentagon calls for some of the remaining prisoners to be housed in a prison somewhere in the U.S as part of the Obama administration's move to close the prison. Thirty-nine percent of Americans polled say prisoners could safely be held at a U.S. prison facility, while 40 percent say they couldn't be, and another 22 percent aren't sure.
The proposal has garnered significant pushback from Republican legislators, with Sen. Pat Roberts (R-Kan.) pledging to use "any legislative tools at his disposal to prevent this transfer," according to a spokesperson.
Public opinion, like the debate in Washington, divides along partisan lines, with 54 percent of Democrats, compared to just a quarter of Republicans, believing the U.S. has the capacity to bring some of the detainees stateside.

Closing Guantanamo at all remains an unpopular position, with just 26 percent of Americans saying it should be shut down. Republicans say, by a 73-point margin, that the prison should continue to operate. Democrats are about evenly split, with 40 percent saying it should stay open and 42 percent that it should be closed.
Despite the release of the new plan, and the Obama administration's insistence that they'll take Guantanamo "off the plate of the next president," few people believe that the prison will close anytime soon. Just 16 percent believe it will be shuttered before Obama leaves office, almost unchanged from the 14 percent who said the same in July. Those who want to see it closed are only slightly less dubious, with 26 percent now believing Obama will fulfill his campaign promise to shut down the prison.
The HuffPost/YouGov poll consisted of 1,000 completed interviews conducted Feb. 23-25 among U.S. adults, using a sample selected from YouGov's opt-in online panel to match the demographics and other characteristics of the adult U.S. population.
The Huffington Post has teamed up with YouGov to conduct daily opinion polls. You can learn more about this project and take part in YouGov's nationally representative opinion polling. Data from all HuffPost/YouGov polls can be found here. More details on the polls' methodology are available here.
Most surveys report a margin of error that represents some, but not all, potential survey errors. YouGov's reports include a model-based margin of error, which rests on a specific set of statistical assumptions about the selected sample, rather than the standard methodology for random probability sampling. If these assumptions are wrong, the model-based margin of error may also be inaccurate. Click here for a more detailed explanation of the model-based margin of error.
BEFORE YOU GO
PHOTO GALLERY
Inside Guantanamo's Prison Facility