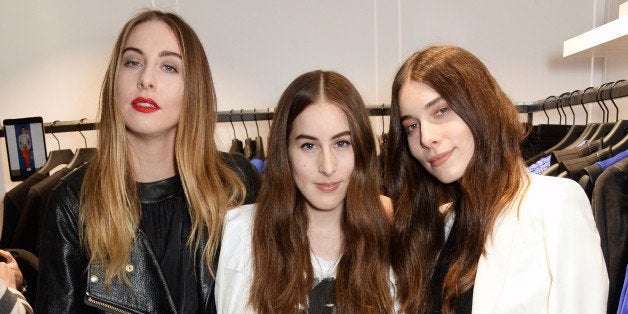 Haim might be a band comprised of almost entirely of girls, but they aren't a girl band. In an interview with The Telegraph, Alana Haim cited the term girl band as a "medieval" description.
"Growing up, there were a lot of girl artists like the Spice Girls, Aaliyah and Destiny's Child," she said. "But none of them really played instruments and I would always look up to Stevie Nicks and Blondie -- they are dope female musicians. So I just see us as a band. When people call us a girl band, I take it as an insult -- being a girl in a band shouldn't be a thing. It seems so medieval."
The band also explained why it is that none of them became drummers, leaving that duty on stage to the "hidden" member of the band, Dash Hutton, even though all three are more than capable behind the kit. According to Danielle Haim, it was their father's wish -- once a drummer in the Israeli army -- that his daughter's stay away from the skins.
"Dad was adamant that he didn't want us to become drummers because he didn't want us to lug all our s--t everywhere," she said.
BEFORE YOU GO
PHOTO GALLERY
Celebrity News & Photos