Tony Perry's excellent article in the Los Angeles Times on the Galapagos tortoise digs at the San Diego Zoo, "San Diego Zoo tortoises get an enclosure more fitting of their stature" made me realize that on my next zoo visit, I must stop and ponder the tortoises.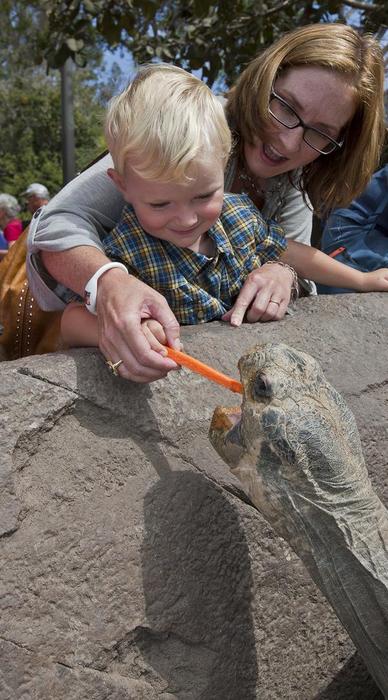 Ann Mears and her 2-year old son, Benjamin, of San Diego offer a Galapagos Tortoise a carrot
(Photographer: Ken Bohn; photo courtesy of the San Diego Zoo)
I usually head straight over to admire the Zoo's top celebrities such as the polar bears (the Polar Bear Plunge is awesome), the lions, the elephants (Elephant Odyssey) and others. Perry made me realize that slow paced herbivores like the tortoises deserve my admiration too. I even learned that Gramma (No. 4) tortoise still gets busy with the males, and she's more than 120 years old. Augustus (No. 7) is one of the lustier males. Apparently, a male tortoise requires little more than the right setting to be in the mood. Maybe humans would need viagra less if we stopped to ponder a tortoise or two. You can learn more about the Galapagos Tortoises at the San Diego Zoo's website and tortoise blog.