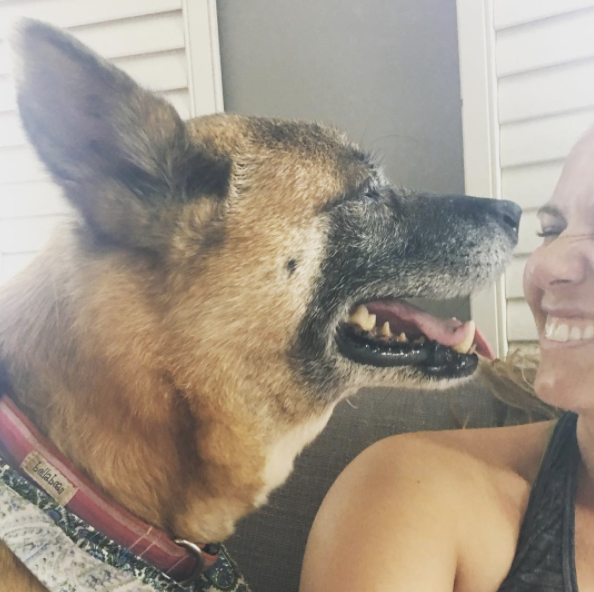 It's been a few months since Sasha passed away and it's still so painful. When she passed, there was no rainbow bridge or fluffy euphemism to make the reality any more pleasant. It was devastating and heartbreaking and ugly, but it was also worth it. Because adopting Sasha changed everything.
She made me more forgiving.
I remember writing a blog post a few years ago, chastising someone for giving up their dog. "No matter what," I touted, "You need to make it work."
And while this sentiment still permeates my core, I catch myself and think, "What if Sasha's owners tried to make it work?"
Sasha and her two puppies were surrendered to Fulton County Animal Services after years of outdoor life. She was tied to a tree, had many litters and was suffering from heart disease due to heartworms. Her owners made a lot of bad decisions about her care, but they got one decision right: they surrendered her to the shelter.
The decision to surrender an animal comes with guilt, a small fine and an understanding that your animal may be euthanized. I have to assume this wasn't a heartless decision, that her owners knew what was best for her. And, ultimately, it was. Sasha would have died in isolation tied to a tree if they hadn't brought her in.
I spent months hating them. But now I'm just thankful.
She made me more present.
When you adopt a dying dog, there's nothing but the present to hold on to. Sasha was dying right in front of our eyes, but you'd never know it by her demeanor. Despite her past, Sasha wasn't afraid to try new things like cuddling or bacon. She loved going on car rides and licking you square in the face. And while she was terrified of most people, she loved my husband and me. It took a lot of forgiveness, bravery and awareness for Sasha to trust humans again.
Vet visits were hard, because they always brought bad news. I started to realize, though, that they were only hard for me. Sasha didn't care what was going to happen tomorrow, she was just so excited to be sitting in my front seat today.
So I held onto my mantra, "If you're smiling, I'm smiling, girl."
She made me more passionate.
I'm the typical animal rescuer meme, begging my husband to let me bring home "just one more" dog. Sasha was a desperate phone call to my husband while he was on a business trip, begging him to let us adopt just one more. I'm not entirely sure he ever said yes, but we both knew she was coming home with us.
Sasha was dying and terrified and unsocialized. But she deserved a chance. And in just a few short months, this terrified dog blossomed into a loving family pet. She spent six months in a warm cozy bed, surrounded by a family that loved her before she passed away on her favorite couch in her favorite part of the house.
If Sasha deserved this chance - don't they all?
This post was published on the now-closed HuffPost Contributor platform. Contributors control their own work and posted freely to our site. If you need to flag this entry as abusive,
send us an email
.