Many people consider it a historical date: September 25th 2015 saw an agreement of 195 member countries of the United Nations to adopt what is known as 17 "Sustainable Development Goals (SDGs)", a joint commitment to end poverty, ensure prosperity for all and protect the integrity of the planet. It has become clear since then that implementing the new global " Agenda 2030" will require collaboration at scale between governments, corporations and civil society.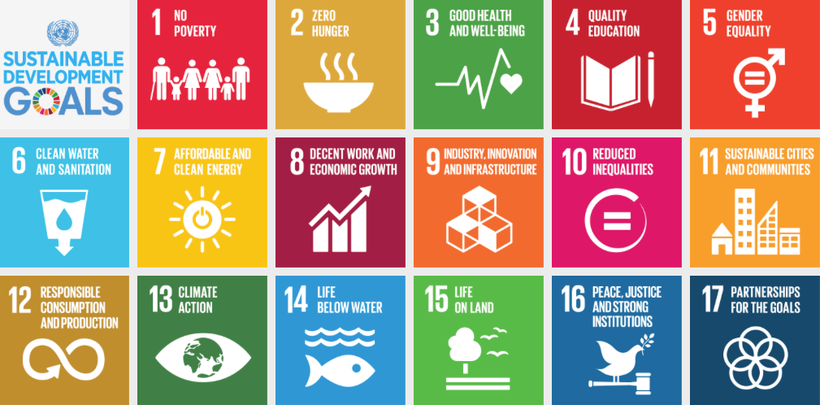 Can corporations embark on their own strategy to implement the Global Goals?
Despite a rather slow uptake by businesses to take the SDGs as a global framework that can mobilize companies to invest in sustainable development, some companies have taken the lead. A Harvard Business review blog complains that companies are still observers rather than drivers in this arena.
But the year 2017 has seen more and more companies deciding to integrate the 17 SDGs into their business strategy. For example, in an OECD workshop on measuring business impact on people's well-being Emmanuel Faber, the CEO of Danone, announced that his company commits to making SDG implementation part of their corporate strategy.
What is required to drive SDG implementation into the mainstream of corporate strategy?
It is clear that innovative forms of leadership and management will be required for companies to make headway toward SDG implementation. Integrating the goals into their strategic plans and operational activities requires not only a strong sustainability department, but the emotional and practical commitment of all line managers. Yet, making the SDGs inform both strategy and operations challenges the norm. Courageous approaches are needed that go far beyond the ordinary. The new strategy needs to unleash a dynamic at all management levels to innovate and deliver around sustainability. A new leadership paradigm is called for – one that combines skills to manage complex change in volatile environments with a a new mighty WHY – the Sustainable Development Goals.
6 design principles for embedding SDG implementation as a new leadership paradigm?
Those who run leadership development programs in large corporations know that most business managers increasingly recognize that addressing global sustainability issues resonates with their aspirations to not only 'do business', but contribute to societal well-being. It responds to a quest for meaning that most managers, at some point in their career, embark on. Additionally, they have also learned that the sustainability engagement of their company delivers benefits not only to society and planet, but can also make the company grow. The "triple bottom line" made its way into risk management and investment decisions. But very few companies started to create impact for mindset change and leverage leadership development for toward SDG implementation - from young professionals to top management. Despite an increasing uptake of the sustainability topic in business schools and universities the HR departments of most companies keep distance from integrating the What for, the How, the Where to and Why of leadership. Sustainability departments and HR departments seldom create a fruitful alliance. Here are 6 design principles for leadership development strategies that could make such an alliance work.
Design principle #1: FUTURE POSSIBILITIES
Make the sustainability department top collaboration partner for leadership development. Integrate knowledge building on global trends into leadership programs. Make managers work on future scenarios that go beyond the ordinary business modeling. Focus on developments that will be affecting the business in short, medium or long-term. Inevitably they will come across sustainability issues – whether in investment, risk management, or logistics. Back this up with analyses of the relationship between business priorities, business risks and the 17 SDGs. Bring in inspirations – from study trips to cross departmental story telling on sustainability to benchmarking competitors.
Design principle #2: HUMANITY
Managers and leaders are people. Most of them are mothers or fathers, friends or acquaintances of people who passionately engage with sustainability – and ask them difficult questions. Bring this to the forefront and into reflection. Combine personal development with the quest for meaning. Make positive impact a topic one can talk about openly with fellow-leaders, and acknowledge that inner maturation is vital for career and company. Translate insights and experiences from corporate volunteering into strategies for SDG implementation.
Design principle #3: INNOVATION
Create alliances with departments that foster innovations. Let them tell their stories how they went from the ordinary to the brave – and how they overcame obstacles. Encourage managers to think 'out-of-the-box' by asking them to relate their day-to-day challenges to the SDGs. Take leaders into practice examples and exposure that show how innovative solutions take the company (or the competitor) forward towards efficient problem-solving techniques. Connect leadership development with sustainability awards.
Design principle #4: ENGAGEMENT
Create networks of leaders who become ambassadors for relating the company strategy and operations to the SDGs. Make them think company-wide, beyond the company and for the world. Teach managers the art of inspirational engaging and support them to grow from committed manager networks to communities for change. Create conversational spaces between top managers, middle managers and young professionals. Get the message out that the power may be in the hands of the top management, but the future is in the hands of the young high potentials. Embark on mentoring programs that not only bring women leaders center stage, but include sustainability experiences. Acknowledge social engagement.
Design principle #5: COLLECTIVE INTELLIGENCE
Teach leaders and managers the art of dialogue and equip them with practical skills how to collaborate with internal and external stakeholders. Take challenges related to SDG implementation and let managers identify how to best cooperate to solve them. Bring those departments on board that can tell stories about stakeholder management, the company's engagement in multi-stakeholder dialogues and global or local collaboration initiatives. Task managers to design internal or external stakeholder collaborations that can benefit society and the company. Integrate a collaborative practice projects into the program.
Design principle #6: WHOLENESS
Expose leaders and managers to global sustainability scenarios. Use the 17 SDGs to contextualize the company's local, national or global impact and let them work on strategies that may improve their company's contribution to global sustainability. Over the duration of a program, create an understanding of the connectedness between individual vitality, employees' wellbeing, company vitality and global or even planetary vitality.
If companies want to retain executives who desire meaning and recruit the millennium employees who demand meaning and bigger goals, they need to look into shifting their leadership paradigm toward career development that integrates 'flatland' delivered performance around facts and figures - and 'wonderland' - the inner well-being and contribution to a global goal. The future of human resource development will be tested against its contribution to more sustainable action in the world. The SDGs are a brilliant opportunity and the 6 strategies a great way to start.
We would love to hear your comments and learn from them.
Follow Petra Kuenkel on Twitter: www.twitter.com/PetraKuenkel
This post was published on the now-closed HuffPost Contributor platform. Contributors control their own work and posted freely to our site. If you need to flag this entry as abusive,
send us an email
.