Veterans groups haven't received any of that money Donald Trump said he raised for them, though Trump said he got a deferment because of some problem with his foot. John Kasich and Jeb Bush are having a huge fight over Medicaid, and it's just kinda sad because what they're basically fighting over is which one will get called a pussy by The Donald. And Rick Snyder announced he'll testify about the Flint water crisis on Capitol Hill, where Republicans can ask whether the EPA's incompetence or its tyranny is more to blame. This is HUFFPOST HILL for Friday, February 12th, 2016:
WATCH CORPORATE AMERICA TURN A ROOMFUL OF WORKERS INTO SANDERS AND TRUMP SUPPORTERS - Zach Carter and Ryan Grim: "The past few years have been very good for United Technologies. The contractor does billions of dollars a year in business with the federal government. CEO Gregory Hayes pulled down nearly $10 million in 2014, and over $20 million the year before. On Thursday, the company reported $7.6 billion in profits, up from $6.2 billion the year before, and $5.7 billion the year before that. In October, United Technologies even expanded its stock buyback program to $12 billion…. On Wednesday, Carrier, the air conditioner manufacturing wing of United Technologies, told workers at its Indianapolis plant that it would be outsourcing their jobs to Monterrey, Mexico. 'Throughout the transition, we must remain committed to manufacturing the same high-quality products,' an executive can be heard insisting in a video of the announcement. 'Yeah, fuck you!' a member of the crowd responds." Watch the video. [HuffPost]
@dcexaminer: #BREAKING: Former Virginia Gov. Jim Gilmore is suspending his presidential campaign.
THE HOUSE GOP CONFERENCE IS STILL A GARBAGE FIRE - The people who forced John Boehner from his comfy, smoky office are on track to screw over Paul Ryan, too. Scott Wong and Sarah Ferris: "In a 20-minute presentation full of charts and graphs, new Speaker Paul Ryan (R-Wis.) laid out three main options on the budget: Pass a budget keeping with the Obama-Boehner numbers and begin the appropriations process; pass a budget that returns to sequester levels, a path that would result in another stopgap funding measure or omnibus; or return to sequester levels but increase defense spending. Republicans don't have to pass a budget and spending bills this year, Ryan argued." ORLY? The Hill
JOHN KASICH WILL BE PUNISHED FOR LETTING POOR PEOPLE GO TO THE DOCTOR - As governor of Ohio, Kasich expanded Medicaid under Obamacare because not doing so would've been really mean. Naturally, this doesn't go over well with Republican primary voters, who love mean people. Jack Torry and Jessica Wehrman: "'I am for repealing Obama care,' Kasich said. 'But expanding Medicaid at this point, bringing our dollars back is working. It's saving money and it's saving lives. And that's what really matters at the end of the day.'" Columbus Dispatch
The Obama administration has a plan to offer health coverage to children exposed to lead in Flint, Michigan.
RICK SNYDER PREPARED TO BLAME EPA FOR FLINT WATER CRISIS - Michigan Gov. Rick Snyder (R) has asked to testify before members of Congress about the Flint water crisis. Democrats were furious that House Oversight Committee chairman Jason Chaffetz (R-Utah) hadn't called Snyder to testify at an earlier hearing on Flint, where the water has been poisoned by high lead levels since 2014. Snyder's office said in a release that he called Chaffetz Thursday and offered to make the trip. "The people of Flint have suffered because they were failed by all levels of government, and so it is understandable that there are questions at all levels of government," Snyder said in the release. [HuffPost]
Elijah Cummings clarifies: "Contrary to Governor Snyder's recent claim that he requested this 'opportunity to testify,' the reality is that he is finally bowing to mounting public pressure to answer questions before Congress about the central and critical role his administration played in this man-made disaster."
DELANEY DOWNER - Legislation Rep. Robert Aderholt (R-Ala.) proposes would cut Supplemental Nutrition Assistance Program spending by $1.2 billion, then plow $600 million into grants for states to carry out drug testing programs. Federal law doesn't currently allow states to drug test food stamp recipients, an obstacle that has prevented Republicans in Georgia, Wisconsin and elsewhere from carrying out the policy. Aderholt's bill would allow drug tests, but not require them. "This is a compassionate way to try and help these people who have issues, instead of turning the head," he said. Compassionate conservatism in a cup. [HuffPost]
Does somebody keep forwarding you this newsletter? Get your own copy. It's free! Sign up here. Send tips/stories/photos/events/fundraisers/job movement/juicy miscellanea to huffposthill@huffingtonpost.com. Follow us on Twitter - @HuffPostHill
THE DNC CAN'T WAIT TO GET ITS LIPS AROUND K STREET'S TEAT - Remember when Obama (sort of) rejected campaign contributions from lobbyists and PACs and it didn't change anything? Well, Hillary Clinton's buddies at the Democratic National Committee would like that money again, please. Tom Hamburger and Paul Kane: "The only portion of the old rules now remaining in place is that lobbyists and PAC representatives will still not be able to attend events that feature Obama, Vice President Biden or their spouses, according to Mark Paustenbach, deputy communications director for the DNC." WashPost
RUBIO AWARDED PARTICIPATION TROPHY HE DOESN'T DESERVE - Hassling presidential candidates for missing congressional votes is pretty tiresome, but this is too good. Sen. James Inhofe (R-Snowballs) had a justifiably hard time coming up with anything Rubio has ever accomplished, and in his flailing credited him with voting for a bill (yawn) he didn't actually vote for. Jason Linkins: "Oh, he voted for the NDAA you say? Normally, if someone tried to pass this vote off as significant, I'd be arguing that it's pretty weak tea…. But we can leave that aside for a moment because, guess what? Rubio didn't actually vote for the NDAA. In fact, the NDAA vote has been specifically cited by Rubio's critics during the primary as an example of his chronic truancy. HuffPost
Rubio downloads 'Human Interaction' app, but is it too late? Bleep bleep bloop.
IS HILLARY CLINTON FRIENDZONING THE PROGRESSIVE AGENDA? - Amanda Terkel investigates in "Hillary Clinton Is The Ultimate 'No' Woman." Terkel: "It's hard, after all, to inspire people when you're telling everyone why a popular proposal isn't practical. And Clinton, predictably, has been struggling to attract idealistic progressives -- especially young people -- who are fed up with the current system and want to see change. But it's also a position that many women do find themselves in, especially in the workplace." HuffPost
UGH, COME ON, OBAMA - District resident and federal employee Barack H. Obama just did that gross and annoying thing where he craps all over our hometown to make a banal point about how politics is bad. Nolan D. McCaskill: "'It's always good to get out of Washington, which can sometimes be a little depressing,' the president told Ellen DeGeneres in a taping of the eponymous TV show." Politico
DAMN IT FEELS GOOD TO BE A JOKESTER - Noted funnyman Ted Cruz has a new ad out that parodies a scene from a comedy film that came out in 1999. Anyway, it's sort of amusing, even if the Geto Boys are miffed Cruz used their music like in the movie. Christina Wilkie: "On Friday, the Cruz campaign did it again, releasing a spoof of the iconic fax machine beating scene from the 1990s cult classic movie 'Office Space.' Originally set to the Geto Boys' 'Damn It Feels Good to be a Gangsta,' the Cruz version of the scene borrows the music and changes the lyrics to 'Damn it feels good to be a Clinton.'" Haha terrific. HuffPost
TED CRUZ IS THIRSTY AF - In other Ted Cruz promotional news, his campaign pulled out of an ad campaign because the commercial had a lady in it who has been naked in movies before. Ron Dicker: "'The actress responded to an open casting call,' campaign spokeswoman Catherine Frazier explained to the New York Times. 'She passed her audition and got the job. Unfortunately, she was not vetted by the casting company. Had the campaign known of her full filmography, we obviously would not have let her appear in the ad.'" [HuffPost]
Yeah, some Donald Trump supporters are suing over Ted Cruz's citizenship, because this is how we live now.
CONGRESS DOESN'T LIKE ANYONE WHO'S RUNNING FOR PRESIDENT - Democrats and Republicans in Congress are holding back their presidential endorsements weirdly late in the game. Emmarie Huetteman: "If the presidential race hinged on congressional endorsements alone, Senator Marco Rubio of Florida and Hillary Clinton, a former New York senator, would take their parties' nominations today. But with nine months until Election Day and quite a few candidates still standing, most lawmakers have yet to declare a favorite." [NYT]
DR. CARSON HOPS ABOARD THE WAHMBULANCE - Ben Carson, previously known as the first Martian to practice medicine on Earth, is now known as the guy who fled Iowa because he doesn't know how washing machines work. He's mad at Ted Cruz, also. Kate Sheppard: "Carson still isn't over what he's characterized as 'dirty tricks' of rival Ted Cruz's campaign. Following the Iowa caucus, Carson said that Cruz supporters were telling caucus-goers that Carson had dropped out of the race. On Friday, Carson called that 'despicable' and detrimental to his showing in Iowa." [HuffPost]
Bernie Sanders got a super-boring Secret Service code name.
PHONY CHRISTIAN HAS A LOT OF NERVE - It would be breathtaking if this were any other year, but Donald Trump -- whose supporters are going along with the fiction that he is a religious person -- says Ted Cruz -- whose whole deal is that he's super-Christian -- isn't a real Christian. Mark Hensch: "Donald Trump questioned GOP presidential primary rival Ted Cruz's Christianity early Friday, asking if his 'lies' disqualify him from the faith." [The Hill]
ICYMI: Thursday was Jeb!'s birthday, so Politico published a bunch of photos of him Jeb!ing around.
WEST VIRGINIA JUST GOT MORE TERRIBLE - It's going to be a lot harder for workers to form a union in the Mountain State, which just became the 26th state to enact a "Right to Work" law. Dave Jamieson: "Democrats in the statehouse, as well as Gov. Earl Ray Tomblin (D), opposed the measure. But Republicans control the state legislature and were able to override Tomblin's veto with a simple majority, voting 18-16 in the Senate and 55-43 in the House along party lines. The law will go into effect in May." [HuffPost]
BECAUSE YOU'VE READ THIS FAR - Enjoy watching this pomeranian enjoy a haircut.
WHO COULD HAVE GUESSED THERE WAS SOMETHING OFF ABOUT ALAN GRAYSON? - New details are dribbling out about the ethics investigation into Florida Democratic Rep. Alan Grayson, who runs a hedge fund in addition to throwing rhetorical bombs at conservatives. Eric Lipton: "In the 2013 hedge fund marketing material, the Grayson Fund is described as an investment opportunity that will 'capitalize on markets in turmoil due to economic, political or natural disasters.' It says, 'Alan Grayson specializes in discovering outstanding companies that are undervalued due to forces beyond their control.' Another hedge fund marketing document cited a quotation attributed to an early member of the Rothschild banking family in advising that 'the time to buy is when there's blood in the streets.'" [NYT]
DONALD TRUMP IS A DIRTBAG - Ben Kesling and Heather Haddon: "A Trump website set up a day before the rally to receive donations said as of Thursday nearly $1.7 million was raised online, which Mr. Trump said reached $6 million in total with other donations, but the campaign didn't disclose how much was raised that night. The day after the event, his campaign promised to quickly send the cash to nearly two dozen groups and soon presented a handful of them oversize novelty checks for $100,000 from his foundation. But those big checks can't be cashed, and two weeks later some of the groups are just now beginning to get paid. The majority said they were unsure how or when the pledged donations would reach them, citing difficulties in communicating with the Trump campaign." [WSJ]
COMFORT FOOD
- Watch Obama make a terrible dad joke while trying to woo his wife for Valentine's Day.
- The Onion likes to pick on Jeb Bush, and Politico is ON IT.
- Baby confused by dad's twin brother.
TWITTERAMA
@erinruberry: At least Jim Gilmore will have time to catch up on all seven seasons of The Gilmore Girls before the Netflix revival.
@AaronBlake: Okay this got kind of sad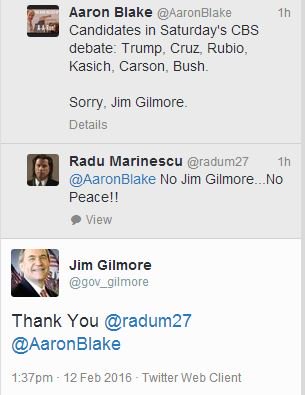 @emmaroller: Clarification from my grandma, turning 88 this year: "The real reason I am voting for Bernie is cause I always liked younger men."
Got something to add? Send tips/quotes/stories/photos/events/fundraisers/job movement/juicy miscellanea to Eliot Nelson (eliot@huffingtonpost.com) or Arthur Delaney (arthur@huffingtonpost.com). Follow us on Twitter @HuffPostHill (twitter.com/HuffPostHill). Sign up here: http://huff.to/an2k2e