Streamline recommends the movie "Embrace of the Serpent" as the new thing you should watch on Hulu this week. The platform adds this Academy Award nominee on July 20.
"Embrace of the Serpent" debuted in 2015 and comes from Colombia.
The movie follows the dual journeys of an Amazonian shaman. Decades separate these journeys, so you see this character as a young and old man. The shaman, the last surviving member of his tribe, helps two different foreigners in their quests to find a sacred plant. 
I really love this movie, but also understand that this over-two-hour-long adventure won't be for everyone. The plot plods along, much like the characters traveling along various waterways with paddles.
If you miss the meandering but symbolic story structure of classics like "The Seventh Seal," then check this out. If you want a better version of the similar explorer-based movie "The Lost City of Z," then check this out. If you're willing to have immense patience between the moments characters stumble into truly wild predicaments, then check this out.
If none of those qualifiers sound appealing, then maybe skip this one.
You can watch the trailer below, as well as read about the other shows and movies Hulu adds this week.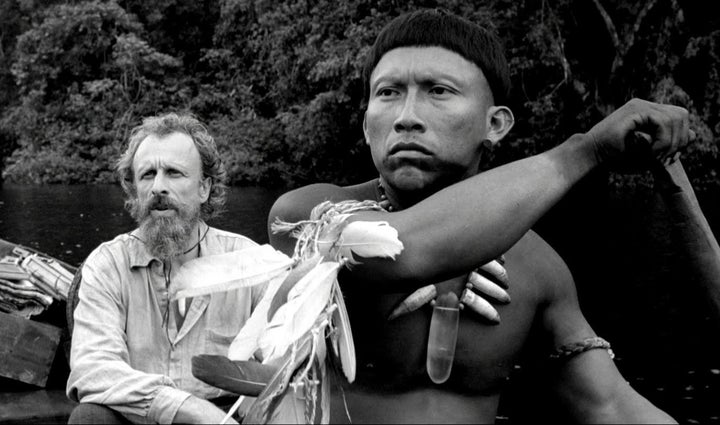 Here's the trailer:
What Else Is New This Week
Hulu debuts an original documentary about ballet. I haven't seen the doc, but this looks competent enough.
A "Justice League" cartoon joins from Cartoon Network. If you love those characters but hate the dour Zack Snyder interpretation, then give that a go.
The full Hulu list for the rest of the week:
July 17
July 20
"Ballet Now" (Hulu Original Documentary)
"Embrace of the Serpent" (2015)
"The Last Ship": Complete Season 4 (TNT)
"This Country": Complete Seasons 1 & 2 (BBCA)
"Trial & Error": Season 2 Premiere (NBC)
July 21
"Justice League Action": Complete Season 1 (Cartoon Network)
"Status Update" (2018)