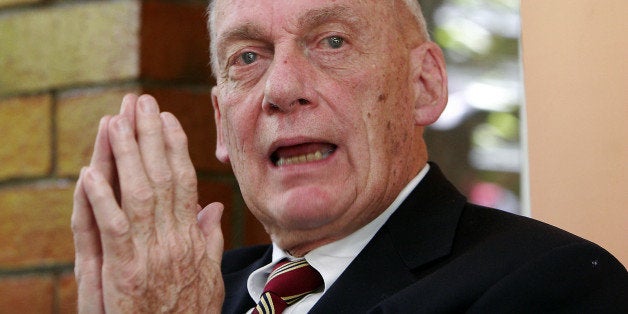 When I traveled to Guatemala in the late 1980s with Ambassador Robert White, it was one of those mind-bending experiences one cherishes years later. Bob was there on a fact-finding mission, dragging along some Senate aides and the like to meet the president and assorted rogues and saints. It was eye-opening for many reasons, not least because it was a former U.S. official on the lead. But that's the way he was, unorthodox in his clear vision of human rights and a devil-may-care attitude about what Washington might think.
Robert White passed away earlier this week at the age of 88, and my first thought beyond my sadness was, "they don't make them like that anymore." He was a tough, active, idealistic advocate in the Latin America of 30-40 years ago that was still dominated by corruption and genocidiares.
He stood up to Paraguay's notorious dictator, Alfredo Stroessner, when serving as U.S. ambassador. Later, as ambassador to civil war-torn El Salvador, he famously refused an order from Secretary of State Al Haig to cover up the murders of four American churchwomen working for peace in the country. (This at a time when the right-wing killers had just murdered Archbishop Romero, too.) He was fired, but the world knew the horrifying truth about the Reagan-condoned death squads.
Ambassadors today have largely been replaced as useful emissaries by instant communications between higher-ups in foreign ministries. Instead, ambassadors now are shills for their national industry -- oil and gas, weapons, whatever -- barkers for their country's folk customs, or greenwashers for their country's crimes. The old model of policy maker on the spot in the middle of a crisis is almost wholly a thing of the past.
White's generation was the last of that earlier rough-and-tumble artistry. Unlike most of his Foggy Bottom brethren, however, Bob White didn't merely represent state interests -- the primary job of any diplomat -- but struggled to advance a too-little honored American impulse to protect human rights. And this he did to the end of his diplomatic career and for years afterwards.
He was tough, and like many Boston Irishmen he was uproariously funny. On a trip to Moscow, I recall him and a savvy Soviet diplomat going at it over Afghanistan, and Bob jibed that like our comeuppance in Vietnam, now "our guys" are killing "your guys" in some Beckett-like absurdist drama in Afghanistan. He knew that the incompetent Jimmy Carter had unleashed a dark force in the mujahideen, however, which was no laughing matter.
Our later trip to Guatemala was in his real element. He lectured President Cerezo about investigating Rios Montt's genocide of just a short time earlier, excoriated businessmen for their racism toward the Indios, and was feted by hundreds of those K'iche peoples during a triumphant visit to Chichicastenango in the Guatemalan highlands. He gave a rousing speech to the crowd, which waited four hours for our tardy caravan; it was almost unimaginable that the multitudes would so honor a former American official in Latin America.
He would be known for years as the one who spoke sensibly about Latin America. He supported, as president of the Center for International Policy, activism to normalize relations with Cuba, for example, an effort rewarded just this month. But CIP also worked on a peaceful denouement to the Korea crisis, on constraining the arms trade, and numerous other hard-to-crack issues.
He will, however, be remembered first and foremost as the ambassador who defied his bureaucratic superiors, something so rare as to beg a companion. "I regard it as an honor to join a small group of officers who have gone out of the service because they refused to betray their principles," he told a House committee soon after Haig ended his foreign service career. And behind that one act of defiance was a larger narrative, of course, of consequential actions by a dedicated public servant. "We Salvadorans owe a big debt to Bob and his contribution to a more democratic and progressive El Salvador," Alberto Arene, a Salvadoran politician, told Reuters.
What I remember is our little delegation visiting a poor neighborhood of Guatemala City, and coming upon a barrio priest who described the harsh, violent conditions that ruined so many lives. He only knew we were some Americans, and he began to mention the work of Roberto White on behalf of the poor, marginalized people of Guatemala. One person in our group interrupted to inform him, "eso es Roberto White," he said, pointing to Bob. The priest, stunned for a moment, began to weep and stepped up to embrace the former U.S. ambassador.
You won't see that every day in Latin America. Roberto White, serviste a tu dios y el pais.