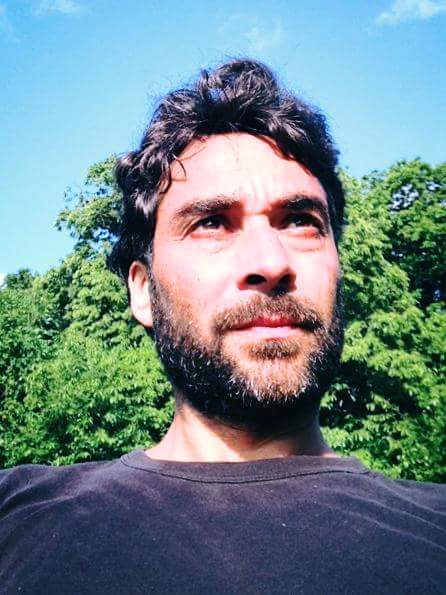 One of the most prophetic and inspiration people that I have ever shared questions and answers with is Jarvis Smith, principle songwriter for The Phoenix Rose. His new release, "Is Tis Luv", promotes a powerful message to the world, and the entire spirit of the world, that love can change everything.
 "Is This Luv" is a very powerful song, and the video is even more powerful. What inspired the song?
Thank you for noticing the power, because the greatest power of all is LOVE. I grew up on reggae – mainly Lovers and Dub, with lots of Bob Marley's music too. For me this was tonic and balm whilst growing up in such a dysfunctional world. When I listened to "Is This Love", "Three Little Birds", "Could You Be Loved" and of course "One Love I Felt" I was experiencing an insight on the outside of what I felt within me, it was like a voice of truth confirming my natural state of being-ness. As a child this was deeply confusing because although I knew love, I didn't feel it. And so my quest began. My journey was mostly unconscious but the quest was to feel real love!!! It started with having girlfriends and fumbling around, which led to a long road of repeating the dysfunctional style of love I had witnessed as a child. Something had to change. A dear friend of mine from Dublin said I should try Reiki (Universal Energy); he said it was deeply healing. A new path materialized before my very eyes. I became a Reiki Master and really enjoyed working with energies and the chakras; it felt natural and honest – in fact real.  Once I'd had a taste of this what felt to me like natural ecstasy took over my body – it rejected meat, alcohol, smoking – in fact most of my everyday vices – and led me to a shamanic yoga practitioner who used sacred sound through song to inform and inspire. I studied hard with my teacher for over 10 years, learning what love was through the body and voice. Not the love that Hollywood projected, or the love (and loss) from Greek tragedy, but the love that Marley spoke of, the love that is everywhere within and without, the vibrational frequency so clear and true which every living thing emanates naturally, from trees to bees, from flowers to alpacas and most importantly from humans to each other. If 'we' can very simply remember that the easiest and most natural state of being known to man and woman is love, the world would change overnight. Our focus would be to support life, each other, the planet, the animal kingdoms, the seas, the air and most of all our children. Then together we would create the most magnificent, wholesome, unified experience in this dimension we call Earth.
My version of 'Is This Luv' drives maybe the most important question of all time and if everyone who hears its call can very simply ask that question with every single act, then they too may begin to feel real love, love of the highest frequency available to humanity at this time. That is my wish.

The song has an anthem-type enchantment. How many people were involved in singing the chorus?
Anthems are songs with great magnitude, songs that reach a collective consciousness en masse, songs that bring people together – so thank you for associating 'Is This Luv' with this realm of music. Truly appreciated - thank you. The chorus consists only of layers of myself and Rita Morar, the male and the female balanced through the power of word and song with unison of vision and expression.

Do you think that this song can change people's attitudes?
Yes, most songs I think can change attitudes in that moment – we have all had that experience – but long-term change is rare. This song was made objectively with intent, carrying a vibration for those ready to be lifted to the state of being love. What I have no control over is how people accept the invitation. Ideally people will watch the video and play the song over and over – and mainstream radio TV and internet will play it like an anthem – but this bit is now up to how people respond. You are now part of this growth so thank you again.

I come from a lineage of Indian musicians that created music only ever sung in praise or prayer. Poets and singers that allowed music to flow through them, bringing peace and tranquility back to warriors after war, songs that guided souls back to Source after death. I believe music is the most powerful medium in this world; it can shift consciousness, it can heal, it can create an emotion well beyond the immediate state.  Ancient Indian tradition believe it all started with an Om (Aum): if sound can create Universes it can move mountains too, right?

What inspires The Phoenix Rose?
Life itself inspires me. There is so much to experience in this world, what's important however is what we choose to experience and how we respond. A good example is watching a baby see something for the first time, with such awe and joy and excitement. Children (and childlike grown- ups) are the most inspiring for me, but also how quickly society, school and parenting conditions them to the man-made rules that mainly seem to serve the rich. Of course basic principles are paramount in a society but laws conditioning our future generations to continue down the same path are just wrong. I'm consumed by how we can change things for the better and how life can become equal for everyone. As far as I can see, only when we all live love will this be accomplished. This is my inspiration: to keep growing and living and being the change. Thank you Ghandi for that insight!

What does the name The Phoenix Rose stand for?
Very simply the rising of the Phoenix, it's less of a name and more a statement. The Phoenix Rose from the ashes, newness comes from the old.

 Will you be touring any time soon in support of the new release?
Oh yes, we have some great gigs coming up! We're playing the famous Prince Albert venue in Brighton on the 29th August, and the Main Stage at www.valleyfest.co.uk alongside one of my all-time favorite bands, Stereo MCs. I'm also hosting a stage and area called the Village Green – full of conscious and world music, with the added bonus of a well-being spa with hot tubs, sustainable lifestyle and renewable energy tents, natural elixir and tea ceremonies and a vegan cafe!!! It's been a bit full-on planning this but we wanted to create an experience people can take back to their everyday lives long after the mud's been cleaned from their wellies. It's on organic land and some of the UK's biggest organic brands are involved – from Yeo Valley and Riverford to Pukka Teas, MyGreenPod.com and Weleda – all companies to love and support. Tickets are only £80 for the whole weekend. After Valley Fest we will get a Christmas tour sorted – tour dates will be up on our website soon. www.thephoenixrose.co.uk

What does music mean to you?
Music to me is a vehicle or either expression or message. It's deeply sacred and powerful and – if created with wisdom and knowledge – it can be deeply transformational. John Lennon in the '70s with Peace, and currently Chris Martin and Mumford and Sons come to mind. There is of course another type of music which people can relate to easily, that which speaks of a relatable story. Adele is the greatest current example of this, she sings songs that connect with the deep sadness and emotion in everyone. I really like Adele's voice and stories in her music, they touch us in our hearts, they open us up and help us to pour out our own life experiences.

 If you couldn't write and sing musically, what would you do to be creative?
Well I already co-run a media company that we launched to inspire people to become more sustainable. We publish the world's biggest ethical lifestyle print magazine, distributed with the Guardian in the UK. Accompanying it is our website which has daily news and features, plus ethical products (that are gorgeous alternatives to the rubbish on supermarket shelves) and videos of cool things happening around the world that are changing the way we live. I also run and founded the UK's biggest sustainability awards – called the P.E.A. (People. Environment. Achievement.) Awards – which celebrate the unsung heroes who are championing environmental causes around the world – in schools, rainforests and offices, on the streets and the oceans. We have our next event at the brand new i360 venue in Brighton on October 7th. I keep myself pretty busy as I feel my work is important and unfortunately there are not many of us flying the flag for environmental change.
Okay to answer your question properly, I think I would try and learn as much as I could from Nature, visiting and walking the pilgrim routes of India and South America and mountains of the world would be an incredible satisfying way to live. The creative aspect would be to learn and imitate life as intended, whatever that may bring.

Do you ever feel like the words to your songs are lifelines to people that you will never meet?
Oh yes I really hope so... When a lot of the debut album's songs were written, the lyrics came from a higher place – through my yoga teacher or through meditation and a sense or feeling rather than my limited intellect. I always say the songs I have written are songs for the people, songs for those ready to listen. These songs were written 10 years ago and only now are they flowing into the mainstream through TV, radio and the internet. I think it's because I wasn't living what had been written, it took me a decade to catch up with the words and songs... So now when people ask me about the songs, I can speak from experience and my truth, otherwise I would have been simply talking about them as ideas and possibilities and not the reality I live today.

Any new projects on the horizon?

Always, watch this space!!!  I constantly create, whether it be gigs, events, writing articles or songs, creating media etc etc. What I really want to do now though is create a movement, something so engaging that no one can avoid its vision and power for transformation, a movement that will remind people what life is all about, Love. I'm not sure how it's going to unfold, but it will begin with 'Is This Luv' and we'll go from there.
This post was published on the now-closed HuffPost Contributor platform. Contributors control their own work and posted freely to our site. If you need to flag this entry as abusive,
send us an email
.