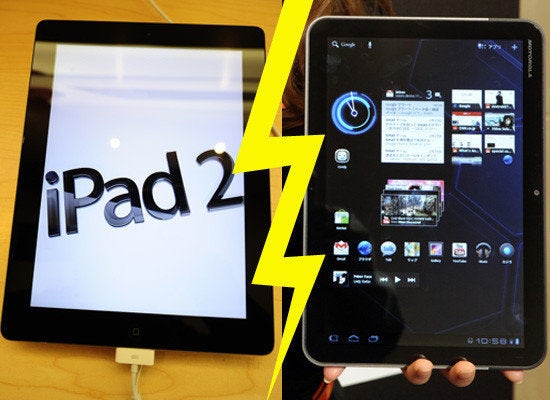 When the Motorola Xoom launched in February, the Android tablet was hailed as the first real challenger to the Apple iPad. But the grand debut of the iPad 2 has left some wondering whether the Xoom can compete against a second-generation Apple tablet.
CNET has put both devices through a timed page-loading test to determine which tablet offers users a faster web-browsing experience. While both delivered zippy results, CNET ultimately awarded Motorola Xoom the blue ribbon.
The CNET lab connected both tablets to the same closed network, opened each tablet's browser and simultaneously loaded the following three websites: CNET.com, CBSNews.com and GiantBomb.com.
Even though the iPad 2's times were far faster than some other tablets', it just couldn't outstrip the Xoom. Motorola's tablet loaded CNET.com just over a second faster than the iPad 2, and it finished GiantBomb less than half a second ahead. The iPad struggled with the CBS site, finishing four seconds behind the Xoom. (CNET also notes that the devices were both running current updates of their respective operating software: iOS 4.3 on the iPad 2, and Android 3.0.1 on the Xoom.)
Have a look at the speed test in the video (below), and visit CNET for the full methodology and complete results.
WATCH:
[via
]