Gaudeamus igitur, iuvenes dum sumus! Let us rejoice while we are young!
With this Latin song traditionally sung by University Choir at the inauguration ceremony, a new record number of students began their studies in Gdansk. We are happy because from year to year the number of students, both Polish and foreign, grows. They can study in six public and nine private universities. Last year, in the Pomeranian region 93 391 students attended these institutions in more than 800 fields of study: medical, technical, humanities, economics, science, sports, art. Polish universities operate in the universal European "Bologna" system and apply the universal ECTS point system that facilitates the recognition of study periods outside the home university.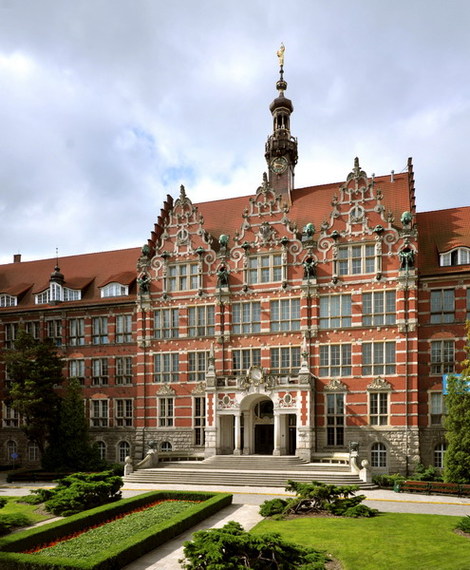 Gdansk University of Technology. Photo: Krzysztof Krzempek / Wikipedia / CC
This year's data will probably be announced in November, as some universities still continue their recruitment. We already know, however, that Gdansk University of Technology (Gdansk Polytechnic), Gdansk Medical University, Sports Academy and the University of Gdansk have recruited more students than last year. In addition to an increase in Polish students, there is a growing interest abroad to study in excellent Gdansk schools. The number of foreign students is also increasing. Last year, it was nearly 2.5 thousand people, mostly from Ukraine, Sweden, Belarus, Russia, China, Saudi Arabia, Spain, Lithuania and India. We hope for more this year. Of course, many of them come and go through the Erasmus exchange program. However, a large proportion are those who study with us are full time, full paying students in various fields of study.
Interestingly for two years now the best foreign student in Poland, selected in the Interstudent competition, studied in Gdansk. Two years ago the winner was an American student studying at Medical University, and a year ago a Spaniard - a student of architecture from the University of Gdansk. Is there something magic in Gdansk that brings out the best in them? Absolutely! Our genius loci, or good spirit of the place.
Gdansk's colleges offer 15 degree programs in English, but students from abroad, especially from the east, very often decide to study in Polish.
Universities in a close cooperation with the City in a "Study in Gdansk" program actively assist foreign students in all matters related to studies and acclimatization in new conditions. Employees of specially appointed offices facilitate the settlement of administrative matters, finding housing, health insurance, etc. Students from the Poland are attracted to Gdansk mainly by its a great location with endless beaches and a lake district nearby, by a rich cultural offer, good availability of basic housing, but, above all, employment prospects after graduation. Universities of Gdansk are constantly working on opening new fields of study.
At the University of Gdansk in 2016/17 academic year, among many new disciplines, a new major will be taught: chemical business - a direction inspired by employers of the chemical industry. There is also natural language processing at the Gdansk University School of English, or psycho-sexology at School of Psychology. These directions are not random; they are created in collaboration with practitioners and experts in various fields. The university uses knowledge, statistics and wisdom and experience of the future, prospective employers. As indeed do other universities. This is not surprising. Market laws operate also in the area of science.
What is the most popular study majors among Gdansk students in this academic year?

At the University of Gdansk these are: Scandinavian studies, criminology, psychology, English philology and management of cultural institutions. At Gdansk University of Technology: Spatial management, energy studies, geodesy and cartography, automation and robotics. At the Gdansk Medical University, traditionally Department of Dentistry (up to 31 people for one place) was the busiest, with medical studies, dietician studies and physiotherapy following. The new academic year brings new rectors to our schools of higher education.
I wish them good luck for the entire upcoming four-year term and to our students I wish passing all exams in the first session. May the time they spent studying in Gdansk be unforgettable.