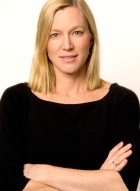 Yesterday, we
reported the news
that author and writer
Lee Woodruff
, wife of ABC anchor/correspondent
Bob Woodruff
and co-author with him of "
In An Instant
," their account of his IED injury in Iraq and long road to recovery, was joining GMA as life-and-family contributor. We also reported, somewhat abashedly, that this "breaking news" was actually available to the eagle-eyed reader of Huffington Post contributor bios, since it was actually written right there
in her bio
. Oops! Well, lightning sometimes strikes twice but rarely within twenty-four hours in the same blog bio — but today, that's exactly what happened. From Publisher's Marketplace, an announcement of a new book deal:
Co-author with her husband of NYT bestseller In an Instant, Lee Woodruff's second book of non-fiction, an exploration into motherhood, family and the complications of husband-wife dynamics, to Susan Mercandetti at Random House, by Robert Barnett at Williams & Connolly (world).
...and from her HuffPo bio, once more with feeling:
In the fall of 2007, Woodruff will join ABC's Good Morning America as a contributing editor on a variety of home and family related topics. She is currently working on a second book.
Well, clearly that's a bio in need of an update.
Also in need of an update: Her status on GMA! Today Woodruff appeared on GMA for her first time, openly discussing the "
situational depression
" she experienced in the wake of Bob's injury and introducing a segment featuring other similarly-situated women. Her kickoff appearance also kicks off a new series called "
Talk To Lee Woodruff About Anything
." Sez GMA:
In this new series, we want to talk with you about the things you don't usually talk about, confess your secrets, and tell us what you really need in your lives.
Apparently GMA viewers needed someone to get out there and talk about depression, situational and otherwise, because there are already close to fifty comments (the segment ran towards the end of the 8 o'clock hour) and the first one really hits home:
This part of the show really struck a nerve. I have had a really bad year and have held alot in; not talking to anyone about it, not because I'm ashamed, but because I don't want to bring anyone else down. I would rather hold it in than to bother anyone. I ended up crying by the end of the segment but stopping myself so my daughter wouldn't catch me.
Other women wrote in about their own struggles dealing with lost and ill family members, treatment and medication (plus side effects and the hardships of withdrawal), and their concerns about others in their lives who might be depressed. It's a pretty sobering comment chain, and indicates that GMA and Woodruff have struck a nerve here.
One woman writes of her own husband's brain trauma ("...Soon to have an Empty Nest, elderly parents, Husbands issues, large mortgage and no real income coming in...some days it is too much. My insurance doesn't even cover mental health for me and it is too expensive") — which is one area that Woodruff has been tangibly working towards with her husband in the Bob Woodruff Family Fund. Yesterday we mentioned the "Stand Up For Heroes" benefit next week, and today we note that the BWFF has today kicked off a charity auction through CharityFolks.com, an online auction site which was launched in the wake of Hurricane Katrina. Up-for-grabs items including, in no particular order: Set visit and meet-and-greet with Rachael Ray; 2 tickets to the Endeavor Oscar Party (screaming harangue from Ari Gold extra); NBA All-Star tickets; "Enjoy the Broadway musical, Xanadu, from on-stage" (just like in Elizabethan times!); a "Be A Model For A Day" package including Nigel Parry photoshoot; and two big-time meet-and-greets: one with Stephen Colbert, and the other with....OPRAH! (CharityFolks' Kelly Fiore says she's pretty sure that's the first Oprah-auction of its kind). The auction runs until Nov. 20th.
Got that? Book, charity gala and auction, and new series with GMA where she is suddenly opening up herself and her life to millions of viewers who so far seem to be taking her up on it. Big week.
Talk To Lee Woodruff About Anything [ABC News]
Depression Hits When You Least Need It [ABC News]
Bob Woodruff Family Fund Auction [CharityFolks.com]
Related:
Blog, Scoop Thyself [ETP]