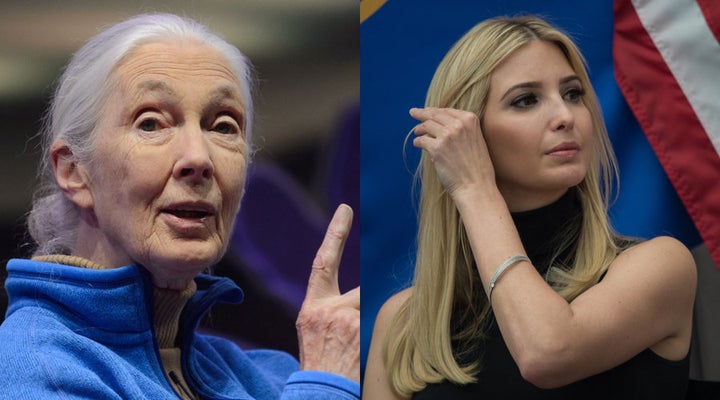 She, of course, didn't write those statements. She borrowed them from more established self-help gurus and acclaimed authors like Sheryl Sandberg, Charlotte Perkins Gilman, Friedrich Nietzsche, Anne-Marie Slaughter, David Brooks, Oprah, Socrates, Stephen Covey, Simon Sinek and ― skipping countless other entrepreneurs, activists and all around inspiring people to get to the pertinent part ― Jane Goodall.
"What you do makes a difference," Goodall's quote reads, "and you have to decide what kind of difference you want to make."
How does Goodall feel about being lumped into to a coterie of Trump-approved sages? We'd say... skeptical.
The renowned primatologist and UN Messenger of Peace told CNN that she was not aware that Trump would be quoting her, but that she "sincerely" hopes Trump "will take the full import of my words to heart. She is in a position to do much good or terrible harm."
Goodall then took the opportunity to call out the Trump administration's hostile stance toward protected wildlife and lands:
Legislation that was passed by previous governments to protect wildlife such as the Endangered Species Act, create national monuments and other clean air and water legislation have all been jeopardized by this administration. I hope that Ms. Trump will stand with us to value and cherish our natural world and protect this planet for future generations.
"In many ways the performances of Donald Trump remind me of male chimpanzees and their dominance rituals," she told The Atlantic. "In order to impress rivals, males seeking to rise in the dominance hierarchy perform spectacular displays: stamping, slapping the ground, dragging branches, throwing rocks."
"The more vigorous and imaginative the display, the faster the individual is likely to rise in the hierarchy," she added, "and the longer he is likely to maintain that position."