Latina pop and R&B singer, Jasmine Villegas was signed to a recording contract at the age of 16. She has had a hit on the billboard charts and guest starred on television shows, but it is her latest push that really struck a chord with me.
Jasmine just announced that at the age of 21 she is pregnant with her first child. She did not apologize or give into people's judgment. She stated that "you only have to prove it to yourself, that you're ready to be a great mother." This really stuck with me because I have been where Villegas is right now, but perhaps with a little less confidence in my path.
At a very young age, I migrated from Nuevo Casas Grandes, Chihuahua with my parents and my two younger sisters. We had to learn how to navigate a whole new world. It was difficult, but with the support of my family I did well in school and I got into college.
We did not have health insurance when I was growing up. Being at school meant that I could access insurance, but I really did not know anything about it. I did not know a lot about reproductive health services or have access to comprehensive sex education in school and with my family's limited financial resources I could not afford to pay for out of pocket medical expenses, including birth control. As a freshman in college, I faced an unintended pregnancy.
I decided that the best decision for me was to become a parent. The stigma of being a young, pregnant Latina in a predominantly white college was hard. Not only was I often times the only woman of color in any given place at the college, but I was also pregnant.
I worried that people would judge me, but I also knew how hard I had worked to get there. I came from a family of very strong, Latina women who encouraged me to make my education a priority. They knew that going to college would give me options. It is because of their guidance and their belief in me that I was committed to getting my degree and that I knew that no matter how hard it might be that I could do it, but I didn't do it alone.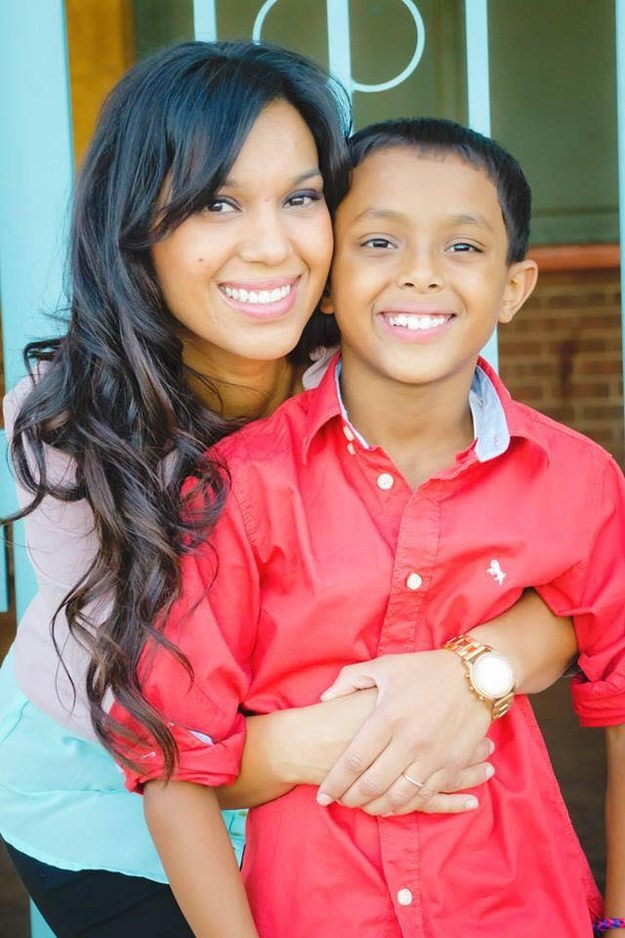 I needed support from people who accepted and understood me, so I proudly became a hermana of Pi Lambda Chi Latina Sorority. While I was the only young mother in my chapter, I found other Latina women that could identify with me in other ways. I was accepted with open arms. I was not judged for being a young mother. In fact, I had lots of babysitters! But most important I had people around me who knew that having a college degree would help provide the kind of foundation for our futures. So with a toddler on my hip and my sisters by my side, I was able to complete my education.
This is not your average story line. Whether it is continuing your high profile career and filming a music video that features your baby bump like Villegas just did or continuing to pursue a degree too many people are discouraged from pursuing their goals.
Young women are told it will be too difficult to continue their education and most universities don't provide the kinds of services and supports parents need to be successful -- things like family friendly housing, on campus childcare or flexible class schedules. I am grateful to have had the opportunity to attend a university, but I shouldn't be the exception.
I am often asked how I did it and the answer is, sheer determination. It was hard. People talked about me and stared at my growing belly on campus and in my community. There was disapproval from many people I really hoped would stand by me.
After my son was born, we moved from place to place and to different day cares. We sometimes struggled to get by. This is a reality many young mothers face. We don't need the added shame from the rest of the world.
I often felt guilty for raising my son while in college environment. I worried that I did not spend enough time with him or that I was being selfish. Looking back, I know that it is his life and future that I was working so hard for. I know for my son who is Black and Latino that life will come with many challenges, but I did my best to pave a better foundation for him.
Treating young parents with dignity is an issue of reproductive justice. Supporting young people so that they can build a strong future for themselves and for their children is an issue of economic justice. We can and must do more to stand with young parents. I don't want to be an exception. Making sure young people have what they need whether they choose adoption, seek abortion or become a parent should be the rule.
We can do more to help young parents to pursue an education or training program or to find a job where they can make a living wage and also have a schedule that works. We need to stand with women and families no matter their age. Young parents, like all parents, need fair employment, educational opportunities, healthcare, housing, and childcare in order to be successful.
Villegas's fame will help her with many of these basic necessities, but she is sure to experience some of the judgment I experienced for her decision to become a young parent. I hope she knows how important it is that she push back on this stigma. It will help her and her child. I hope it will also help to change our tune when it comes to how we talk about and cultivate support for young parents.