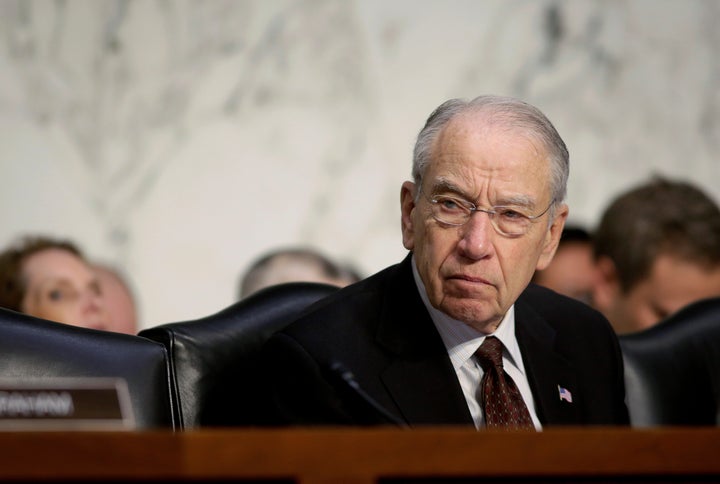 WASHINGTON ― Sen. Chuck Grassley (R-Iowa) lashed out at his former colleague Attorney General Jeff Sessions on Thursday, saying the nation's top law enforcement official had stepped out of his lane by weighing in on a drug sentencing reform bill that had bipartisan support.
Grassley, who chairs the Senate Judiciary Committee, supports the Sentencing Reform and Corrections Act, which passed the committee 16-5 on Thursday but faces a tough road ahead. Sessions' letter on the bill, which would reduce mandatory minimum sentences for certain nonviolent drug crimes, warned it would benefit "a highly dangerous cohort of criminals." While there's been growing support for criminal justice reform among Republicans in recent years, Sessions has generally opposed such measures. 
Grassley said during a markup hearing that while he considered Sessions a friend, he was "really irritated that he would send that letter." He noted his support for Sessions through the confirmation process as well as when the attorney general has been targeted by President Donald Trump.
"It was almost as if it was Senator Sessions being back on this committee, and not [Attorney] General Sessions. That's a problem. He is now the attorney general and is charged with executing the laws that Congress passes, not interfering with the legislative process," Grassley said.
If Sessions wanted to be involved in marking up legislation, Grassley said, "maybe he should have quit his job and run for the Republican Senate seat in Alabama." That was a reference to the fact that the Republican nominee ― who was accused of sexual misconduct ― lost to a Democrat.
A Justice Department spokesman declined to comment on Grassley's remarks.
Ryan Reilly is HuffPost's senior justice reporter, covering federal law enforcement, criminal justice and legal affairs. Have a tip? Reach him at ryan.reilly@huffpost.com or on Signal at 202-527-9261.