The artist must train not only his eye but also his soul. --Wassily Kandinsky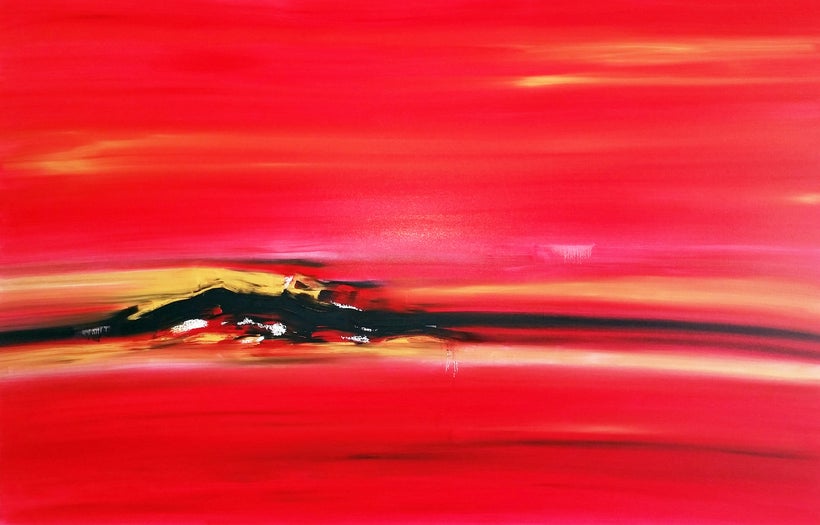 Painter Jill Joy is not satisfied with mere representation of the external world, however beautiful; and in her longing to instead more fully express her inner life has recourse to abstract gesture and the soulful power of color. Her lush, saturated, refined, and richly detailed paintings evoke rather than describe the contours and atmospheric jouissance of the natural world. They are not pictorial; they are not pictures. Executed in a kind of meditative semi-trance, they are more like artifacts, residues of the energy that produced them, both art historically/materially and spiritually galvanized process paintings of the highest order; and further, physical conduits of that same luminous energy, radiating into the world.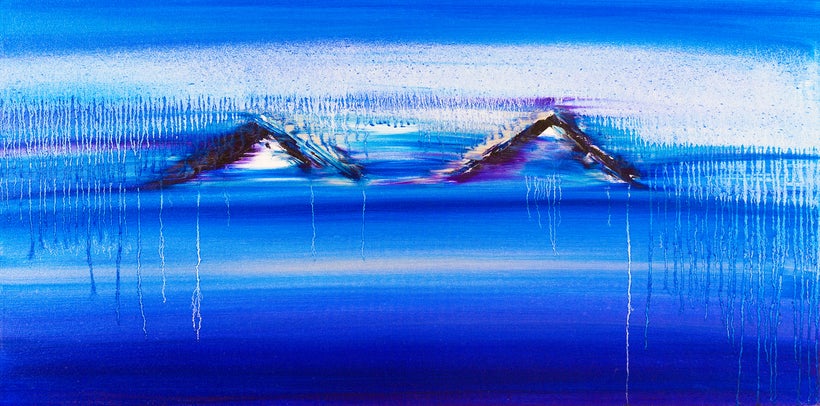 Her glistening oil pigment Joy applies in bands, goops, and slathers, in impasto, flat rubs, and swaths, with brush, sponge, hand, and gravity as required. Passages proliferate with kaleidoscopic density of detail, alternating with areas of replete emptiness which is not negative space, but rather full with a tangible emptiness. Belonging to the family of painters who are evocative rather than depictive in the way they represent the realm of organically occurring events (geology, meteorology, astronomy, global curvature), if Joy doesn't paint like the eye sees, it's because she is not seeing with her eyes. These paintings do have a phenomenological relationship to the world of space, time, earth, land, and weather -- but Joy is using a different sight to perceive and then render the world in all its manifold dimensions, translated into paint and motion. She doesn't of course, but one can almost imagine her painting with her eyes closed, so little is her truth a truth one of appearance -- and instead, a truth of feeling.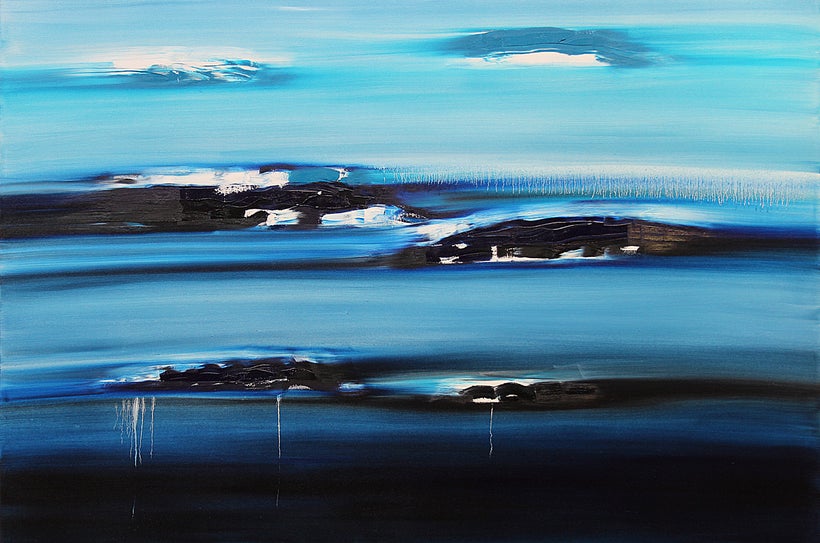 The deeper the blue becomes, the more strongly it calls man towards the infinite, awakening in him a desire for the pure and, finally, for the supernatural... The brighter it becomes, the more it loses its sound, until it turns into silent stillness and becomes white. --Wassily Kandinsky.
While her reference set is always tethered to experience, and even sometimes to place and time, Joy's color palette is free to push beyond the strictures of naturalism, and even approach the kind of synesthesia Kandinsky, Rothko, Yves Klein and others have described. Her reds sweep the prismatic gauntlet from ruby to crimson, cherry enamel to fiery Autumn, sunset clouds to shadows in a glass of port. Pops of gold, blood orange, greens of forest and emerald intermingle with violet, ultraviolet, indigo, cold slate grey like flagstone walkways. Sweeps of inky, absorptive black; and from snow to diamonds more varieties of white than we would ever otherwise notice. Blue, of course, from dawn to dusk, to choppy water and glacial ices, prayer flags to sapphire, and blues that live only in the imagination.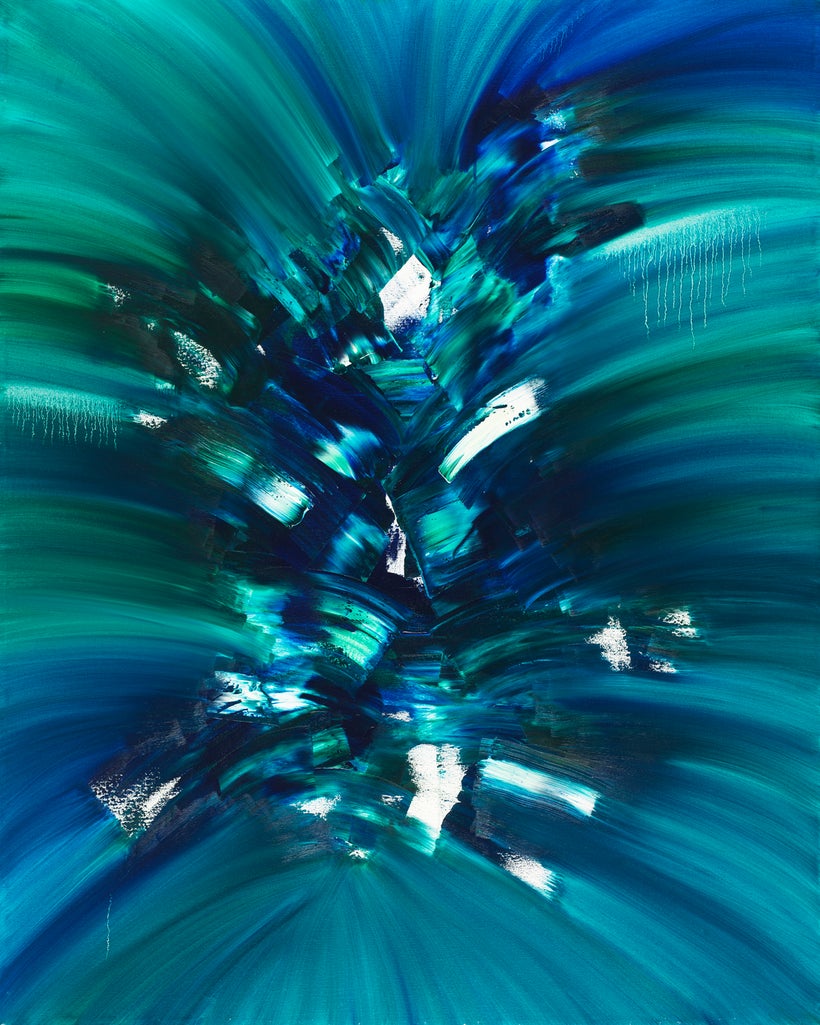 Notably, she also belongs to a tradition of artists who curate as part of their overall practice, feeling moved to bring other voices into both the formal and allegorical discourse she hopes to nurture. Physical and psychic energy is the major currency in Joy's artistry, as she generates a sense of momentum, motion, and vastness even on a small scale. Her vistas keep the eye and body moving across light-filled, expansive picture planes. Both the right and left brain, so to speak, are engaged in experiencing and absorbing the emotions these paintings explore, tapping into the light and dark places of raw existence and the deliberate synchronicity of leaning toward the light. Her roots are self-evidently spiritual -- William Blake, Eckhart Tolle -- and she describes her practice as one of the "evolution of consciousness with a mystical reference to the landscape." Yet among her more modern kin she identifies Rothko, Matisse, JMW Turner, and other painters who located traces of the spiritual in the secular universe. Less literal, specific, or narrative than the new contemporary Visionary Art movement, Joy is nevertheless working in a karmic, post-verbal modality of symbol and secular spiritualism, gazing toward the horizon and walking the coastline of the Jungian sky and sea. She'd still be making them even if they were only ever for herself.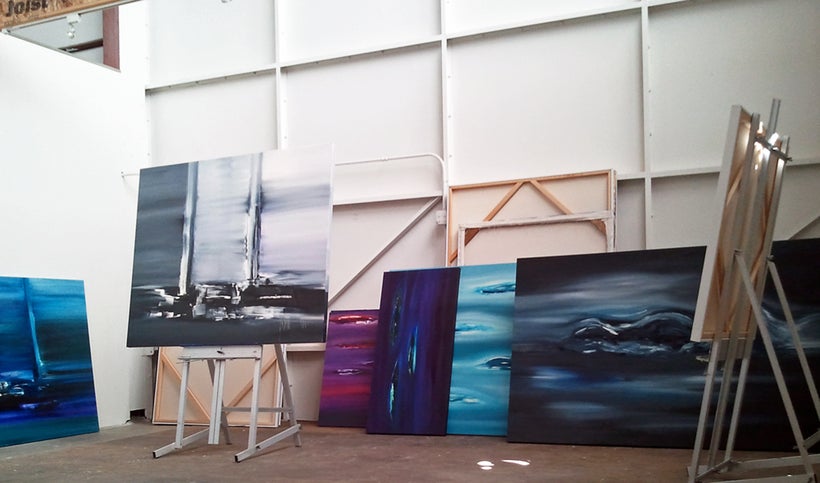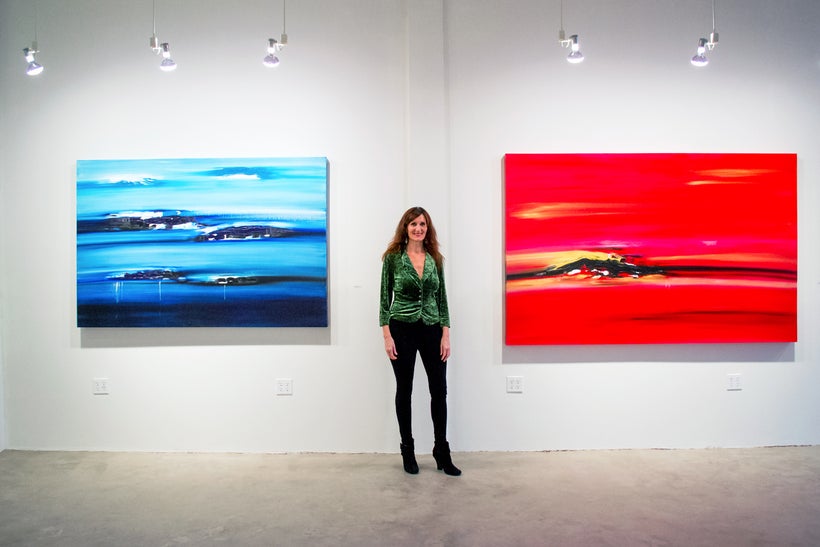 Opening Reception: Saturday, January 14, 6 - 9pm
On View: January 14 – February 9, 2017
Artist Talk: Saturday, January 28, 2-4pm – Moderated by Shana Nys Dambrot
Closing Reception: Thursday, February 9, 5-8pm
This post was published on the now-closed HuffPost Contributor platform. Contributors control their own work and posted freely to our site. If you need to flag this entry as abusive,
send us an email
.