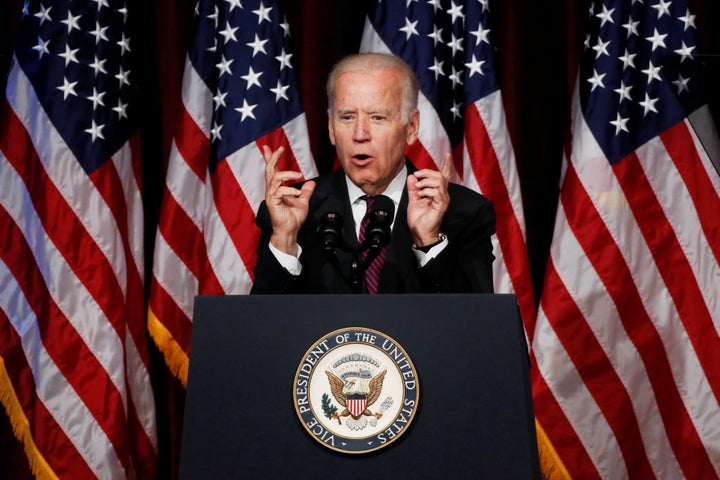 Vice President Joe Biden is racking up relatively good favorability ratings, which are being cited as a reason he might run for president. A poll released Sept. 24 shows Biden with his highest favorable rating ever as measured by the Quinnipiac University poll -- 50 percent -- and his unfavorable rating down to 34 percent. If he did run, that would be one of the higher net positives among all the candidates.
But those ratings weren't so strong just a few months ago. Biden hadn't been viewed more favorably than unfavorably in nearly two years -- until his son Beau died from brain cancer on May 30.
While there's no way to be certain that losing his son gave the elder Biden a ratings bump, the data are pretty compelling. Since the end of May, 12 of 17 national polls have shown the proportion of Americans who view him favorably higher than the proportion who view him unfavorably. Just two of the most recent 17 polls prior to May 30 had that result. The HuffPost Pollster chart illustrates that distinct change over the summer.
The Quinnipiac polls also highlight the trend: A poll released May 28 showed that 43 percent of Americans viewed Biden favorably compared to 41 percent unfavorably -- and that was one of the very few polls to show a net positive in the months just prior to his son's death. By July 30, Quinnipiac reported that Biden's favorables had jumped to 49 percent and his unfavorables had dropped to 39 percent -- for a 10-point net positive.
Favorable views of Biden increased most among Democrats and women from May to July. While his net favorability rating among all Americans rose by 8 points, the increases were 20 points among Democrats and 16 points among women. This is consistent with past sympathy effects -- people are more likely to sympathize with politicians of their own party, and women are more likely to show empathy than men.  
Nothing else happened in June or July that would explain such a rush of warmth for the vice president. The discussions about a possible Biden run for the White House didn't heat up until later in the summer. President Barack Obama's ratings didn't show a sharp increase. The main Biden-related news during that period was a report that his late son had wanted him to run for president, but Biden himself didn't comment on the possibility until weeks later.
There seems to be a segment of Americans whose main take on Biden shifted immediately after they learned of his son's death. That's understandable: If you're asked whether you have a favorable or unfavorable view of a person and the last news you heard about him was that he lost a child to cancer, you might have a harder time saying "unfavorable."
The same could hold true for Biden. The HuffPost Pollster chart showed that he was viewed more unfavorably throughout most of the 2012 campaign and then saw a brief spike in favorability in the first few months of 2013-- after he and Obama were re-elected.