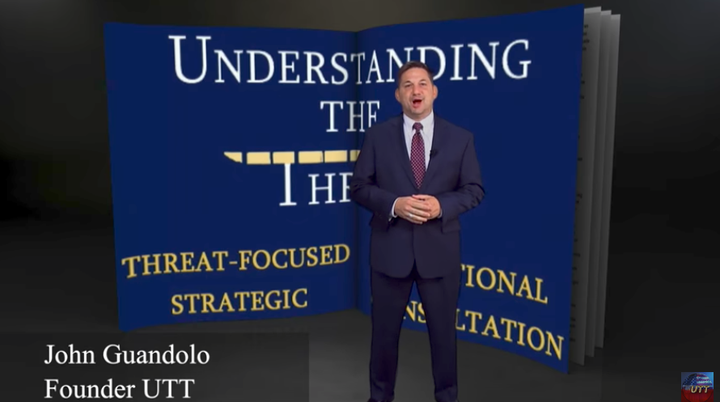 An anti-Muslim bigot and conspiracy theorist is being paid thousands of dollars in public funds this week to train Arizona law enforcement officers about the "jihadi" threat in the U.S., despite calls for the training to be canceled. 
The Mesa Police Department is hosting John Guandolo ― a disgraced former FBI agent with deep ties to anti-Muslim hate groups ― at a police facility for a three-day seminar titled, "Understanding and Investigating the Jihadi Network." 
The Council on American-Islamic Relations this month launched an online petition ― now with more than 2,000 signatures ― calling for the training to be canceled, citing Guandolo's record of pushing "bigoted" and "downright bizarre" theories about Muslims in the U.S. 
"It's unacceptable to have him training Arizona law enforcement officers," the petition says. 
The seminar started Tuesday as scheduled. 
Guandolo resigned from the FBI in December 2008 before he could be interviewed by the bureau's Office of Professional Responsibility about the sexual relationship he'd had with an informant in a high-profile corruption case, and his attempt to solicit money from her, according to a court filing by the government in that case. 
He's since made a career working with anti-Muslim groups, and spreading lies and misinformation to law enforcement about Muslims, who he sees as terrorists or potential terrorists. 
Through his consulting company, Understanding the Threat, Guandolo is a leading proponent of the thoroughly debunked "civilization jihad" conspiracy theory, which holds that American Muslims have hatched a massive, secret plot to take over the U.S. and implement sharia, or Islamic law.  
He once claimed that a Delaware imam was signaling "civilization jihad" when he touched his nose during the Pledge of Allegiance. 
Guandolo made the unhinged claim last year that Muslims are buying up U.S. gas stations and hotels as part of a coordinated "insurgency," and because they're "preparing for a jihad."
In another interview, Guandolo cited a bogus study that said 80 percent of American mosques preach violence and extremism. The government, he said, should shut down those mosques and arrest their leaders. 
A recent Understanding The Threat fundraising email made the baseless claim that American mosques and Islamic centers are "organizing for armed confrontation with law-enforcement," and that Muslims are researching "churches and other targets" for an "enemy" insurgency. 
In 2013, Guandolo partnered with the hate group Act for America to develop a "Radicalization Map Locator" for cops. The map lists nearly every Muslim Student Association. Guandolo once wrongly said the sole purpose of the student associations is to "recruit jihadis." 
He has also accused former CIA Director John Brennan of secretly converting to Islam; has called for CAIR officials to be locked up; and has said mosques have no First Amendment rights. 
"Guandolo would be a comical figure if he wasn't given credibility ― and public money," CAIR's petition says. "It's time for these Arizona officials to stop mainstreaming hate and cancel Guandolo's training."
Guandolo's appearance is sponsored by the Arizona Police Association, a statewide coalition of police groups. But the seminar is being funded with taxpayer dollars from the office of Maricopa County Attorney Bill Montgomery. 
Amanda Jicinto, a spokeswoman for Montgomery, told HuffPost that he approved two grants worth $28,000 for the Arizona Police Association to sponsor law enforcement trainings, but was unaware what those trainings would entail. (Montgomery faced a big backlash in 2014, when it was revealed his office directly paid Guandolo $40,000 in taxpayer money for another training seminar.)
Michael Dvorak, Mesa Police Department interim chief, has said that Guandolo's training this week would be his last in the department's facilities. 
Arizona Police Association's executive director, Levi Bolton, this month rejected a CAIR request that he cancel Guandolo's training, then bizarrely asked CAIR officials to report to police for a "sworn deposition."  
The Southern Poverty Law Center, which tracks hate groups, wrote this week that Guandolo's training could lead law enforcement officers to violate the civil liberties of Muslims in America. 
"Given Guandolo's history of loony pronouncements and his casual smearing of all Muslims, any 'strategy' Guandolo might impart could lead to the harassment and racial profiling of minorities who are perceived to be followers of Islam," the law center wrote. 
Guandolo is among a handful of anti-Muslim extremists, including Ryan Mauro and Chris Gaubatz, who regularly train law enforcement agencies across the country. According to a report from the Center for New Community ― which seeks to monitor "the anti-Muslim movement's efforts to indoctrinate law enforcement with hate" ― these extremists delivered 13 training seminars for police in 2016.  
Public outrage has led other law enforcement agencies to pull out of Guandolo seminars. But, according to the Center for New Community, Guandolo is still being hired. He has trainings scheduled for later this year in Mississippi and Nevada. 
Guandolo didn't respond to a HuffPost request for comment.
In an interview with ABC 15 this week, Guandolo said police officers "understand that there's a real threat that exists in the United States and that it is a significant threat."
"There's a massive network here in the United States, and it includes groups like the Council on American-Islamic Relations and the Islamic Community Center of Phoenix," he said. 
Guandolo also defended his theories about Muslims, 
"It can't be debunked with facts, only by name calling," he said. "That's what [my critics] do. They try to smear me and smear my organization."
Clarification: Language has been amended to clarify the description of Guandolo's departure from the FBI.
America does not do a good job of tracking incidents of hate and bias. We need your help to create a database of such incidents across the country, so we all know what's going on. Tell us your story.
BEFORE YOU GO