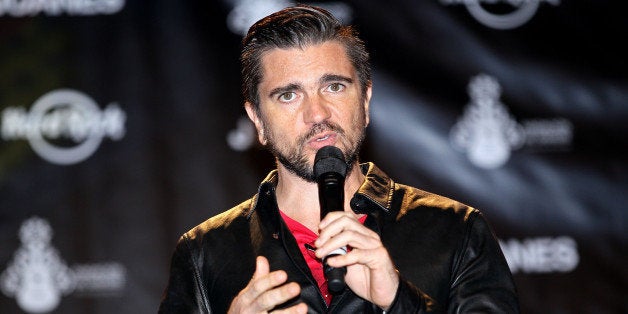 NEW YORK -- The peace process to end the decades-old conflict in Colombia has been a long road -- one the country's government hopes will end with the talks currently underway with the left-wing rebel group FARC (Fuerzas Armadas Revolucionarias de Colombia). But Juanes, the renowned Colombian musician and activist, says that even if a signed agreement happens, it won't be the end of the road.
This week, the Grammy Award-winning singer was named the first-ever Spanish-language artist in the Hard Rock Cafe International's Artist Spotlight series. Juanes, 42, spoke to The Huffington Post on Tuesday about "the key" to peace in Colombia and his own upcoming challenges on the small screen.
T-shirts and pins designed by Juanes will be sold in Hard Rock Cafes across the globe, and 15 percent of the retail sales will go toward Fundación Mi Sangre, Juanes' organization that helps victims of anti-personnel mines planted in the course of Colombian armed conflict. Fundación Mi Sangre also aims to help Colombian children say no to violence and instead become "peace builders" through education and vocational training.
On the subject of peace in Colombia, Juanes discussed the good that can come from the current FARC talks, which are being held in Havana. But he also emphasized how much work is left to be done before the South American country can heal and achieve peace.
Recently a group of 60 Colombian musicians -- including you, Carlos Vives and Fonseca -- recorded the peace anthem "Un Paso Hacia la Paz" ("A Step Toward Peace"). Vives and producer Ivan Benavides were inspired by Michael Jackson and Lionel Richie's "We Are The World" and created the song as part of the #SoyCapaz (#ICan) peace campaign. You've always been an ambassador for peace in Colombia, but how do you perceive the peace talks that are happening in Cuba with the FARC? Is it a step toward peace?
Yes, of course. Definitely. Well, you have to be clear on what is going to happen over there, because a signed agreement with the FARC doesn't mean peace for the country, no. It's an end, let's say, to the FARC chapter. But I think the end of that chapter is fundamental to Colombia's history ... And at the same time, historically, Colombia is going through a moment of reconciliation and forgiveness and it's very hard because that's something that's very difficult.
Nevertheless, I think that everything that is being done is worth it. All of the [peace] campaigns that are being done are worth it -- making people aware that we have to understand, we can change this about the country, but we have to do our part and it's not going to be easy. But I think there's been enough of this [FARC] chapter that has to end.
Signing the agreement is more of a political step, but there are also organizations like yours in Colombia that are trying to make that change happen within communities. Do you think it's important to start inculcating that mindset of peace at a young age and not just focus on signing peace agreements?
Right, right, exactly. It's not only about the agreements -- the key is education. And that education starts at home, it starts at school, it starts with your friends, with your neighborhood and with your personal attitude too. I think in the end it's your personal attitude, how you feel about yourself. For me it's something that's fundamental: a hug, a caress, the first exposure to knowledge through school. You who have felt it, for example, you know what that is.
A person who has never gone to school, who has been working since they were little, who was forced to work -- if they are recruited by an armed group, then how can we tell that person they should be happy and at peace? So we can't just blame those people, but rather try to understand that it concerns everyone.
So what matters is at least giving someone the opportunity to change their life?
Exactly. I think it's an opportunity that every Colombian is being given, that all of us Colombians can give ourselves, to change the history of the country. And it seems to me that it's important and we have to try.

And you haven't just sought peace in Colombia. Sept. 20 marked the fifth anniversary of your Paz Sin Fronteras (Peace Without Borders) concert in Cuba. If you turn on the TV today, you can see the world is in crisis. What region in the world could benefit from a peace concert today?
Well, speaking hypothetically, I think that anywhere in the world [could benefit]. Because it's like you said, I think what is happening is sincerely worrying. I watch the news and it truly saddens and depresses me because it's madness over there, a mix of religion and politics that is very complicated, [it's] like a bomb.
OK, so drastically shifting gears. You'll be guest-starring on the CW's new series "Jane the Virgin." Have you filmed anything yet?
Oh great, and how are you preparing for it? Is this your first guest-starring role?
Yes, it's the first time I'll be doing this. [laughs] Well, I did something small in Mexico once, and now I'm going to do it again. But I see it as something fun. I'm not an actor at all, but I think I can do it. I'm going to try and see it how it goes, and it's going to just be something fun. My thing is music and that's where I'm going to stay, but [...] they chose my song ["Una Flor"] for the series and then they told me "Hey, if you want to [do] something, you're welcome to," and they proposed this. And I said, "Well, OK, yes."
This interview has been edited for clarity.
BEFORE YOU GO
PHOTO GALLERY
Juanes At Hard Rock Cafe In Times Square