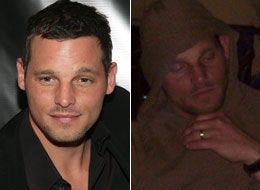 "Grey's Anatomy" heartthrob Justin Chamber checked into UCLA's psych ward in January to treat his sleep disorder. And although he was recently photographed and passing in and out of consciousness at a Palm Springs bar, the married Chambers opens up to the new issue of People about the success of his treatment:
"It's an issue that I've had for a while," the Grey's Anatomy star tells PEOPLE exclusively in his first interview since the incident. "It's a biological sleep disorder. Your mind keeps racing, and your body is tired. It wants to go to sleep, but it can't."

Chambers, 37, who has five children with his wife, Keisha, 38, says in the two months prior to checking in to UCLA, he was sleeping no more than an hour a week. "I got to my wit's end," he says.
Meanwhile, Star Magazine has photos and a report of him passing in and out of consciousness in Palm Springs: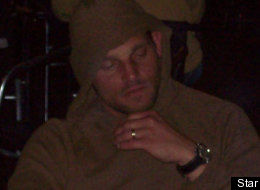 "Everyone thought Justin was drunk because he kept passing out at his table," the eyewitness tells Star. "But when I asked the bartender what they'd been serving him, she swore it was only non-alcoholic beer!"

"He was acting as if he was on drugs, like some kind of downers. His eyes were glazed over. He slurred his words and staggered when he tried to walk," the eyewitness added. "At one point, he was hunched over a table, then abruptly woke up and shouted out of the blue, 'I am a father of five kids! I am a damn good father! Leave me alone!' It was really unsettling."
"Grey's Anatomy" returns to ABC April 24th.