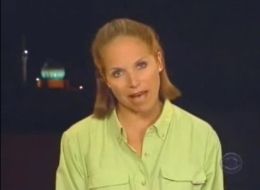 Katie Couric has had a rough ride, but lately, things seemed to have stabilized. Late in the summer, she blunted the potentially disastrous effects of a hatchet-job book by Ed Klein with a ballyhooed trip to Iraq, which just happened to coincide with a trip by President Bush, and also just happened to coincide with the year anniversary of her taking over the broadcast — a bumpy year, to be sure, but thanks to the Iraq trip, one which now had to share billing (if it came up at all). Her second year has, thus far, been a smooth one, and looks even better when juxtaposed with the drama unfolding thanks to Dan Rather and his lawsuit, which has reopened the ugliness of the impugned National Guard story and his ouster from CBS, and served as a reminder that CBS was in trouble long before she got there. Now, in year two, she and the newscast under EP Rick Kaplan seem to be all about consolidation: Doing good work, putting a dogged foot forward, and not making any sudden movements. Couric held her own alongside counterparts Charlie Gibson and Brian Williams in their one-by-one interviews with General David Petraeus, did great work reporting on the Minneapolis bridge collapse and California wildfires, and even scored a PR victory recently with the release of video footage goofing around before broadcast which, though it took a swipe at Rather, nonetheless showcased her as likable and fun. Even the ratings are up, to 6.9 million — Couric's best numbers since the week of March 5th, 2007. (Of course, all the networks are up, but still, as Tom Brokaw said, she more than triples Bill O'Reilly's take on any given night.)
All of this I say by way of set up for this bit of unfortunate news: The CBS Debate set for next Monday, December 10th has been canceled due to the looming CBS News writers' strike. Which, as stated above, is a bad break for Couric, for whom the chance to act as debate moderator would have provided the perfect opportunity to shine. NBC's Brian Williams has so far gotten two kicks at the can on MSNBC, and though Charlie Gibson ceded pride of place to George Stephanopoulos on ABC, this would have been Couric's chance to display the "gravitas" necessary to moderate between presidential candidates plus the personality that would come through during the inevitable unscripted moments that occur when ten people get together on a stage. It would have been a great platform for her — her tough luck that, of all the networks, CBS' writers are the ones poised to strike, and of all the timeslots in a schedule stretching from April through the new year, hers happened to fall smack dab in the middle of the "uncertainty created by the ongoing labor dispute between CBS and the Writers Guild of America," as per DNC Communications Director Karen Finney . Timing, as they say, is everything.
No doubt the upcoming primary season will give Couric plenty of opportunity to show her news chops as the nomination-fest gets underway, but Williams and Gibson will have the same opportunity — and while they're jockeying for the number one spot, she's the one in third, and she's the one who could use it. December 10th was to be her night, just for her. And it would have been a good one. Yes, cry her and her $15 million contract a river, but still — it's money she could have had at Today, and we all know that it's not about that. Especially now. For Katie Couric, this would have been a moment to remind the critics that she, too, has what it takes to make it on that stage and, by extension, on that screen (i.e. that screen, the one old people watch from 6:30 - 7:00 pm. Kidding! Who needs a Jarvik Artificial Heart?). It's not fair — why should she have anything more to prove than Chris Matthews or Keith Olbermann or Anderson Cooper or Brit Hume? — but it just is and she just does. As far as measurable benchmarks go, this would have been one — and that much more distance to put between freeSpeech and false library card memories and plummeting ratings (that, it should be said, have fallen so far that today's high-water mark is last February's nadir).
Yep, Katie Couric and the CBS Evening News could have used the break, but hey — it's a long campaign season, and between the heightened interest in the political scene and the increased eyeballs ushered in by winter, maybe Couric & Co. will get their break the old-fashioned way: By putting on a good newscast, and trusting that people will eventually notice.