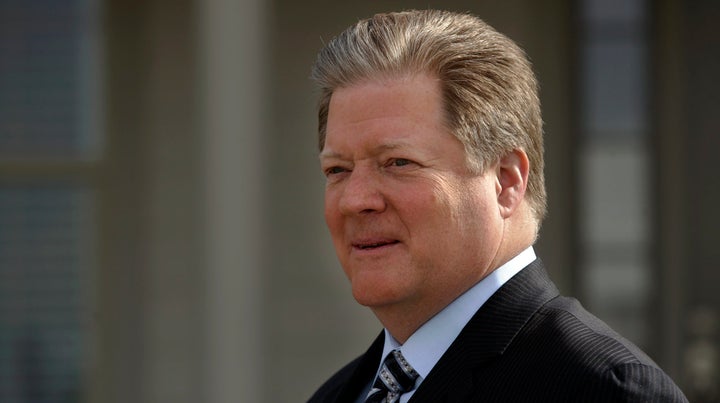 KB Home's board of directors pledged Thursday to cut CEO Jeffrey Mezger's bonus payment by 25 percent this year after he was recorded shouting insults at his neighbor Kathy Griffin.
Mezger's non-equity incentive plan compensation has ranged from $3 million to $4 million in recent years, meaning the penalty for his obscenity-laden tirade could be in the neighborhood of $1 million.
KB Home's first Securities and Exchange Commission filing on the subject said the company would cut Mezger's "bonus" ― a penalty that would essentially be meaningless, since the CEO isn't regularly paid a bonus ― and when he is, it's a pittance compared with his annual compensation.
But in a second SEC filing after markets closed on Thursday, the company clarified that by "bonus payment" it meant "non-equity incentive plan compensation payment." That would deliver a much stronger blow to Mezger. 
According to its 2016 shareholder report, KB Home last paid Mezger a bonus in 2014. That year, in addition to his total compensation package of $10,349,483, he was awarded a bonus of $125,000:

A hypothetical 25 percent penalty on the $125,000 sum would amount to a deduction of $31,250, or just 0.3 percent of Mezger's total compensation.
KB Home didn't respond to a request from HuffPost detailing the actual dollar amount of the penalty.  
Earlier this week, HuffPost obtained and published an audio recording of Mezger shouting vulgarities at Griffin after she and her boyfriend reported an hourslong noise disturbance at Mezger's house to the Los Angeles Police Department on Saturday.
In the explicit recording below, Mezger calls Griffin a "bald dyke" and a "cunt," among other things.
"Mr. Mezger regrets losing his temper over a supposed noise complaint involving his three young grandchildren in his swimming pool around 8 p.m. on Saturday, while they were being supervised by their mother and grandmother," KB Home told HuffPost in a statement regarding the audio recording. "He apologizes for the language he used, as it does not reflect who he is or what he believes."
In its filing with the SEC Thursday, KB Home called Mezger's behavior "unacceptable and a negative reflection on KB Home." Mezger has served as the company CEO since 2006.
This article has been updated to reflect KB Home's second SEC filing, which clarified the company's definition of "bonus."