"People are always trying to pit [musicians] against each other," proclaims a frustrated Kelly Clarkson. "I just don't get it." 
Too often critics are fixated on comparisons and forced conflict between recording artists, the "Love So Soft" singer told Party Foul Radio with Pollo & Pearl. Though admittedly not a personal fan of all her peers, the pop superstar said there's no reason to trash-talk others either.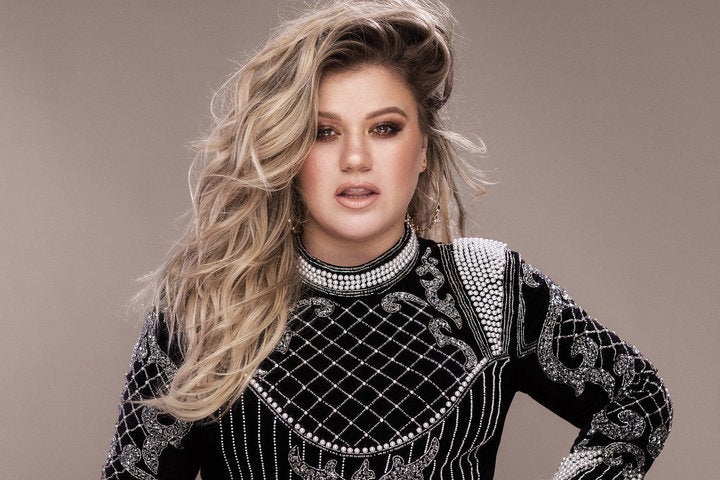 "People always try to gear us — especially women in the industry — against each other," Clarkson  emphasized on Podomatic's No. 1 LGBTQ Podcast. "I'm just not about that."
The multi-platinum singer's eighth studio album Meaning of Life dropped to critical acclaim Oct. 27. Discussing her debut on Atlantic Records, which "100-percent" supported her move from pop-rock to the album's more soulful appeal, Clarkson opened up about the  pleasure many seemingly derive from public drama. 
"I like to be sarcastic about all these dumb 'feuds' between women in the industry," the happily-married star confided.
"It's like, 'Please do not fuel that fire any more,'" said Clarkson of reported bad blood between other female singers. "They already try to do it to us enough."
Since shooting to global fame as the inaugural American Idol in 2002, Clarkson has not been entirely free of rumored "feuds." Her industry-specific conflicts, though, have been reserved for record labels and executives. 
Most notably, the singer took entertainment bigwig Clive Davis to task when she felt the label head hampered her artistic growth. Openly sparring with another artist, however, makes no sense to Clarkson.
"The only reason I feel like anybody would be that into an argument (with a fellow singer) is because they feel like they need it to survive in longevity in this industry," she opined.
"That's sad," said the Nashville resident, who assured those who might feel that way: "We're going to be fine. We're all going to be fine!"
During her career, now spanning eleven Top 10 hits over a decade-and-a-half, Clarkson admits seeing artist comparisons turn to both real and perceived friction. In fact, the three-time Grammy-winner shared, others have tried to drag her into similar situations — often. 
"People will be like, 'Please don't be like this artist, because they're naked all the time' or 'Please don't be like this artist; just focus on your music,'" she revealed. 
"You know what? I don't want you to compliment me while derailing someone else's career, because that person is comfortable, doing what they like to do," the Texan asserted. "If they love showing skin, they love that. That's how they feel sexy; that's who they are."
LISTEN: Kelly Clarkson Appears on Podomatic's No. 1 LGBTQ Podcast
Rather than feeling threatened by other vocalists, Clarkson — who has sent three albums to No. 1 on Billboard charts with an equal number of singles topping the magazine's "Hot 100" — celebrates the diversity of women in the industry. She said: "Everyone's different, and it's supposed to be different." 
Clarkson is confounded by societal pressures for musicians to conform to some unspoken sound or standard — or outwardly compete with industry contemporaries. Instead, she defends her chart-topping sisters, going so far as to humorously skewer criticisms lobbed at fellow female superstars.
"With Kesha, it's like, 'Why does she rap? Why doesn't she just sing?' Why do you care that P!nk is flying around?" Clarkson asked.  
"Maybe she likes doing that? Obviously she does!" she pointed out.
"Lady Gaga... She and I are very different," continued Clarkson.
"Where we are very similar, she's very respectful and one of the sweetest people I've ever met!" she shared of the "Born This Way" favorite, "So I think we have a lot in common too."
The examples don't end there though! From Clarkson's passionate response, and laundry list of names  rattled off for listeners, it appears she's either been compared to or expected to feel competitive with nearly every major female in music today. She rejects both ideas at every turn.
"People will be like, 'Oh my God! Did you see what Rihanna was wearing?'" Clarkson reported. "And I'm like, 'Yeah, and she looked frickin hot! Amen! God did good!'" 
Often, she said, it comes down to fans simply not approving of a star's choices — whether those be musically or in fashion. Clarkson's response to such outcry, especially regarding appearance, are rather blunt: If you don't like it, don't wear it yourself or don't watch!
"She's sleeping just fine at night!" the sassy Southerner said of the envelope-pushing "Love On the Brain" star. "Why are you worried about it? She's not worried about you or your opinion.
WATCH: Pollo Del Mar's Video Review of Meaning of Life
"It just boggles my mind when people want people — or crave them — to be something they're not," she continued, "Because then you don't [really] like them."
Clarkson refuses to "down others" who approach their artistry in a different way than she might. Any who want all acts to be the same, she said, "have come to the wrong industry." 
Personally, Clarkson values a wide array of musical styles and sounds. The pop, country, rock, blues and dance influences scattered throughout Meaning of Life, which she called the most "authentic" album of her career, are proof. 
"I have everything from Britney Spears to Imagine Dragons to Nirvana to Andrea Boccelli," she said of her personal musical library. 
"I would never expect Andrea Bocelli to do something Britney Spears does, because she's a different kind of entertainer," said Clarkson, laughing at the absurdity of suggestions artists should be compared. 
"I would never expect Nirvana or U2 or any of these artists I love to do something like I do, because we're not the same," she said, "And that's ok."
Unfortunately, Clarkson admitted, the push for musicians to conform is nothing new. Though she feels women in entertainment face criticism and unflattering comparisons at a higher rate than male counterparts, she said the expectation "isn't limited to any one group."
"Let's be real; this has been happening since way back in the day," she stressed. Even greats like Nirvana and Ella Fitzgerald ("way, way back in the day") faced unfair parallels drawn to others in the industry at their respective times, the mother of four said.
"People always want you to fit this box that makes others comfortable," concluded Clarkson, "But being creative isn't about being comfortable; it's about being progressive!"
Follow Party Foul Radio with Pollo & Pearl on Twitter.
Like Party Foul Radio with Pollo & Pearl on Facebook.
LISTEN: Kelly Clarkson Talks New Album, How Being Out Changed One Major Country Star's Career, More