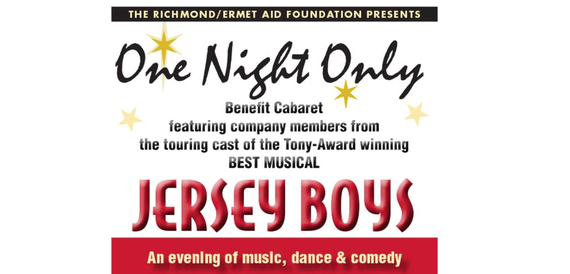 This week I talked with Ken Henderson Executive Director of Richmond/Ermet AID Foundation that for over twenty years has raised millions of dollars by producing Broadway quality entertainment events and galas to advance HIV treatments and support AIDS services until there is a cure. Recently REAF has expanded its fundraising focus to the Bay Area's growing demand for two new areas by providing food for the needy and programs that support homeless, disadvantaged and disenfranchised youth. On February 1st REAF presents One Night Only Benefit Cabaret with the touring cast of the Tony Award-winning cast of Jersey Boys that takes place at Brava Theater 2781 24th Street in San Francisco at 7:30P. Songs from Jersey Boys will not be performed but instead they will provide an evening of music, dance and comedy. I talked to Ken about this fabulous philanthropy and stellar entertainment organization and his spin on our LGBT issues.
LISTEN:
When asked what his personal commitment is to LGBT civil rights Henderson stated:
As a gay man that's one of the most important things I think in my life is trying to have equality and full rights like everyone else. I've been involved with HIV fundraising for the last 22 years but I've been around and seen the impact HIV has had on our community and I've seen the changes in our community. We fought hard for the rights that we have and its advanced much faster than I ever thought it would. Having marriage equality and everything across the country not just in one or two places, has been a huge impact, although I know we have a Republican caucus coming up that is trying to change all of that and it's not a time to let our guard down. We have to fight harder than ever to make sure that the rights we have won continue to exist and that we continue to advance.
Ken Henderson serves as Executive Director of REAF and has served as Co-Producer for REAF events since its inception in 1994 when founders Barbara Richmond and Peggy Ermet called Joe Seiler and Ken with an idea of producing a benefit to honor both their sons and help raise funds to help support the HIV/AIDS agencies that provided services for their sons before they died; they both readily accepted. Doug Ermet had been an especially close friend to Ken and Joe and it seemed a great way to pay tribute to their great friend as well as make a significant contribution to the fight against AIDS. Ken's love of theatre made Barbara and Peggy's appeal even more inviting. Ken also maintains a graphic design business and has worked with many non-profits on their fundraising events. As one of the original founders of REAF he has helped create REAF's vision and oversee most of REAF's event committees. In addition to co-producing the One Night Only Benefit Cabaret series of fundraisers for REAF and Broadway Cares/Equity Fights AIDS they produce Help is on the Way and Help is on the Way for the Holidays productions. Additionally Ken has been the key contact for corporate underwriting for REAF overseeing the beneficiary selection process as the chief administrative officer and donates his graphic design skills and time to the foundation. Ken is motivated by so many friends he has lost to AIDS and those still fighting the battle, but as we move closer toward a cure there's still a lot more work to do to end this epidemic once and for all.
For More Info & Tix: reaf-sf.org