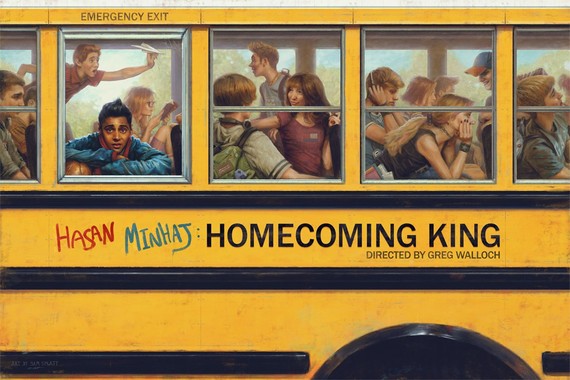 Funny and sad are two sides of the same coin. I think that most comedians are able to tap into deep subject matter.

-- Hasan Minhaj
My grandparents immigrated to the United States from Russia in the early 1900s, and my paternal grandfather loved telling stories about their assimilation to a new culture. This was his favorite: "My four brothers and I lived in a one-room apartment on the lower east side, but we took in a few boarders because we needed help with the rent."

My family -- like so many others -- struggled to adapt to their new country, but the countless ordeals they faced were always met with humor and passed down via stories and anecdotes from generation to generation.

Our culture offers an abundance of standup comedians today, but storytellers and monologists are a rarity, so I was pleased to learn that Hasan Minhaj is about to start previews of Homecoming King at the Cherry Lane Theatre. The show (72 minutes in two acts), is directed by Greg Walloch and has strong audio-visual support (including pulls from Facebook and Twitter) to help Minhaj tell his life story.

You can hear my opinion on various subjects, but telling my story is the most authentic thing I can do. There's nothing more powerful I can share with an audience.

Minhaj is a correspondent on The Daily Show, and we sat down recently in his office where a poster for the show is hanging on the wall. It features a young, bewildered Minhaj staring out of the emergency exit on a school bus. I noticed it immediately and he jumped right on it:

I don't know anyone who has had a positive experience on the bus. What state mandated this law? Let's put 100 hormonal teenagers in a metal receptacle everyday and hope fights don't break out.

It's obvious that Minhaj has shared the same hellish adolescence as the rest of us, and is now a successful 30 year old who is truly living the American dream, but what's unique about his story is the route he -- and his family -- took to get here. Minhaj is just a few years older than my children, but like my parents, he is also a first generation American.

Minahj's story is heart wrenching and sad, yet at the same time funny and inspiring. His parents are from what his father describes as a small town in India -- Aligarh -- population 990,000 which Minhaj says is about as small as Dallas. Thirty years ago Minhaj's father heard about Seema -- an attractive young girl in town. "She was supposed to be slim and pretty and her family owned a camera!" Minhaj explained. His father married her without even meeting in a manner that Minhaj describes as "Tinder with no photos." Minhaj's parents then moved to California, and as soon as he was born, his mother went back to India to attend medical school. So Minhaj lived alone with his father for the first nine years of his life.

My dad was the only son from his entire family to come to America, and I was his only son. We had come to the states to achieve security and success for our family. Rules were simple: No fun, no friends, no girls. Go to school, come home and study.
Minhaj's father may have been strict and demanding, but he obviously did something right because his son is an engaging, funny and polite young man who even though I'd just met him, made me feel comfortable and welcome. Most of us want to bury the embarrassing experiences of our youth and forget them forever, but Minhaj reveals everything, including his ill-fated prom date whose parents rejected him because of his race. Ultimately, Minhaj resolves all prom issues with the following thought:
Getting prepared for the prom -- March Madness for nerds.

Minhaj told me the story about meeting his sister for the first time. His parents had kept it a secret from him and when he was nine and his sister was five (she came over from India) they finally met. It's a sad, poignant and ultimately funny account Minhaj's two worlds colliding, and fortunately he's able to find the humor in it.
I feel like every conversation with my father is like an M. Night Shamalayn movie; 90 minutes of build-up to no payoff.

I learned from talking with Minhaj that we all can share the same angst and suffer with acne, demanding parents and rejection from the opposite sex no matter where we come from or what our religion may be. The real lesson is how we deal with the consequences.

You can hear my opinion on various subjects, but telling my story is the most authentic thing I can do. There's nothing more powerful I can share with an audience. I'm still growing a lot as a human being and a person -- I just turned thirty and all I have right now is my story and my parents' story and what I've learned from them.
You've learned plenty, Hasan, and we will too.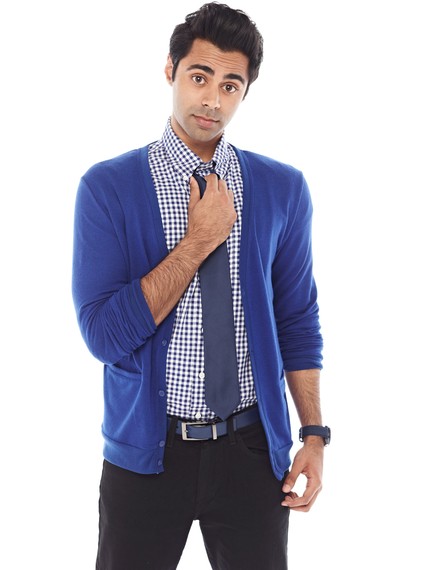 Hasan Minhaj
Previews for Homecoming King begin October 15th and opening night is October 23rd and runs until November 15th. www.homecomingkingshow.com