How do you like your Ghost Town? Virtual or extra-lively?
Because – this summer -- Knott's Berry Farm actually gives you options. You can either experience a VR version of this theme park's historic Old West section (where you'll then get to battle robots in an immersive 360 shooter). Or you can explore Ghost Town Alive! where the streets of Calico are filled with dozens of performers dressed in authentic western garb. Who then – with the help of Guests who are visiting the farm for the day – then play out an 8-hour-long piece of interactive, immersive, theater.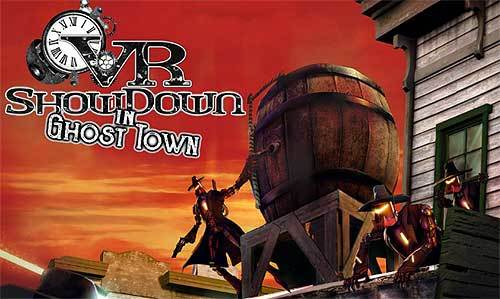 Why did "America's First Theme Park" opt to take on such an ambitious two-pronged project? To hear Ken Parks – the Vice President of Entertainment for Knott's Berry Farm – talk, this all dates back to when Cedar Fair Entertainment was looking for a unique way to commemorate Ghost Town's 75th anniversary.
"Over the past few years, Cedar Fair has been plussing various rides around this theme park. Taking Knott's favorites like the Calico Mine Train & the Timber Mountain Log Ride and – while preserving what people already loved about these classic attractions – improving them, updating them," Parks explained during a recent phone interview. "Well, Raffi Kaprelyan – he was the general manager of the park at that time – he wanted to do the same thing with Ghost Town. That area that Walter Knott had started back in 1940 and that the rest of this theme park had grown-up around."
But even though Kaprelyan had many conversations with Lara Hanneman (i.e., Knott's Creative Director) about this topic, these two couldn't quite get a handle on how the park should go about plussing Ghost Town. But all that changed one day when Raffi stopped by the blacksmith's shop in Calico and asked the employee who worked there year-round how he was doing.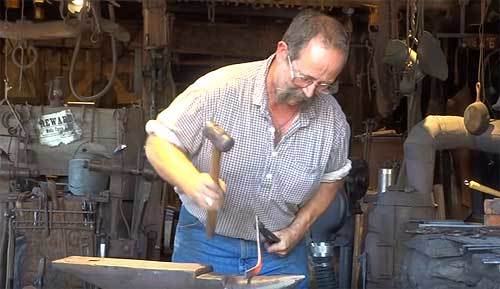 "And this guy replied by saying 'I'm always doing great because I'm the richest man in town.' And since that response really intrigued Raffi, he asked the blacksmith to elaborate. And this guy then spun out this amazing tale about how – because the people of Calico were constantly coming to him for nails & horseshoes – the blacksmith was always busy. He always had money coming in," Ken continued. "This guy then pointed to some hinges that he'd forged for Calico's jail. And he said 'I'm the person who really keeps the prisoners in their cells, not the Sheriff. After all, I'm the one who made those hinges.' "
And Raffi so enjoyed his talk with the employee who worked in Ghost Town's blacksmith shop that he wondered: What if Calico was filled with characters like this? People who were dressed in authentic period garb who all had interesting points-of-views, fun stories that they could then share about what was going on in town. Wouldn't that make visiting this part of the park a lot more entertaining?
"So he & Lara began talking about this idea," Parks added. "These two knew that they didn't want to dress people up in period costumes and then just cut them loose in Calico as some sort of photo op. Raffi & Lara wanted characters that the Guests could actually interact with. Authentic characters who had a real reason for being in town that day. This is when they brought me in. I was working for Knott's as a consultant at the time. And over the next year and a half, we crafted this interactive story with an authentic set of characters that – with the help of our Guests – would then play out over the course of a single day."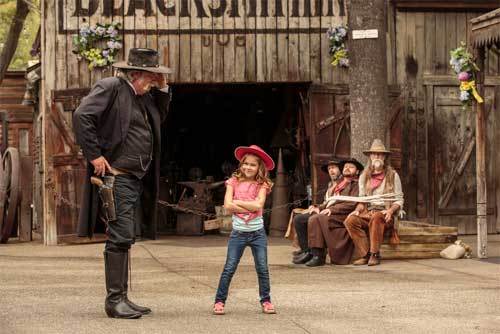 Of course, doing something like this (EX: Hiring & then training the 42 performers that Knott's would need if Calico were supposed to have 24 different citizens wandering its streets seven days a week for an entire Summer) wasn't going to be cheap. In order to give these performers places where they could all interact with Guests, not to mention props that could then hand off to those people which these performers had persuaded to play a part in that day's interactive narrative … Well, that meant that Knott's parent company – Cedar Fair Entertainment – was going to have to pony up a lot of dough in advance.
"But what really helped us was the timing of this project. Knott's Berry Farm was coming up on the 75th anniversary of when Walter Knott founded Ghost Town. And Cedar Fair had already committed to refurbishing this part of the park so that Calico could then look as good as possible for that anniversary," Ken continued. "So – in the end – Ghost Town Alive! and Calico's refurbishment all became part of the same big package. It was a huge capital investment on Cedar Fair's part. But they were willing to gamble that investing this much money in the oldest part of the park would eventually pay off."
Luckily for Lara, Raffi and Ken, Cedar Fair's investment in Calico paid off in spades. When Ghost Town Alive! opened at Knott's Berry Farm back in June of 2016, it immediately became a hit with both the day guests and the annual passholders for that theme park. Kids and adults alike got a kick out of helping Sheriff Wheeler keep an eye on Ike, Fluke, Scruff, Clay, Tiny, Pitt & Ox. Who were all members of the notorious Mayfield gang.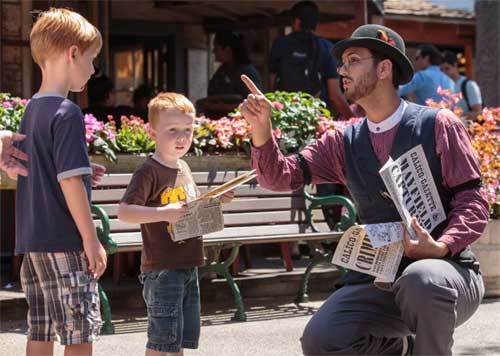 "But it wasn't just the law-and-order aspect of this day-long interactive story that our Guests enjoyed. They also got caught up in the regular day-to-day activities in Calico. These people did things like deliver packages for the local Pony Express office or help gather information for the editor of the town newspaper. Which is how their names then wound up in the latest edition of the Calico Gazette. And all the while, they're interacting with the citizens of Calico and then getting drawn deeper & deeper into this immersive experience," Parks enthused.
Ghost Town Alive! wound up being so popular with visitors to Knott's Berry Farm (Ken shared with me that – according to an in-park survey of Guests which an outside marketing firm did for this theme park – on a scale of 1 to 5, Knott's interactive role-playing immersive entertainment experience received a 4.98 rating) that they then decided to bring it back for the Summer of 2017.
Mind you, 2017 was also the year when Knott's Berry Farm was planning on unveiling "VR Showdown in Ghost Town." Which this untethered virtual reality additional charge attraction that had been built inside of this theme park's Boardwalk Arcade.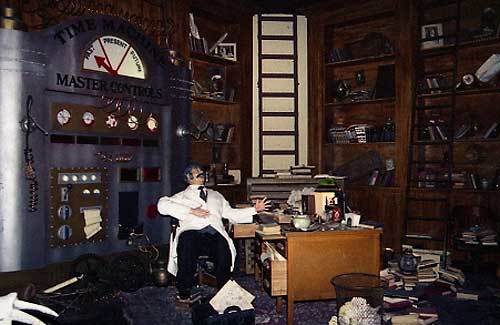 "Now what's fun about this VR experience is that we actually tied it into the mythology of Knott's old 'Kingdom of the Dinosaurs' ride. Longtime fans of Knott's may recall that – back when that attraction was up & running in this theme park's Roaring 20's section – your ride vehicle first had to pass through Professor Well's lab before you were then sent back to the age of the dinosaurs," Parks said. "With 'VR Showdown,' we're allowing our Guests to return to Professor Well's lab for another time-travel adventure. Only this time, we're sending you into the future to do battle with robots that Professor Well's assistant has created which are now trying to take over Ghost Town."
What's especially fun about this 360 shooter is that – thanks to the cutting-edge technology that powers this virtual reality experience – upwards of four people can play together at the exact same time.
"So you can play opposite your friends in 'VR Showdown.' You'll be able to see their avatars inside of this attraction with you," Ken said. "More importantly, you'll be able to directly compete with them and see who then winds up with the highest score."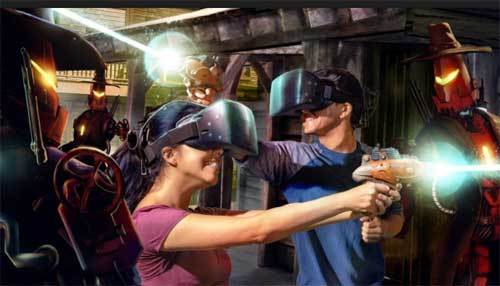 What's kind of ironic about all this is that Knott's Berry Farm went into completely opposite directions when it came to how these two Ghost Town-related attractions were pulled off. "VR Showdown in Ghost Town" (which is the first and only permanent full motion virtual reality experience in a U.S. theme park) is powered by state-of-the-art electronics. Whereas Ghost Town Alive! is mostly powered by people & paper. Kids who draw wanted posters of the bandits that they just saw rob the Miners Bank & Gold Exchange. Or those ballots that visitors to this theme park use to vote when the town is deciding whether Bryce Wheeler or Tiny Mayfield should now be the Sheriff of Calico.
"And what's great about that moment in this day-long interactive show is that the way that people vote actually does have an impact on how that day's version of Ghost Town Alive! plays out. What happens at the Hoedown in Calico Square," Parks said. "That's why so many of our annual passholders keep coming back to Calico over the course of the summer. They want to experience all of the variations, see for themselves all of the twists & turns that this immersive tale can take."
Just so you know (because Knott's décor team does eventually have to get this theme park ready for its annual transformation into Knott's Scary Farm. Which typically gets underway during the latter part of September), Ghost Town Alive! will be wrapping up for the Summer 2017 season on September 4th.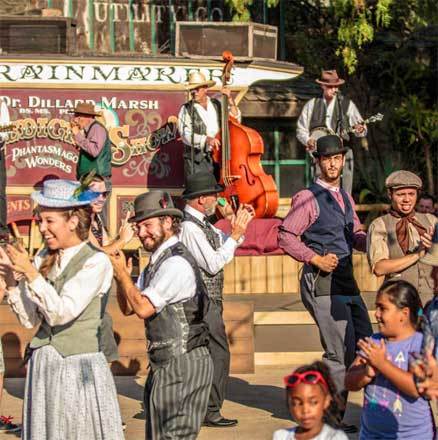 On the other hand, "VR Showdown in Ghost Town" will continue in Knott's Boardwalk Arcade for the foreseeable future. That said, unlike "Ghost Town Alive!," this virtual reality multiplayer experience is not included as part of your standard admission to Knott's Berry Farm. More to the point, "VR Showdown" is not recommended for children of 12 & under.
This post was published on the now-closed HuffPost Contributor platform. Contributors control their own work and posted freely to our site. If you need to flag this entry as abusive,
send us an email
.