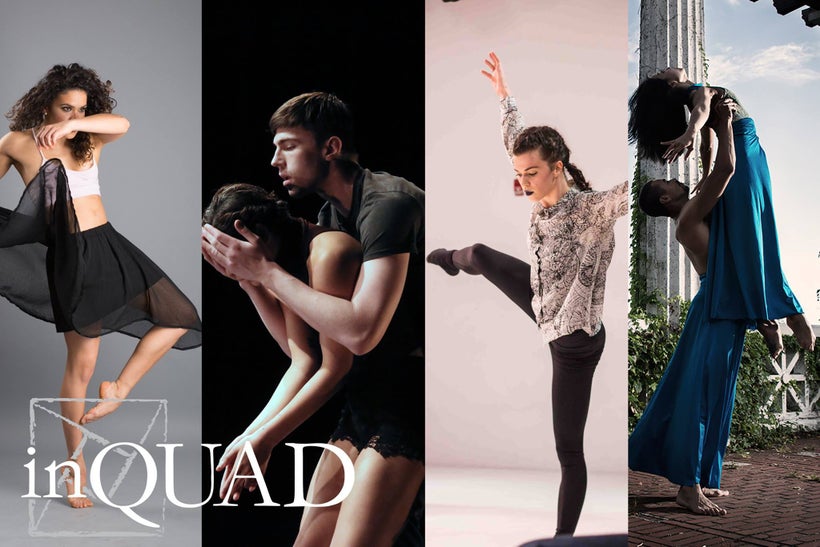 To quote Aretha Franklin, these "Sisters Are Doin' It for Themselves". Rather than waiting around to be discovered, Kristen Klein gathered 3 other female dance-makers and produced her own concert. Though it's en vogue to talk about giving female choreographers greater opportunities, there is an equally prominent, if not hysterical, counter-argument emerging against it. With the third edition of inQUAD, Klein and her colleagues - Lindsey Miller, Angie Conte, and Zuitari Gomez - furthered the case for giving the Feminine Divine its due.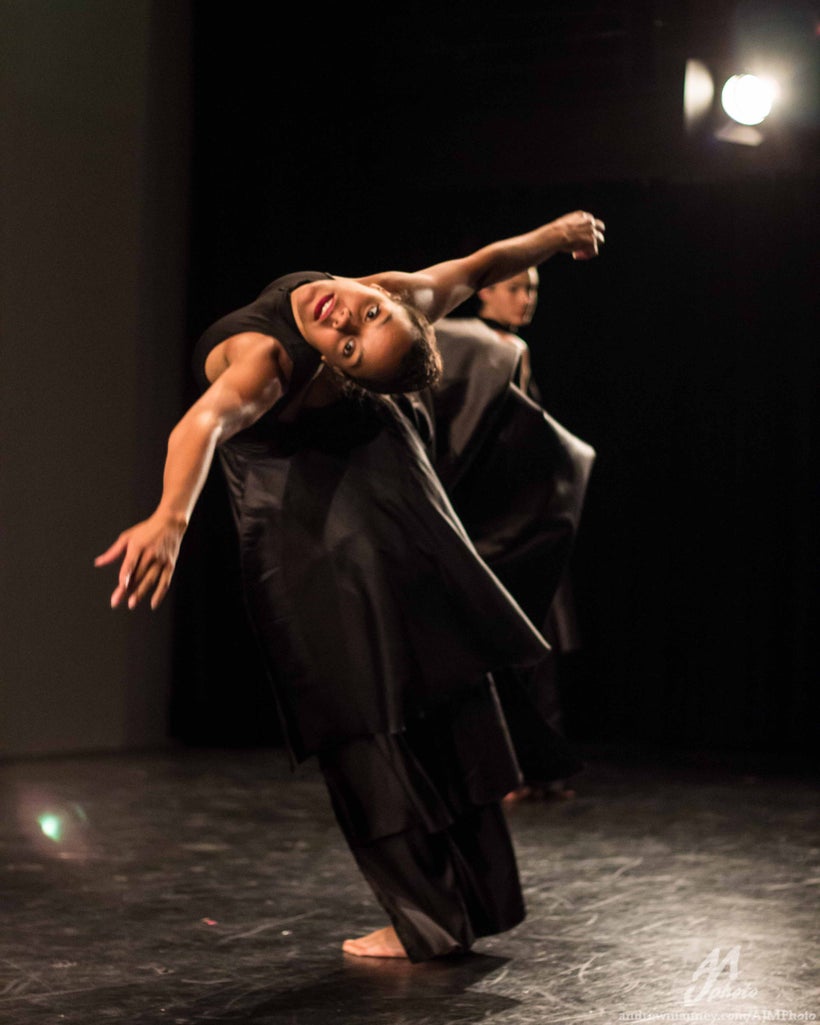 Zuitari Gomez's Familiar Feeling opened with Lukasz Zieba stoically man-handling a passive Miriam Gabriel. The familiarity of abuse reared its head in this relationship when Gabriel leaned in towards Zieba to be cradled and showed zero surprise after he unceremoniously dropped her to the floor. This cycle of abuse repeated itself until Kerime Jessica Konur soared onto the scene, lunged across the floor, and flicked her leg so far backwards that it grazed the top of her head. During this sequence a billowing wrap-skirt trailed her every movement as if it were the tail to her comet. Zieba approached her with equal parts fascination to incomprehension, stole the skirt, and scrambled away. Konur smirked and approached Gabriel as if they were sisters and proceeded to tease and dance with her as if to say, "You are worthy." Zieba re-entered - attired in the stolen skirt - transformed. Now he was daffier, moving with undulating hips and a rippling spine. Bedecked in that skirt it seemed that he had found himself, though the thought occurs that because Gabriel was no longer forlorn Zieba felt less menacing. Whatever the case, the once oppressive juggernaut was now a club buddy and Konur was their boogie line leading fairy god-mother.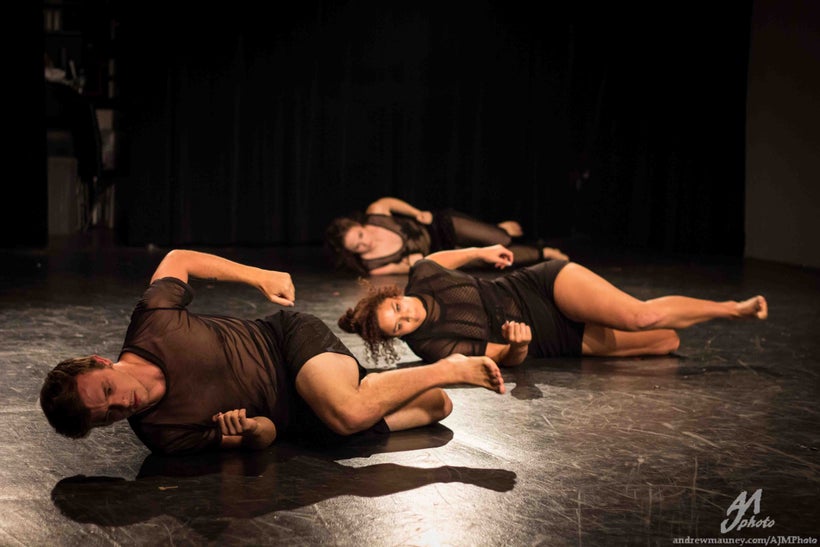 Angie Conte's Vantablack pieced together a series of difficult physical feats to droning noise and very dark light. You guessed it: contemporary dance. While the four dancers were talented - especially the whirling wildcat Alex Tenreiro Theis who spent most of her time suspended in the air or walking along walls - what Conte gave them resembled nothing so much as rhythmless obstacle course exercises. There is an argument to be made for enjoying watching unconnected actions. You will not find that argument in this review.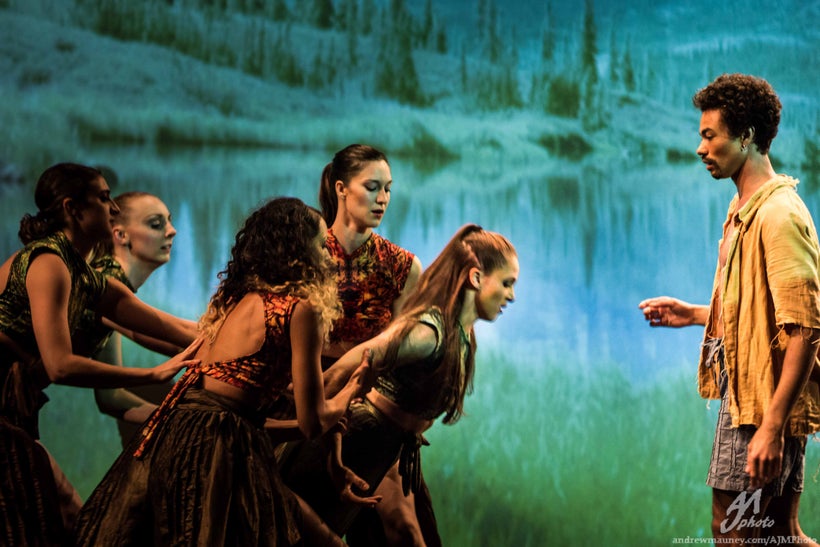 Lindsey Miller's The Trees Are Fading provided the most in terms of a complete production. Choreographed in the mold of a Martha Graham epic - except with a man as the soloist - Trees featured a chorus of five women beautifully dressed in costumes by Zachary Alexander flying across the stage as if they were unbound elemental spirits confronting a man who had wandered into their sacred grove. That man - a wretched shipwreck survivor - was Zachary Tracz, the most talented dancer of his generation at Graham II. Though Tracz disappeared from the dance scene 5 years ago, he has clearly retained his Graham-honed talent. Given a series of deep runs that spiraled into contracted hesitations, Tracz dug into his role with aplomb as if he were effortlessly scaling the highest peak. Miller choreographed Trees in conjunction with a beautifully lush projected film, by Court Whelan, to illustrate the devastating effects of mankind's pollution on the planet. Though filled with numerous eye catching patterns, Trees was most effective during its moments of stillness wherein Tracz bore silent witness to the vision of a coming storm as the elements softly flickered around him. If Miller can find better music to accompany this piece, she will have something wonderful.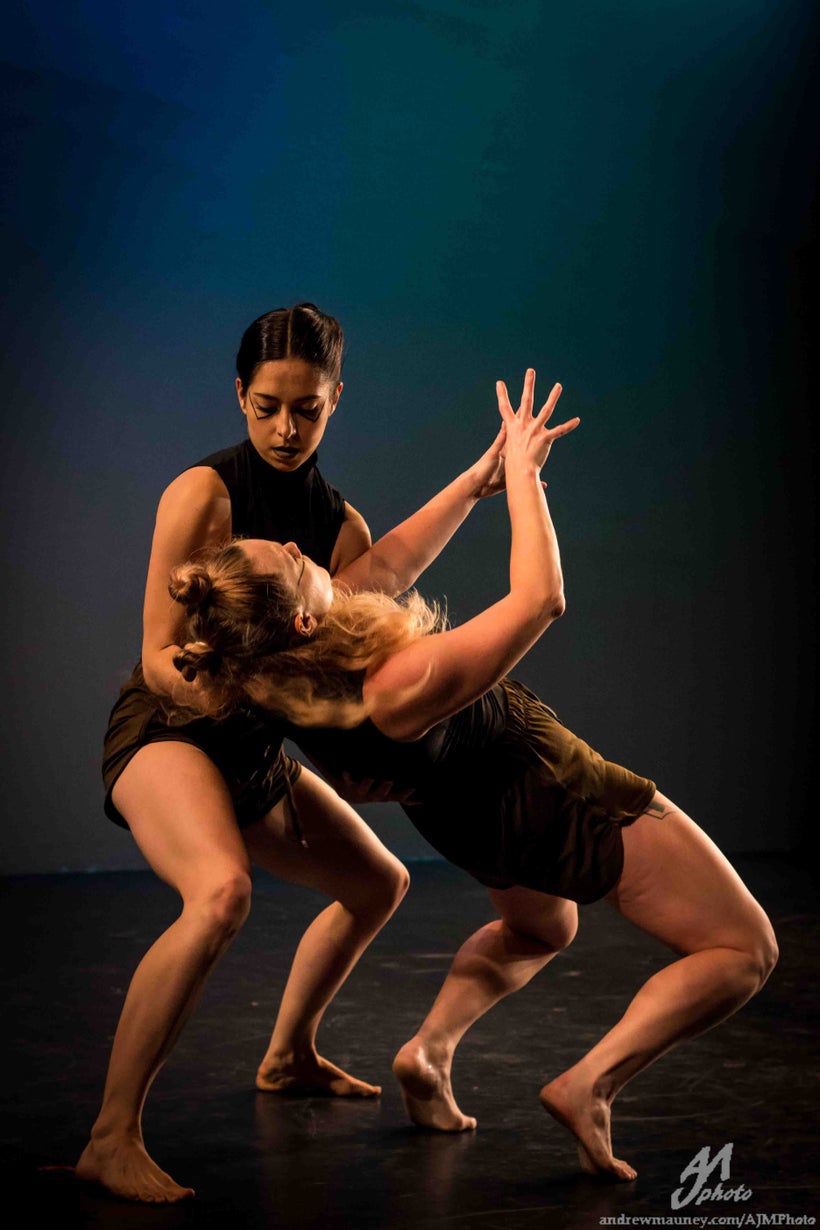 Kristen Klein closed the concert with her company, Inclined Dance Project performing Phyla. Unfortunately, Its mind-numbing preamble left one wondering "Do I really need to see this?" And then, inexplicably, things kicked into high gear. In tandem with its suddenly propulsive electro-techno score, Phyla went from ponderous to scrumptiously crafted animalistic studies that traded off between dancers as if they were embodying and evolving through the entire animal kingdom and beyond. Hats off especially to Amy Campbell's scene-stealing ferocity. Though Phyla proved an engrossing survey of the wild lands, one is not convinced that its introductory slow burn was necessary. In a sense, Klein gambled with being written off before she had the chance to flaunt her full deck. Then again, that is precisely what inQUAD set out to accomplish: balance the scales for women with the opportunity to fail or soar.
inQUAD was presented at Dixon Place on August 18th & 19th, 2017.
I invite you to follow me on Twitter.
This post was published on the now-closed HuffPost Contributor platform. Contributors control their own work and posted freely to our site. If you need to flag this entry as abusive,
send us an email
.