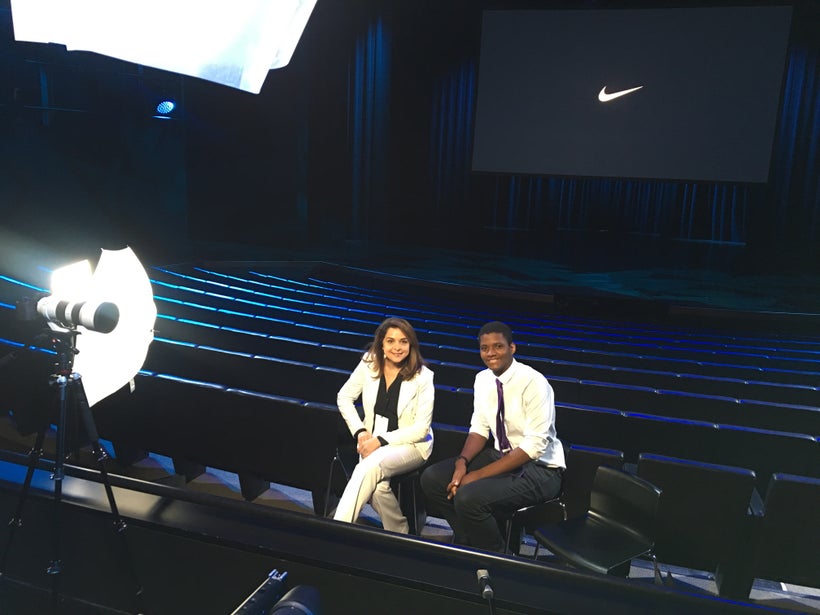 Alone, one person or idea is incapable of solving global challenges threatening today's world. At LAUNCH, we've developed well-curated networks of leaders, entrepreneurs, and storytellers who, together, can fuel visible, meaningful change in the things we make and the way we eat. Dynamic conversations on how innovations can be responsibly and methodically seeded and nurtured are featured in our LAUNCH pop-up video series.
In March 2017, at the LAUNCH Circular Innovation Summit at Nike World Headquarters in Portland, Oregon, we teamed up LAUNCH innovators and industry leaders from Nike, IKEA, eBay, and Novozymes for a series of conversations about innovation and the future of circular economy conducted by former NASA astronaut Cady Coleman. The pervading optimism in the conversations reflected the promise of what is possible with unlikely partnerships and collaborations across small and large industries. These conversations will be shared tomorrow, April 5, at 10am EST via Twitter using #LAUNCHCircular. The tweets will include the video conversations as well as factoids on how to accelerate innovations and disrupt pathways for change.
Jeff Betts of Ecovative described his company's biomaterials products with Håkan Nordqvist, Head of Sustainability Innovation at IKEA. Ecovative uses fungal mycelium to grow biodegradable replacements for polystyrene, architectural, and packing materials, and insulation.
Siddharth Hande of Kabadiwalla Connect and Amy Millington of eBay talked about the importance of inclusivity and making sure people and not just technology drive innovation — especially in the developing world. Kabadiwalla Connect is a new business model for handling urban waste. The idea is to help people connect to and work with India's existing system of kabadiwallas — small scrap-dealers who buy trash from consumers — to enable reuse of all recyclable waste that would otherwise end up in landfills.
Global problems do not occur in a vacuum, and their neglected inter-dependency is wreaking havoc on the systems that are key to our survival. Today's critical issues around sustainable food and materials implore us to be better — and fast. Because networks have the power to magnify both good and bad ideas, LAUNCH prioritizes methodical disruption: we unearth need, identify barriers to change and develop the resilient support mechanisms that propel responsible change.
Established in 2009, LAUNCH is a network-centered innovation platform founded on the belief that the problems of today are too big to be solved by any one organization alone. Our mission is to build and nurture a growing community of innovators, thought leaders, and decision makers across value chains to collectively understand, articulate and scale solutions for positive systems change leading to a more sustainable society.
This post was published on the now-closed HuffPost Contributor platform. Contributors control their own work and posted freely to our site. If you need to flag this entry as abusive,
send us an email
.