Greetings, and welcome to sunny LA and the 28th Annual Emmy Awards! In an adjunct to the HuffPost patented Debate Liveblog Series™ we present the Emmy Liveblog™ in two parts: The show and the red carpet. For many, that's actually the real show as the stars parade down the carpet in the night's borrowed dresses, shoes and diamonds. Plus, it's being hosted by Ryan Seacrest, stealing his own thunder before taking his place at the big-boy podium. We'll get to that part later but in the meantime we've got three fashion experts liveblogging the pre-proceedings and casting a ruthless gaze on those who so proceed: HuffPost's own fashion week bloggerista Verena von Pfetten and, in their debut on HuffPost, tag-team professional partygoers Emer Connon and Courtney Shea, fresh of their tour of duty at the Toronto Film Festival as the "Party Girls" for Toronto Life magazine, plus your moderator, ETP editor Rachel Sklar (me). We're instant-messaging our comments to each other in real time, so it's a fluid, chatty, and we hope fun hour or so of commentary. So - join us in ogling John Krasinski, Hugh Laurie and Ryan Seacrest, except not Ryan Seacrest. Vamanos!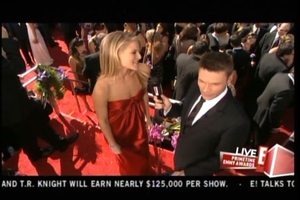 Rachel (6:51:53 PM): Okay! We're officially starting at 7 because the ladies are all in Canada (yep, it's a pan-Canadian cast today, not unlike Grey's Anatomy's Sandra Oh and 30 Rock exec producer Lorne Michaels. And, we're sure, other Canadians. Just give us time. In any case, I DVR'd the first hour and will be throwing in pics and random commentary while the ladies focus on the fresh meat before us.
Rachel (6:53:53 PM): But I'll start. First of all, Ryan Seacrest is hosting inside AND outside, and you can tell that people (a) weren't expecting him and (b) are pretty impressed with him going that extra mile. Even Tina Fey, whom one would assume would greet Ryan Seacrest with just a hint of mockery, seemed happy to see him and impressed that he was sweating it up outside with the plebes. So, point Seacrest.
Emer & Court (6:54:25 PM): Right now it's Dennis Leary
Verena (6:55:11 PM): Ok I just got Dennis Leary
Rachel (6:56:14 PM): Perfect! We're all sync'd up. Verena is watching the online simulcast so she'll be able to share that experience with us. In the meantime, enjoy this head-scratcher: Ryan Seacrest to Kyra Sedgwick: "Who are you wearing?" Kyra: "Oscar de la Renta." Ryan: "I'm distracted by your body in it." Um, if you say so, Ry.
Rachel (6:58:09 PM): Seacrest to Hayden Panetierre: "And you've got a little tan, did you spray?" Wow. He is really getting in there.

Emer & Court (7:01:00 PM): Not only did Hayden spray on some orange, she also decided to take her Cinderella thang a little too far with her gigantic pumpkin dress!
Rachel (7:01:04 PM): Yes, I will grant you that she looks very...gilded.
Verena (7:01:38 PM): I'm still on Omar Epps
Rachel (7:01:43 PM): Would it be inappropriate for me to make a joke about wanting to be on Omar Epps? Never mind, I won't.
Verena (7:02:11 PM): I have Al Gore now.
Rachel (7:01:43 PM): Oh please, who hasn't. Okay. I'll stop.
Emer & Court (7:02:56 PM): Felicity Huffman is desperately trying to distance herself from her "Transamerica" role by showing the whole world her deep, non-existent cleavage.
Rachel (7:03:42 PM): Aw! I think Felicity Huffman looks incredible. That dress is a gorgeous color (fuschia, for our viewers at home), with a very sleek yet soft Grecian thing happening. Full marks for glamour and style. I love the fact that everyone is wearing bold color right now - the Emmys are so great for fun, summery fashion. Especially when it's freezing in New York.
Rachel (7:03:55 PM): Has anyone else noticed she's just looking better and better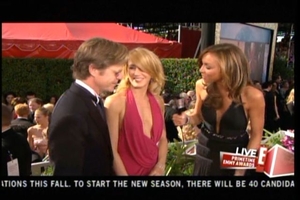 as DH goes on?
Emer & Court (7:04:16 PM): I think you mean "younger and younger" - cheers to you, Botox!
Verena (7:04:24 PM): It's like she's sucking the botox out of Teri Hatcher!
Rachel (7:05:55 PM): Aaaaand...Seacrest callback! Though I think Teri Hatcher looks terrific and very natural. I do!
Rachel (7:06:55 PM): Julia Louis-Dreyfus in purple. Giuliana just asked her how she kept her figure - she basically said working out and not eating anything good. Right on!
Verena (7:06:49 PM): I appreciate Julia's honesty. Scrambled egg-whites = not yummy.
Verena (7:07:10 PM): I have never heard of Pamela Rowland, or the woman who is wearing it.
Verena (7:07:50 PM): Joely Fischer is her name.
Rachel (7:07:55 PM): Nip/Tuck? She's Natasha Richardson's...daughter?
Verena (7:08:09 PM): I heart you, Steve Carrell, for having no idea what you are wearing.
Verena (7:09:09 PM): I don't like cats either, Steve. Keep on, keeping on.
Verena (7:11:12 PM): Kristen Bell's dress. Why doesn't she ask about it?! It's pretty. I want to know who it is.
Emer & Court (7:11:21 PM): For some reason Kristen Bell, the newest "Hero" has decided to put on a fake British accent while talking to E!'s Kristen. Is that her superpower? Dialect?
Verena (7:12:59 PM): E!'s Kristen doesn't ask enough about dresses. It's the red carpet show. I want names, and I want 'em now.
Verena (7:14:49 PM): Speaking of dialects, did anyone else notice that Julia Louis Dreyfuss sounded mildly Hispanic?
Rachel (7:15:17 PM): Well, she was wearing a lovely bold shade of purple.
Rachel (7:15:22 PM): That's my cogent fashion commentary.
Emer & Court (7:15:36 PM): What about Portia and Ellen? Ellen seemed really mad that the pair was relegated to the E!'s PIP box at the bottom of the screen. Not too sure about their hers&hers neckwear.
Verena (7:15:59 PM): My little psuedo-god-brother just asked if Ellen was Portia's mom.
Rachel (7:16:01 PM): Yikes.
Rachel (7:16:23 PM): Do you think any of these people would be talking to Giuliana Depandi if they didn't have to?
Emer & Court (7:16:37 PM): Maybe only if their lives Depandi-ed on it!
Rachel (7:16:38 PM): I am not a giant fan of the mermaid bottom to Julia's dress.
Rachel (7:16:43 PM): Anyone know what that is called?
Verena (7:16:48 PM): Fishtail?
Rachel (7:16:53 PM): It's just such a nice neckline, very sleek. I would prefer just to focus ono that.
Rachel (7:17:09 PM): Oy. Know I know why I picked you for this!
Verena (7:17:09 PM): Zinger!
Emer & Court (7:17:41 PM): Disagree - JLD looks hot, for sure - it's a long way from Elaine's frumpy JC Penney attire - who knew she had breasts?
Verena (7:17:54 PM): John Krasinksi! No cardigan! Yay!
Verena (7:19:10 PM): Picturing Conan O'Brien and John Krasinski having paper cut fight. Kind of like the female version of the male pillow-fight fantasy
Rachel (7:19:12 PM): With you. Love the funnymen. Throw in Stevie Colbert and Jon Stewart. I love a man with a strong wrist.
Emer & Court (7:19:21 PM): Johnny Drama just appeared in our number one fashion pet peeve for men - the old black-on-black-on-black. There's only one Johnny Cash - and more importantly, only one Joaquin Phoenix.
Verena (7:20:39 PM): I'm kind of glad they relageted Johnny Drama / other Dillon to the small box for Hugh Laurie.
Rachel (7:20:50 PM): That's Kevin Dillon. At this point, he probably merits equal billing, even though Matt was an Outsider.
Emer & Court (7:21:41 PM): Agree - Hugh Laurie looks smashing in his WHITE tuxedo shirt - gents, please take your cues from the good Doctor...
Verena (7:21:45 PM): Back to Desperate Housewives botox-talk. Marcia Cross scares me. Kind of like Nicole Kidman scares me. It's not normal. Also, her earrings look heavy.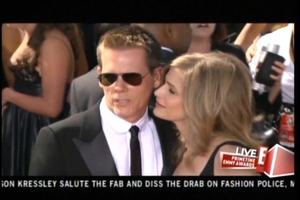 Rachel (7:21:55 PM): Commercial for Gossip Girl - and I am a tween again. SO EXCITED.
Emer & Court (7:22:44 PM): Did you notice that Marcia Cross is the second celeb to appear with a snake accessory (Portia de Rossi has one wrapped around her neck - wrapped around her finger? Ellen, ovbiously).
Emer & Court (7:23:02 PM): Are we the only ones desperate for her to put on a bra?
Verena (7:23:22 PM): She's got full milk jugs right now. Can't really blame her.Verena (7:23:44 PM): Yay! Back to the doctor. That accent! That grimace!
Rachel (7:23:55 PM): Wow - Marcia Cross IS all earrings!
Rachel (7:24:00 PM): Woman, you've got to choose.
Rachel (7:24:20 PM): Either it's the Monster Earrings From Hell, OR the bracelet, OR the beaded dress.
Verena (7:24:27 PM): Does he have a limp in real life? He's looking a little fidgety.
Emer & Court (7:24:31 PM): Cruella DeVille, uh, we mean, Vanessa L. Williams strikes again - last year was that repulsive fur meets afro concoction and now she appears to have skinned a pastel swan.
Emer & Court (7:24:53 PM): WHO HAS A LIMP?
Verena (7:25:00 PM): Hugh Laurie.
Rachel (7:25:00 PM): I love Jenna Fischer. She looks like a little princess in her pouffy dress. She just called it "an umpire waist."
Rachel (7:25:02 PM): Awesome.
Verena (7:25:21 PM): Where is PETA?!
Emer & Court (7:25:35 PM): Well, then to continue with Jenna's baseball theme - I belive 3 strikes and you're out, madam - what's with the giant bow?
Rachel (7:25:50 PM): Oh, come now - she's an Emmy virgin - she looks beautiful.
Rachel (7:26:04 PM): You know, the Emmys would be BORING if everyone played it safe in a sleek sheath.
Rachel (7:26:19 PM): Plus, she had to protect her back! She's injured! Hence the umpire waist.
Verena (7:26:20 PM): True. But liveblogging would be boring if we didn't make fun of them!
Rachel (7:26:24 PM): JIM AND PAM 4 EVA!
Rachel (7:26:37 PM): You're right. Okay. The Hall Monitor shall retreat.
Rachel (7:27:21 PM): Do we have thoughts on Sandra Oh?
Rachel (7:27:28 PM): She looks very elegant...AND CANADIAN.
Emer & Court (7:27:38 PM): Well, she sure is playing up the virginal by channeling a five year old girl's first poofy birthday dress - Jim and Pam 4EVA, maybe - but Jenna and taffeta, not a good match.
Verena (7:27:48 PM): I have a crush on Sandra Oh.
Verena (7:28:32 PM): Let's break tradition. Comment awesome things on boring, sleek, black, Sandra Oh dress. Because it's awesome. Looks Armani-ish.
Rachel (7:28:50 PM): I love that Vanessa Williams' beauty secret is having good hair and makeup people. So true.
Emer & Court (7:29:08 PM): Well, we have a crush on Isaiah Washington - just kidding - can't wait to see the rest of the Grey's cast.
Rachel (7:29:13 PM): Giuliana: "You do a good job of staying out of the paparazzi's way. How do you do that?"
Rachel (7:29:24 PM): Vanessa: "Well, I'm not posing for Playboy anymore..."
Rachel (7:29:34 PM): (She didn't actually say that. But she alluded to it. Anyhow, it was two decades ago, we've ALL forgotten!)
Verena (7:30:45 PM): Online simul-cast rocks. No commercials. Just aerial view of red-carpet with awesome 80's power rock playing in the background.
Emer & Court (7:31:21 PM): Just think of us as the twin sisters who played Carrie on "Little House on the Praire" - just because there's two of us, doesn't necessarily guarantee better quality.
Verena (7:31:29 PM): Blimps: A highly under-recognized form of aircraft. Go, Goodyear!
Emer & Court (7:32:12 PM): Neil Patrick Harris - again with the black trifecta!
Verena (7:32:47 PM): Why are gay men allowed to be sexually inappropriate in interviews?
Rachel (7:32:51 PM): Oh yes that reminds me: They've given very little airtime to Carson Kressley and Kimora Lee Simmons.
Verena (7:33:00 PM): Isaac Mizrahi?! Now Doogie Howser?
Rachel (7:33:51 PM): Note that it's in line with his character on "How I Met Your Mother" - not that there's anything right with that.
Verena (7:33:56 PM): Ok, back to the tornado hair. Running theme?
Rachel (7:34:21 PM): Cf. Ellen Pompeo.
Verena (7:34:33 PM): It's kind of impossible for Heidi Klum to look bad, especially in a GORGEOUS burgundy Dior, but the hair! I'm too confused by it.
Rachel (7:34:51 PM): Doogie Howser is wearing Prada
Verena (7:34:55 PM): Up? Down? A whole can of extra-strong hold hairspray?
Emer & Court (7:35:12 PM): Agree - Heidi's cyclone-hair is even sillier than Kate Walsh's side-rat's-nest. Seal just confessed to Guiliana that he's wearing a G-String - the horror - Guiliana recoiled like a prudish 75 year old Grand Ma-ma.
Rachel (7:35:16 PM): Back to Doogie. Did anyone see him singing "Confrontation" from Les Miz on the short-lived Megan Mullaly Show?
Rachel (7:35:18 PM): That was awesome.
Rachel (7:35:24 PM): Unlike the short-lived Megan Mullaly Show.
Rachel (7:35:36 PM): Debra Messing - 1; Megan Mullally, 0
Verena (7:36:22 PM): Why is there a man in a headset and a half-tux wearing a polka-dot bra on screen with Heidi Klum?
Rachel (7:35:18 PM): It's one of Seacrest's "bits," like bringing out the whipped cream for Ali Larter (and risking serious injury to her gorgeous red dress. Has this man not SEEN what she's capable of on Heroes?). It was half-cute - fun to mix it up and get some random factoids in there - and half not so cute. And yes on the Kate Walsh hair. WTF?
Emer & Court (7:37:05 PM): Couldn't you just punch Rebecca Romijn and Jerry O'Connell's bliss - yeah, we get it, Uncle Jesse gets it, you're IN LOVE!
Verena (7:37:34 PM): I'm on Team Jesse for this one. Definitely.
Rachel (7:37:43 PM): Oh gosh me too. Not that "Sliders" didn't have its high points.
Emer & Court (7:37:45 PM): Mary Louise Parker - again in the red satin? I'm smelling a theme and it's el diablo meets the boudoir.
Verena (7:37:57 PM): I love spanish!
Rachel (7:38:23 PM): Ay caramba!
Emer & Court (7:38:32 PM): Katherine Heigl is obviously taking her wedding dress for a test spin with her long, white gown.
Emer & Court (7:40:17 PM): Christina Aguilera is also looking a little bridal - which is lucky because rumour has it, she's with child. You know what they say - first comes loves, then comes marriage, then comes a Dirrrrrty Baby in the baby carriage.
Verena (7:40:41 PM): Did anyone else find the Mary-Louise Parker / Guiliana interview really awkward?
Verena (7:40:52 PM): I just re-wound it three times.
Verena (7:41:48 PM): G: "What are you wearing under that tight, tight dress?" Mary-Louise: "Um, it's pretty tight, so not much." Guiliana: "No spanks? Corset like things?" Mary-Louise: "Um. No. and WHY ARE YOU ASKING ME SUCH STUPID QUESTIONS?!"
Verena (7:42:30 PM): Spanks = Spanx. Gotta keep up the branding!
Emer & Court (7:42:47 PM): Guiliana is awkward generally. And can the girl bring up her recent wedding-to-an-Apprentice star any more frequently? OOOhhhhh. Didn't she used to date Jerry O'Connell? We're probably not the only ones who want to punch Rebecca
Verena (7:43:42 PM): I think my sister does. She lost the role of Mystique in X-Men to her. For serious. And relatively un-related.
Emer & Court (7:43:43 PM): Mary-Louise is probably stoned and experiencing intense paranoia (and munchies)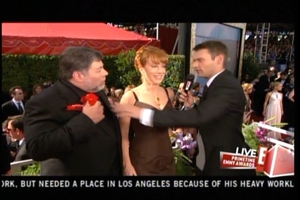 Verena (7:44:11 PM): I'm on team Mary-Louis for this as well. Can we pick sides in every interview?
Rachel (7:44:18 PM): Yes. Unrelated: Mmm, munchies. Also unrelated, but it bears pointing out: Kathy Griffin brought Steve Wozniak to the Emmys! And Ryan Seacrest had no idea who he was. Even when Kathy Griffin said, "You have no idea who this is, do you?" he could not have been more flip. He was a little rusty on some of his background, I will say. (By the way, girls, Steve Woz co-founded Apple with Steve Jobs. God in the tech world. All sorts of awesome.)
Emer & Court (7:44:37 PM): Maybe your sis should start dating John Stamos as revenge??
Emer & Court (7:45:06 PM): So do you think Britney is really gonna show?
Verena (7:45:52 PM): On one hand, yes, because she's Britney and she has NO idea what she's doing. On the other hand, if anyone has any control over the death-spin that is her career, no.
Emer & Court (7:45:53 PM): Ryan is skulking around backstage like the Phantom of the Emmies, giving us outsiders an "insiders" view - yeah, we get it - you're hosting!
Verena (7:46:10 PM): I'm biased. I love Ryan.
Verena (7:46:14 PM): Team Ryan.
Verena (7:46:18 PM): Is that getting annoying yet?
Verena (7:48:07 PM): MORE TORNADO HAIR!
Emer & Court (7:48:07 PM): SOS, SOS! Ellen Pompeo's pompadour is about to take flight! Ellen just told E! she left her engagement ring at home, 'cause it didn't match her outfit - what, did her fiance not match her outfit?
Verena (7:48:07 PM): ARE YOU KIDDING ME?!
Verena (7:48:07 PM): I'm too dumbfounded for witty commentary. What is with the hair, people?!
Emer & Court (7:48:07 PM): Clearly everyone's paying homage to Hurricane Katrina - America Cares!!
Verena (7:48:35 PM): Ah! I get it now. In the waning media-coverage of the still decimated New-Orleans, Hollywood TV stars to the rescue!
Verena (7:48:48 PM): Let's get Al Gore on board.
Emer & Court (7:49:05 PM): At the very least Kanye...
Verena (7:49:42 PM): Ooh, Charlie Sheen!
Verena (7:49:57 PM): Think he'll bring up Denise? And/or sperm donations?
Emer & Court (7:49:57 PM): Can we get back to R.Seacrest? You LOVE him? Did he save your life once? Like that time Paul Abdul Cowell came at you with a knife?
Verena (7:51:21 PM): First, Sandra Oh, then Ryan Seacrest. CANADIAN SOLIDARITY!
Emer & Court (7:51:30 PM): Who you liking for best dressed so far? We're thinking Eva Longoria in gold sparkles.
Verena (7:51:39 PM): Was my Armani guess right?
Verena (7:51:40 PM): No!
Verena (7:51:52 PM): Bottega Veneta. Nice. EEK. Not the shoes.
Verena (7:52:05 PM): Does she also have Tornado hair?
Verena (7:52:16 PM): I'm glad you coined that term. I'm taking full advantage.
Rachel (7:52:36 PM): You know, look carefully. Even Sandra Oh is rocking it.
Verena (7:52:39 PM): Can Eva be in the running if she re-wore a dress?
Emer & Court (7:53:06 PM): Not quite tornado - more of a gentle squall do.
Emer & Court (7:53:30 PM): Yes - we are big fans of recycling - it is the Green Emmys, afterall!
Emer & Court (7:55:47 PM): Simon Cowell andn Randy Jackson in the hizzo!
Emer & Court (7:56:12 PM): Simon "Risky Business" Cowell - with his adorable collar up!
Emer & Court (7:56:39 PM): Just caught a glimpse of Adrien Hubba Hubba Grenier - where's Paris?
Verena (7:56:56 PM): Oooh! OK, back to Ryan. You DON'T love him????
Verena (7:57:27 PM): Even Simon and Randy love him!
Verena (7:57:42 PM): Guiliana can't hate him either!
Verena (7:57:55 PM): "He has all that money and he looks so cute!"
Verena (7:58:01 PM): A woman after my own heart.
Emer & Court (7:58:32 PM): Nope - we don't love him - and I don't think we're the crazy ones - clearly you have some kind of Eddie Haskell fetish.
Verena (7:59:14 PM): If I knew who Eddie Haskell was, I'd think of a witty retort. Please be patient. Googling.
Rachel (7:59:34 PM): Oh, my God. I'm old.
Verena (7:59:46 PM): Wow. Nice reference. Leave It To Beaver!
Verena (8:00:15 PM): Ok, so Kanye doesn't like Ryan.
Emer & Court (8:00:18 PM): Kanye West's advice for Britney - "go buy Graduation" - his newest album - how 'bout "put some drawers on!"
Verena (8:00:38 PM): Kanye watches "The Office"??
Verena (8:01:00 PM): Kanye - shameless plugger extraordinaire!
Verena (8:01:14 PM): Are we done? I want more!
Emer & Court (8:01:38 PM): Yeah, that one kinda caught us off guard - we were thinking more "Dancing with the Stars".
Rachel (8:01:48 PM): I always find it interesting what pop culture these creators of pop culture consume. Don't forget, they have more downtime than the rest of us. Plenty of time for the DVD box set.
Verena (8:01:52 PM): Do you think he likes the British or American version?
Verena (8:01:59 PM): I feel like him and Steve are tight.
Verena (8:02:03 PM): I'll go with American.
Emer & Court (8:03:15 PM): Hey - we never talked about Edie Falco - she's giving those Housewives a run for their money.
Verena (8:03:31 PM): I always get her and Felicity Huffman confused.
Emer & Court (8:03:47 PM): Does Ryan Seacrest think appearing out of the floor will make him look taller?
Verena (8:04:11 PM): I'm lost now! My simulcast has gone into slow-mo repeat clips of the red-carpet show.
Rachel (8:04:22 PM) Emmytime! You ladies are off the clock. Feel free to join our Liveblog # 2!
Emer & Court (8:04:46 PM): Is your boyfriend, Ryan Seacrest's tie leather? Looks patent to us...
Emer & Court (8:07:17 PM): On closer inspection, Katherine Heigl may be on her way to her wedding after the broadcast - Afterall, Paris followed her MTV visit with a trip to the clinker.
Rachel (8:07:20 PM): The 80s called, they want their neckwear back.
Verena (8:08:05 PM): Eva used the same dress, why can't Katherine?
Emer & Court (8:08:45 PM): All in all, a pretty poor showing on the fashion front - but at least we've been given an early heads up for fall's Tornado-hair trend!-
Verena (8:09:07 PM): Team TORNADO-HAIR!
Emer & Court (8:10:03 PM): See you in the Windy City!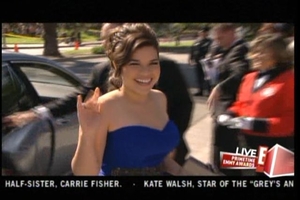 Rachel (8:10:32 PM): Ladies - I disagree. I think this year saw some bold, beautiful fashion choices. Felicity Huffman as a fuschia Grecian goddess. Sally Field, also in fuschia, a sleek long column. Ali Larter in stunning red satin. Hayden Panetierre in...okay, so maybe not Hayden Panetierre. But if you are going to make a colossal fashion error, might as well do it Cinderella-style! Also, Vanessa Williams is wearing feathers. But America Ferrara is sleek and gorgeous in brilliant blue, Eva Longoria has the cleavage of the night in her sparkly gold, Mary Louise Parker is radiant in red, and Katherine Heigel and Sandra Oh are the killer standouts from Grey's, upstaging the weirdly-haired Kate Walsh and Ellen Pompeo. Which is how I like it, because Addison gets her own show and Meredith gets to sleep with McDreamy. So really it's only fair.
Another point: Your blushing youth aside, girlfriends, this is the Emmys of the sleek , sophisticated woman. All the fashion standouts are hot and of a certain age - Mary Louise, Felicity Huff, Sally Field, Julia Louis-Dreyfus, Debra Messing. I mean, no offense to the blushing ingenues, you're also looking fine, but this is the hottest field of 30 and 40 somethings going (and 50 and 60 - Glenn Close and Helen Mirren and Sally Field, too). As the elder statesmen of this liveblog, I feel bound to point that out.
Verena (8:12:53 PM): TORNADO HAIR!
Rachel (8:18:52 PM): Yes, Tornado hair. And on that note, we bid you adieu - thank you ladies — and now on with the show!