According to The Knot's latest statistics, wedding budgets are soaring with every passing year as couples love for customization and a unique experience are at an all time high. The good news is that with tools like Pinterest still being used as a top source of inspiration, getting the luxe look you seek is within reach at any budget! So how do you incorporate it into your own wedding? Let's take a peek at some expert tips on how to add a little extra splendor to your celebration.
It's All About Guest Experience
One of the top priorities for couples planning a luxury wedding is a focus on their guests' experience. They know that many of their friends and family will have attended or will attend other weddings, so they want to make sure their day stands out from the rest. There are countless ways to do this, according to Fabrice Orlando of Cocoon Events Management Group. "Elevating the guest experience has been a huge trend in the last few years, with couples wanting their guests to enjoy a unique experience they won't forget," he shares. "Creating scenes is a great way to do that, from themed guest tables to different 'areas' of the event with themed decor, activities, or even food and drink. This gives guests the illusion that they have been to multiple celebrations in one night."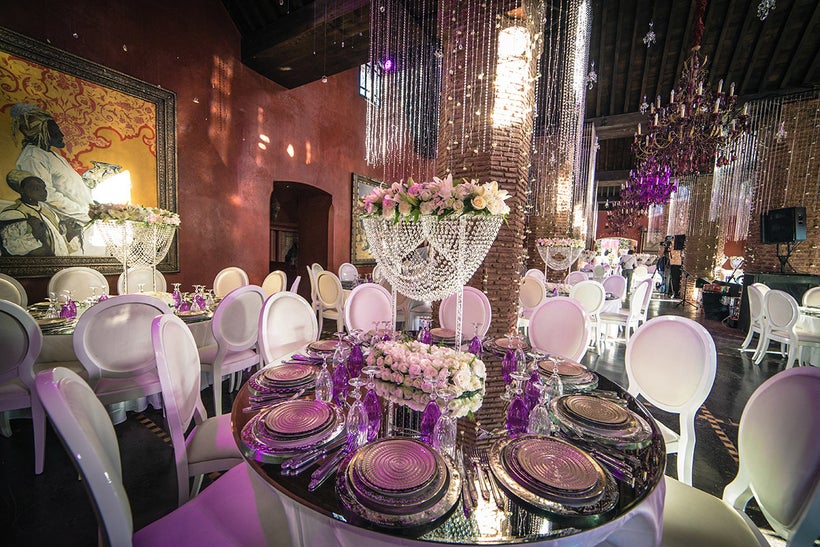 Incorporating more over-the-top details into your wedding is one of the most effective ways to encompass that luxury feel. Florals and entertainment are easy and fun ways to create awe-inspiring drama that will have guests gushing. Orlando explains, "Catching your guests' attention from the moment they walk in has been a long time favorite way to begin the festivities. Cascading blooms and floral arches are the perfect way to take their breath away and set a romantic tone, while bringing in unique entertainment that guests won't be expecting is the perfect way to surprise them."
Nowadays, even technology has become luxurious. "High tech options for décor from digital mapping to drone photography to special effects like fog machines and lasers are becoming more and more prevalent in wedding event design, due to them being more and more available AND affordable," says David Merrell of AOO Events in the 2017 International Trend Report. "Mobile technology such as social media photo booth options, to event apps that are customizable for the entire celebratory weekend, to charging stations and chargeable furniture are becoming part of mainstream conversations when planning the weddings. Mobile technology is so prominent now that even grandma is up to speed on how to use it!"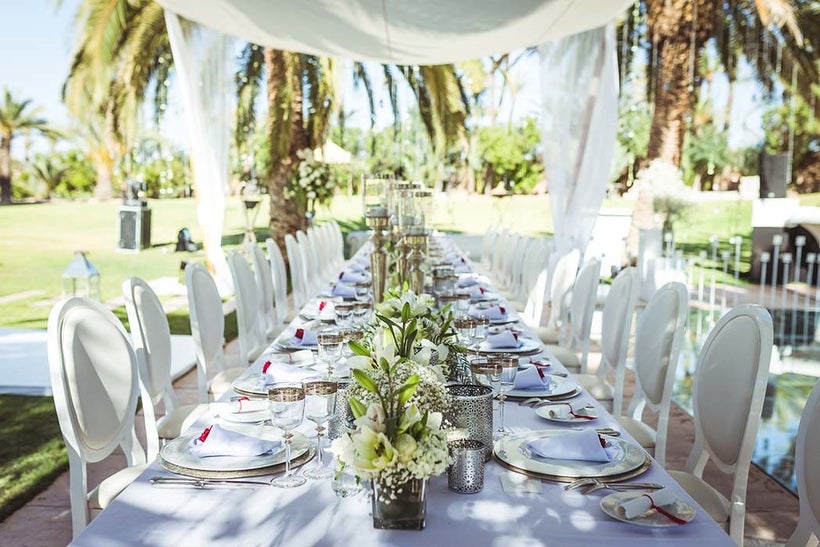 Take Your Celebration on the Road
Jetting off to get married in some faraway land can seem like something only those with a very high budget can do, but the truth is that any budget can make a destination wedding work! With a little research and time to plan, you can have it anywhere you want. In fact, getting married abroad may be the easiest way of all to add in a little luxury to your day. The intimacy of a destination wedding automatically creates a romantic tone, while stunning backdrops like the ocean or the mountains will have you and your guests feeling like it's a much-deserved vacation.
"Couples are utilizing the extra time together to make a full wedding weekend and actually enjoy their guests," explains Lindsey Epperly of Epperly Travel in the 2017 International Trend Report. "Their itineraries include a welcome party, lunch and lawn games, hiking, yoga with the women, a rehearsal dinner, ceremony and reception, and send-off brunch. And, as a result, the guests get more of a vacation by staying an extra day or two."
Remember to think outside the box and remain true to who you and your partner are when adding details to your wedding – it will be more impactful for you and your guests on the big day.
This post was published on the now-closed HuffPost Contributor platform. Contributors control their own work and posted freely to our site. If you need to flag this entry as abusive,
send us an email
.