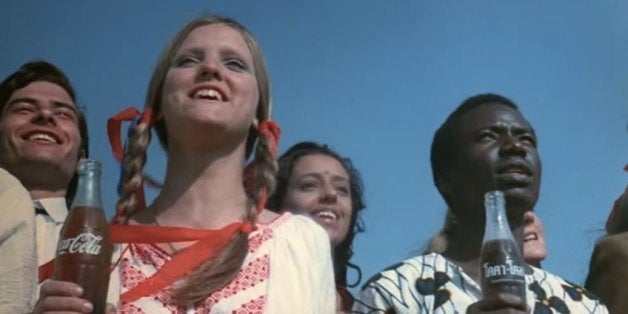 After eight years, "Mad Men" finally came to a close on Sunday night in a series finale packed with emotional, fantastic phone conversations and touching farewells to our favorite characters. We saw how every main character ended up, caught up with a few familiar faces and watched one very famous commercial.
The "Mad Men" finale ended with a good amount of coke: first Joan did a bump of cocaine with Richard, then Peggy name-dropped Coca-Cola to Don on the phone and finally, the episode closed with the famous 1971 "Hilltop" Coke commercial. So did Don then leave his yoga/therapy/hippie retreat and buy the world a Coke?
The episode ended with a close-up of Don chanting "Om" on a grassy hilltop, cracking a slight smile. Then "Mad Men" cut to the famous Coke ad. While it's not directly revealed that Don created the ad, it is strongly implied that he returns to New York and comes up with the idea. So what's the real story behind the 1971 commercial?
Bill Backer was McCann Erickson's creative director for the Coca-Cola account and headed to London on January 18, 1971 to discuss the ad campaign, according to Coke's website. While on his way to meet Coke's music director Billy Davis, Backer's plane was delayed in Shannon, Ireland due to a fog in London.
As Backer sat in the airport cafe, he noticed the previously incensed passengers laughing and getting along over bottles of Coke. Backer once recalled the experience, writing that he "began to see a bottle of Coca-Cola as more than a drink that refreshed a hundred million people a day in almost every corner of the globe." He saw it as a way to bring people together. "So that was the basic idea," Backer wrote, "To see Coke not as it was originally designed to be -- a liquid refresher -- but as a tiny bit of commonality between all peoples, a universally liked formula that would help to keep them company for a few minutes."
And if we look to the "Mad Men" finale, we'll find even more clues behind Don as Backer. As our own Maureen Ryan pointed out in her episode review, the meditation instructor's words are very similar to the lyrics of the commercial, and the gong sound also matches the note at the beginning of the ad. BBDO copywriter Emily Miller also tweeted one very big connection between Don's visit to the retreat and a girl in the ad:
Since the episode ended roughly in November of 1970, according to the calendar in Joan's new office, we can assume that within the next two months, Don flew to London and was doubly inspired by his retreat and time in Ireland to come up with the ad. McCann also pretty much endorsed Don's ad in real life on Sunday when they tweeted about the finale.
We'll miss you, Don Draper. Cheers!
BEFORE YOU GO
PHOTO GALLERY
'Mad Men' Season 6 and 7