Battle of the mags! In Touch reports in its cover story this week that Britney Spears is pregnant, claiming that Brit told pals this weekend that she's four weeks pregnant with music producer J.R. Rotem's seed. Rotem, for his part, allegedly told In Touch, "It's true."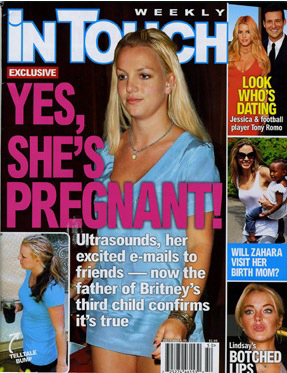 Star magazine, which led with another Britney story for its cover this week (one on her crazy house, which apparently includes a double-locked fantasy room), also reported the pregnancy story on its cover (albeit as an afterthought, probably because they heard it shortly before publication?).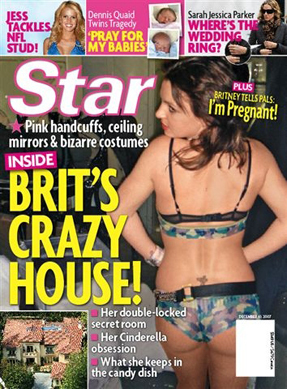 But now Usmagazine.com is reporting that the Britney pregnancy story is "completely fake," according to Britney's friend Sam Lufti, who texted in to Ryan Seacrest's radio show this morning to debunk the rumor.
So what's going on? Is In Touch, hot off its price increase and worried about sinking newsstand numbers, drumming up a rumor to move mags off the shelves? Or has Britney's partying gotten so out of control that she done went and got herself knocked up?