For most of us, the signs indicating a toilet on an airplane are pretty clear.
But for one passenger on a KLM flight from Edinburgh to Amsterdam, apparently the obvious wasn't so obvious.
James Gray (pictured below) was arrested and fined 600 Euros (about $672) after he tried to open a jet exit at 30,000 feet, according to an article in the Telegraph. He told authorities he mistook the exit for a bathroom door.
He reportedly claims he merely touched the handle while temporarily confused but the crew dealt with the situation firmly, ordering him to his seat and informing him he would be arrested upon landing at Amsterdam's Schiphol Airport.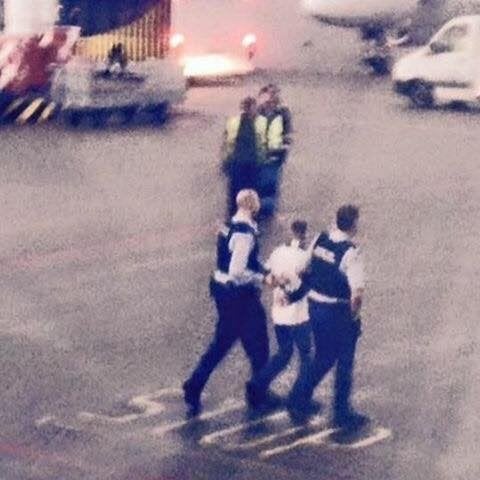 Gray spent the night in a  detention center and was released. Now banned from the airline for five years, he borrowed money to take a rival carrier back home to Scotland, the Sunday Post reported.
A KLM spokeswoman confirmed there was "misbehavior" on the plane. "We'll only share that a passenger was delivered because of misbehavior to the authorities, and we can't give you further information," she told The Huffington Post. "It was about a week ago – either last weekend or beginning of last week. So we are surprised it got attention now. We gave him to authorities, and it's up to them to decide if and what the punishment has to be. They're preparing a law that prohibits passengers who drank too much to enter the plane."