An attorney representing some of the victims of the Oct. 1 shooting massacre in Las Vegas slammed Mandalay Bay's owner for suing them.
MGM Resorts International, the parent company of Mandalay Bay, is suing more than 1,000 victims to pre-empt liability claims, The Las Vegas Review-Journal reported Monday.
MGM Resorts International said in federal lawsuits filed Thursday and Friday that it cannot be held liable for casualties from the attack, which left 58 people dead and hundreds of others injured when Stephen Paddock opened fire from his 32nd-floor Mandalay Bay suite on the crowd at a Route 91 Harvest concert across the street last year.
"Mandalay Bay's negligence permitted the Route 91 gunman the space he needed to set up his weapons and prepare his attack on festivalgoers below," the victims' lawyer, Robert Eglet, told HuffPost on Tuesday.
According to the Review-Journal, MGM Resorts International insisted that claims against the property "must be dismissed" because Mandalay Bay adhered to a 2002 federal act extending liability protection to venues that employ anti-terrorism services. A security company hired by MGM was certified by the Department of Homeland Security for "protecting against and responding to acts of mass injury and destruction," MGM Resorts said in the suit, so it should also be protected, the newspaper reported.
"Having failed to keep their property safe, they are trying to shift responsibility to the security company at the concert," Eglet said. "But for Mandalay Bay's lack of security, there would not have been any Route 91 victims."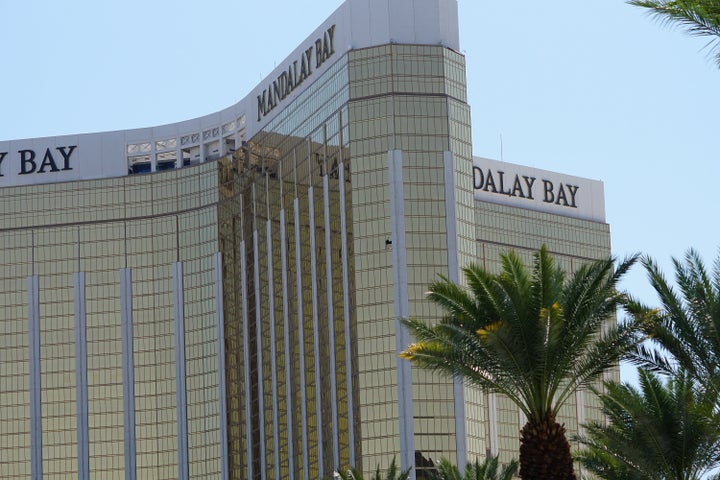 He added that MGM was "hiding behind the federal act in an attempt to prevent [victims] from obtaining justice against those responsible."
"The Safety Act was a response by Congress to the terrorist attack of Sept. 11, 2001, to encourage companies to get into the business of developing anti-terrorism technology," Eglet said. "It was not designed to limit the liability of Mandalay Bay that, despite prior incidents, affirmatively assisted a gunman to shoot out of its window and people below."
Meanwhile, an MGM Resorts International representative attempted a positive spin on the lawsuits. "The Federal Court is an appropriate venue for these cases and provides those affected with the opportunity for a timely resolution," company spokeswoman Debra DeShong said in a statement, according to "Inside Edition." "Years of drawn out litigation and hearings are not in the best interest of victims, the community and those still healing."