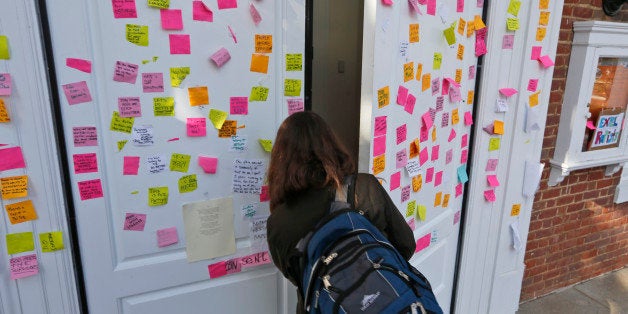 Sexual assault victim advocates who are pushing against a mandatory reporting bill in Virginia are paying closer attention to a "promising" new third-party reporting system called Callisto, which would let victims choose when their report of sexual assault is submitted and who receives it.
Virginia college students and rape survivor advocates spent much of this week lobbying against HB 1930, a bill advancing through the state legislature that would require university employees to send any sexual assault report to law enforcement.
The groups cite a concern that mandatory reporting would actually scare away victims who aren't ready to take their case to the criminal justice system. But Callisto "addresses a lot of the concerns for why survivors don't report," said Alexsis Rodgers, spokesperson for Virginia 21, a youth advocacy group lobbying against mandatory reporting legislation.
Callisto allows victims to securely save a report they may not be ready to submit to authorities, with a timestamp marking when it was stored. Victims can add electronic evidence, like photos of their injuries, and choose to have the report automatically submitted should someone else accuse the same person of sexual assault.
"Everyone wants more reporting, but you're only going to achieve that by creating environments where survivors feel comfortable reporting," Rodgers noted.
Sexual Health Innovations, a nonprofit group, has raised close to $300,000 -- including $268,000 from Google's philanthropic arm -- toward developing Callisto.
"When we made design decisions for Callisto, we prioritized the survivor, prioritized the individual," said Jessica Ladd, founder of Sexual Health Innovations. "We would never submit a report against the survivor's consent."
A system like Callisto is a "promising concept," said Virginia Sexual & Domestic Violence Action Alliance spokeswoman Kate McCord. "It's not a tool for institutions or law enforcement," McCord added, "it's for survivors to essentially log what has happened to them" and then maintain control over who is given that information.
Google.org Director Jacquelline Fuller said her philanthropy team was naturally interested in Callisto because it's using "technology to test out new solutions to big problems," like sexual assault on campus. Sexual Health Innovations has chosen a college to be a pilot campus for the Callisto system, and they hope to announce the name of the school soon.
However, McCord is concerned about how secure Callisto's database would be, and Rodgers insists no app or online tool will completely stop sexual violence on campus.
"It is still a very response-oriented approach," Rodgers said. "This technology doesn't do anything to address prevention. And there are much deeper cultural concerns, particularly on college campuses, that have to be addressed as well."