WASHINGTON ― Sen. Marco Rubio (R-Fla.) on Sunday defended President Donald Trump and his administration's apparent lack of concern about Russia's interference in last year's election, saying the president "has a right to his opinion."
Numerous U.S. intelligence agencies have confirmed Russian meddling in the American electoral system, and Rubio made his comment on NBC's "Meet the Press" even as he said he has seen the proof, as part of the Senate Intelligence Committee's probe.
"As far as the general theme of Russia's interference, look, the president has said he doesn't believe it. I believe it. Not only do I believe it, I know it. Almost everybody else does. And ultimately, whether he believes it or not, the work's going to move forward," Rubio told host Chuck Todd.
Incredulous, Todd pressed Rubio for seeming to give the president a pass on the issue.
"Senator, think about what you just said. The president said he doesn't believe it. You believe it, you've seen the evidence. How stunning is that to you, that the president of the United States disputes the evidence of 17 intelligence agencies in this country?"
"Well, again, ultimately, at the end of the day, he has a right to his opinion on these issues," said Rubio, one of Trump's opponents in the race for the 2016 GOP presidential nomination.
Multiple investigations are looking into whether Trump's campaign colluded with Russian officials, including a Department of Justice probe headed by Special Counsel Robert Mueller. 
Trump has repeatedly dismissed the investigations and reports that he is one of the targets of the probes as "a witch hunt."
Rubio took a different tack, saying on CBS' "Face the Nation" Sunday that the president should "be welcoming this investigation."
He said Trump should "ask that it be thorough and completed expeditiously and be very cooperative with it. That's what ultimately I anticipate [the administration] will do," Rubio said. "That's in the best interest of the president."
Jay Sekulow, one of the personal lawyers Trump has hired, made the rounds of Sunday talk shows insisting that the president wasn't being investigated, despite a tweet to the contrary from Trump last week. But Sekulow created confusion about the matter in comments on "Fox News Sunday," causing host Chris Wallace to say,  "Okay, well good, we're in agreement. You don't know whether he's under investigation or not."  
Rubio in his "Meet the Press" appearance also defended Attorney General Jeff Sessions' stunning admission last week that he has never received or asked for a briefing on the Russian interference. Testifying before the Senate Intelligence Committee last Tuesday, Sessions said that while "it appears" that Russian officials sought to influence the U.S. electoral process, his knowledge of the matter was confined to "what I read in the paper."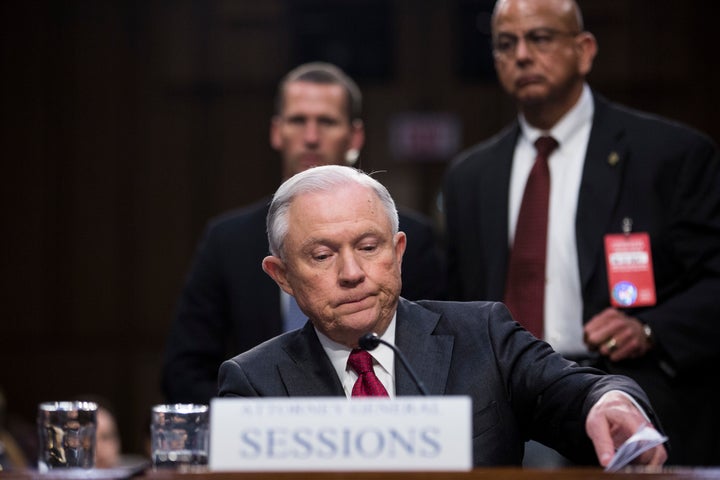 Rubio downplayed Sessions' testimony, chalking it up to the attorney general's recusal from the investigations. Sessions' recusal came a day after the Washington Post reported that he failed to disclose meetings he had with Russian ambassador Sergey Kislyak during Trump's campaign.
"Yes, the initial reaction people would have is, 'Wow ... the attorney general has not even been briefed on Russia's interference?'" Rubio told Todd. "But then, you realize the reverse," he continued, "And that is if he had been briefed, then what we would be talking about today was whether that was appropriate, because he was recused from anything having to do with the 2016 election and Russia. So it's kind of a Catch-22. You're damned if you do and damned if you don't, in regards to that."
Sessions made similar comments in his testimony last week.
"You might have been very critical of me if I, as an active part of [Trump's 2016] campaign, was seeking intelligence relating to something that might be relevant" to the Russian invesigations, he told committee member Sen. Angus King (I-Maine).
King at the time noted that the matter was not just about the Trump campaign.
On Sunday, appearing on "Meet the Press," King pointed to Sessions' admission as further evidence that Trump and his administration "doesn't seem interested in" the issue.
"I can't imagine coming into office with this fact of this Russian engagement in our election and not digging into it," King said. "I believe it's one of the most serious attacks we've had on our country in recent years. And the president doesn't seem interested in it either."
BEFORE YOU GO
PHOTO GALLERY
Jeff Sessions Speaks Before Senate Intelligence Committee