You'd think – looking at Maui from Disney's Moana – given this demigod's dimples (more importantly, those eyebrows) that Dwayne Johnson was always supposed to be this character's voice. But that's where you'd be wrong.
"You have to understand that – when we're initially developing these movies – we typically get them up on reels 5 or 6 times so that John (Lasseter, the chief creative officer of Pixar and Walt Disney Animation Studios) and the other members of the story trust can then get a sense of what shape this film is in, where it needs to be improved," explained Eric Goldberg, one of the WDAS vets who worked on this project. "And – if I'm remembering correctly – it wasn't until the first or second viewing of our story reels that Osnat (Shurer, the producer of Moana) said that 'I think we've got Dwayne Johnson for Maui's voice.' "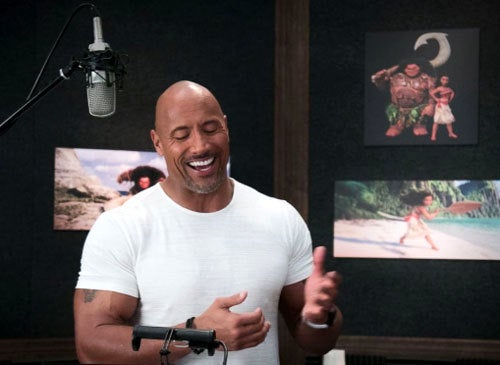 So in the days before Dwayne had signed on to voice this demigod, what then compelled Walt Disney Animation Studios to make an animated film set in the Pacific Islands? Moana director John Musker traces this idea back to the sea-faring tales that he had read in his youth."
"A lot of these ocean-going adventure stories were set in the South Pacific, a world that I'd never been to. And because I wanted to learn more about that world, I began reading Polynesian mythology," Musker recalled. "Which is where I read this story about how the sun had been slowed down by Maui."
"Through our readings and our research trips to the Pacific Islands, we learned that Maui's stories and his depiction vary island-to-island; he was this trickster, a shapeshifter. Someone who could do these larger-than-life things like pull islands up out of the ocean by using a magic fishhook," John continued. "I turned to Ron (Clements, Musker's longtime collaborative partner. More importantly, John's co-director of such Disney classics as The Little Mermaid & Aladdin) and said 'You have to read these stories about Maui."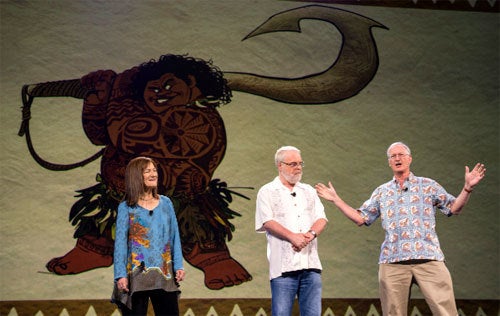 "So – on John's recommendation – I read a bunch of these stories," Clements chimed in. "I think – to some people, myself included – when you heard the name 'Maui,' you might first think of the island in Hawaii. But everywhere you go in the South Pacific, there are all of these great and varied stories about Maui. Some of them are different, of course. But a lot of them have some of the same elements."
"So inspired by the legends about Maui as our jumping-off point, we fashioned a story set in this world and then pitched it to John Lasseter. And he really liked that story," John said.
"Mind you, in our first version of this movie, it was really Maui's story," Ron interrupted. "There wasn't a Moana character yet. She came from our research trips and learning of the true history of Pacific navigation."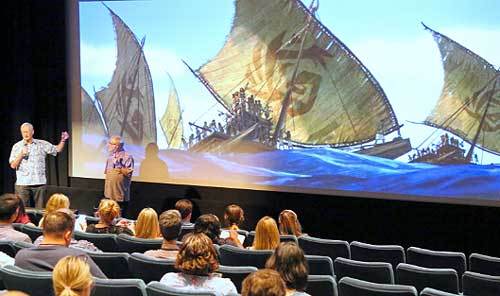 So while Musker & Clements sorted out their story, veteran Disney character artists like Bill Schwab & Sue Nichols then began exploring what an animated version of Maui might look like.
"And because he is able do all of these incredible feats like lassoing the sun to slow it down, while we were researching what Maui might look like, we began looking at very strong, athletic men. World's strongest men-types. Pro wrestlers and football players. Guys who not only have this massive amount of muscle but also projected this sense of power & confidence," said Carlos Cabral, "Moana" 's head of characters and technical animation.
And when you start putting together a list of heavily muscled actors who also project a sense of power & confidence, Dwayne Johnson would automatically be pretty high up on that list. Which is why the filmmakers then began considering him as a possible voice for Maui.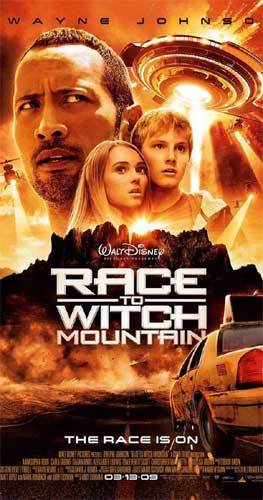 And then when you factor in that Johnson had already worked for the Mouse (He starred in The Game Plan and Race to Witch Mountain for Disney in 2007 & 2008, respectively) – more importantly, that Dwayne can actually trace his family's heritage back to Oceania (While standing onstage at last year's D23 EXPO and revealing that he'd just joined Moana's vocal cast, Johnson proclaimed that " … I am proudly half-Samoan and half-black") … Well, that certainly made this casting decision a whole lot easier.
"I remember that – when we learned that Dwayne was going to be the voice of Maui – that I said to the people who were building the rig for this character that we'd now probably need more dimple controls," Hyrum Osmond, the co-head of Animation on Moana, laughed. "But that said, I also have to say that where we landed with this character's design was pretty much locked before Dwayne officially came onboard as the voice of Maui."
Mind you, what's kind of ironic about all this is – given that Johnson, in most of his film appearances, favors an extremely close-cropped haircut or even a clean-shaven head – that there was an very early design done of Maui that then explored what this demigod might look like if he were bald.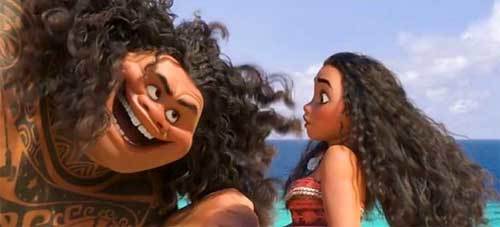 "Bill Schwab did a lot of drawings of Maui like that. And that version of this character did look an awful lot like Dwayne. But after consulting with Hinano Murphy of the Oceanic Story Trust (The group of Pacific Islanders, which included anthropologists, linguists, master navigators, master tattooists, choreographers and cultural advisors that Musker & Clements met during their trips to consult on their film to then make sure that "Moana" was as steeped in its Pacific inspirations as possible), she said Maui needed a full head of hair – that's where his mana is located," said Mack Kablan, the animation supervisor for Maui. "And so Bill incorporated long, curly hair into his final design."
"That's what's ultimately hard for so many people to understand about the animation process. I mean, a lot of people will go to Moana and then look at Maui & think 'He kind of looks like Dwayne.' And they'll then assume that that's what Disney did. Just created a character that sort of looks like the actor who voices this character,' " Eric Goldberg concluded. "But that then overlooks all of those months of meetings, the thousands of drawings that went into deciding how Maui should look. Not to mention the people who then had to build a rig that was malleable enough to allow a character to be this athletic & agile. And let's not forget that it's the animators who actually work with that rig who then give performance to Maui. Who take Dwayne's great vocal work and – using all of their skills, all of their life experience – then make that character really come to life."
So you know how there's that African proverb which states that " … it takes a village to raise a child" ? Well, when it came to Maui, it took all of the numerous departments & disciplines working at Walt Disney Animation Studios to then craft a character who was able to raise islands up from the ocean's floor.
This post was published on the now-closed HuffPost Contributor platform. Contributors control their own work and posted freely to our site. If you need to flag this entry as abusive,
send us an email
.