When you think of Mexico tourism, there's a good chance that your mind jumps to sprawling, all-inclusive resorts, bustling beach parties, and all-you-can-drink beers and tequila shots. Maybe a wet t-shirt contest. Maybe some guacamole served with stale tortilla chips, in-room liquor dispensers, and those all-too-iconic cloth headbands that bear the name of various Mexican towns.
But even the most popular spring break destinations are changing, and changing quickly—thanks to an influx of luxury resorts abandoning the all-inclusive model in favor of chef-driven restaurants, design-minded accommodations, and curated experiences. And the Thompson Playa del Carmen, located in one of the most tourist-geared and party-centric areas of Mexico, is leading the charge.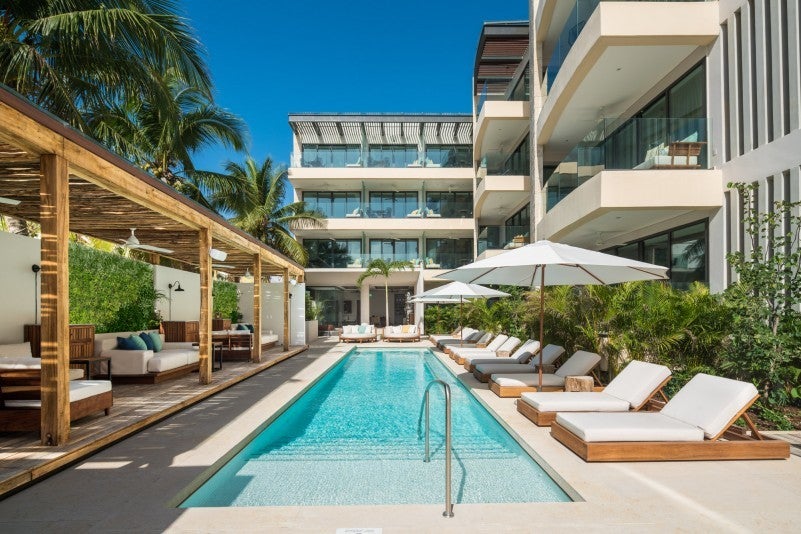 Just outside the hotel, the 5th Avenue hub roars with the sounds of street performances, EDM club remixes, and restaurant hosts beckoning in sunburnt tourists. It's not uncommon to see revelers dancing on poles at open-air restaurants, tired kids being treated to late-night gelato and hand-woven bracelets with their names on them, and Americans shopping at the town's oversized H&M or Forever 21. But the Thompson's two downtown properties, one overlooking a busy strip of shops and the other tucked on a beachfront side street, are doing something that has not quite been attempted in Playa del Carmen before—and that could alter the scope of tourism in this Caribbean town.
One 4.5-star property divided into two locations, each of the two buildings offers a distinct experience: while the 5th Avenue property caters to a social clientele including bachelorette parties, multi-generational families, and young professionals, the beach house caters to honeymooners and those seeking respite and relaxation. Together, they offer the kind of luxury accommodations, restaurants, and amenities that are more often associated with destinations like St. Barths or Cannes: beachfront daybeds, oversized balcony patios, breathtaking architectural features, and critically acclaimed restaurants. A welcome change from the traditional resorts located in Playa del Carmen and the surrounding Riviera Maya area, the Thompson replaces syrupy drinks with craft cocktails, all-inclusive menus with a Catch restaurant, and water aerobics with morning rooftop yoga.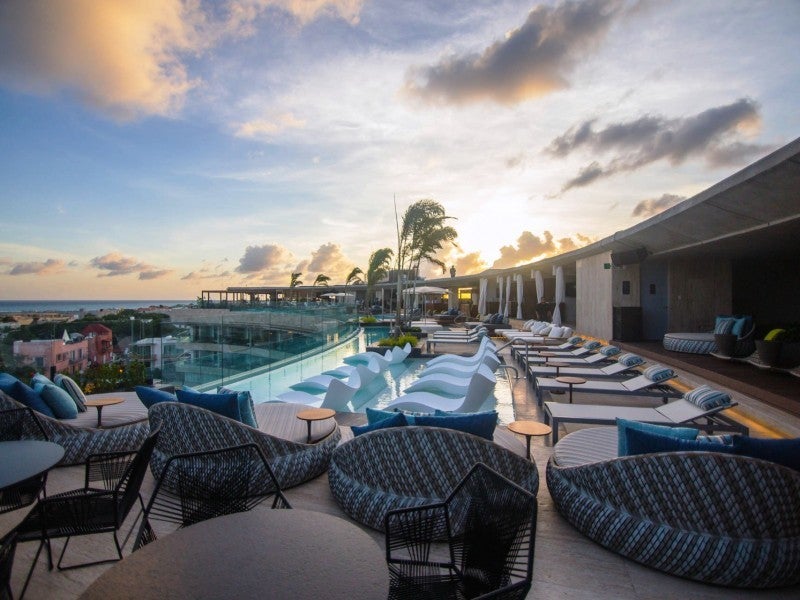 But the beauty of the Thompson Playa del Carmen is that it doesn't reject the party-centric tourism of the area—instead, it enhances and updates it. In fact, the 5th Avenue property's sprawling, 30,000-square-foot rooftop has helped redefine Playa del Carmen nightlife in much of the same way that the hotel itself has helped redefine the town's hotel scene. The highest point in Playa del Carmen, the iconic space features two restaurants (including Catch), an infinity pool, and a series of opulent cabanas, as well as late-night parties featuring a live house DJ and drink specials.
The hotel operates in a similar way in regards to experiential tourism; for guests hoping to explore outside of downtown Playa del Carmen, the Thompson partners with local tour operator Mexico Tropical. Compared to some of the larger operators, this boutique agency focuses on curating small trips to landmarks that best represent the local flair of this area of Mexico. A tour, for example, may include a trip to the Tulum ruins and snorkeling in a local cenote led by a tour guide that speaks the native Mayan language, topped off with lunch at a cozy beachfront taco shack.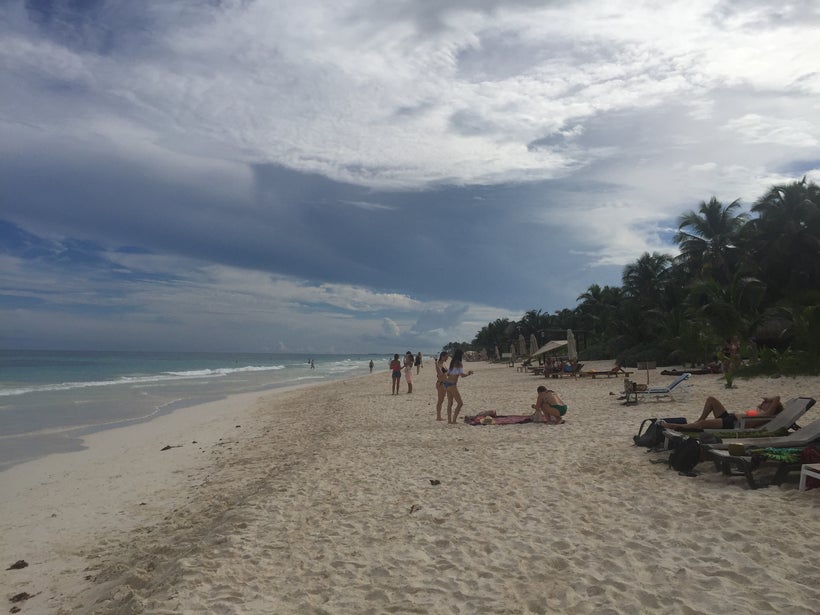 Yet while the Thompson may be leading the charge towards a new age of Mexico tourism in Playa del Carmen, it's not the only property that's forgoing the all-inclusive model for one based on luxury travel. The recently reopened Esperanza, An Auberge Resort, a five-star Relais & Chateaux property in Cabo San Lucas, offers guests a retreat both geographically and experientially distant from that of Mango Deck or Squid Row. Instead, those staying at this beachfront resort are treated to the onsite Cocina Del Mar restaurant, architecture built into oceanfront cliffs, and a beachy, indoor-outdoor design. Inland in Mexico City, properties such as the Presidente InterContinental Santa Fe Mexico, Habita, and W Hotel Mexico City lead the charge in harmonizing the capital's renowned party scene with a luxury travel experience.
So if you haven't been to Mexico in a while, it's about time you give it a second look—and a second chance.
This post was published on the now-closed HuffPost Contributor platform. Contributors control their own work and posted freely to our site. If you need to flag this entry as abusive,
send us an email
.