UPDATE: 5:30 p.m. -- A 15-year-old girl who ran away with a recently-divorced family friend, age 37, was found Tuesday afternoon, according to WXYZ-Detroit.
The two were both discovered in a field in Northville, Mich., near the town they left together on Sunday. Messer was arrested, according to WJBK Fox 2. WXYZ said they were transported to separate hospitals to be treated for "self-inflicted 'superficial' wounds to the wrist," the TV station said.

Earlier..
A Plymouth, Mich. mother is "in disbelief" after reading a letter from her daughter saying she had run away with a 37-year-old family friend.
Police are now searching for Robert Louis Messer, who had arranged to take the 15-year-old girl to nearby Ann Arbor to go hiking and take photographs on Sunday, the Detroit News reports.
The divorced Messer had been a family friend for a decade, ever since they met in church. The missing girl's mother said she never worried about him.
But on Sunday, she received a call from Messer's mother, who told her the pair had run away together. The age of consent in Michigan is 16. According to the Plymouth Police Department, she celebrated her 15th birthday on Sept. 24.
Both of the individuals left behind a letter for their respective family members, which the girl's mother read aloud, the Detroit Free Press reports. They also left their cell phones and all their clothes at home. Police say they have no money, according to WXYZ, and are probably trying to avoid being traced.
"We are going today, she and I, because we have to -- not because we want to leave you," Messer wrote. "We are in love and cannot be apart from each other. This is sad to us but our love, though we've had to keep it a secret, has been the best part of both our lives. Please be happy for us."
Messer filed for divorced last year and has a son from his first marriage, whom he left behind. The girl's mother, who has five other children, was recently remarried.
She said she and Messer's family took camping trips together.
"She always looked up to Bob as a dad, as a father figure," her mother said to WXYZ. "They're both very introverted. They both love photography and they both love hiking."
When asked what she'd say to her daughter, the Detroit Free Press notes, she only had this to say: "Come home."
Messer picked up the girl Sunday morning around 7:30 a.m. in his two-toned 1991 Ford pickup truck, which has a license plate of CNS 2754, according to police.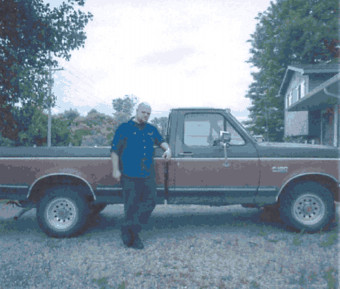 Robert Louis Messer, photographed in front of his two-toned 1991 Ford pickup truck. (Photo courtesy Plymouth Police Department).
Anyone with information is asked to contact the Plymouth Township Police at 734-354-3250.
Editor's note: Information that may identify a minor involved in this story has been removed to protect her privacy.

BEFORE YOU GO