"I'm really excited about Season 2 because I feel like the show has found its stride, where it wants to live," Enos told The Huffington Post on Wednesday during a Build Series interview. "It's funny this year ― it runs right up, borderline farce at some points. And big love stories. It's sweet. Technically it's still a drama, but we're a rom-com." 
Season 1 ended with Ben (Krause) proposing to Alice (Enos) in front of the Kensington firm before he took the fall for her after she was arrested for stealing a Maria Kreyn painting. But with Ben behind bars this season, will their romance even last?
"It'll feel very different," Enos said. "The first season we had the obligation of this betrayal, right? So that brought in a lot of the drama, but at the end of Season 1, Ben makes the ultimate sacrifice. Season 2 we come back, they're in love, they're together, so a lot of that drama we got to take off of our plate and it gave us room to lean into the comedy, to lean into the love story."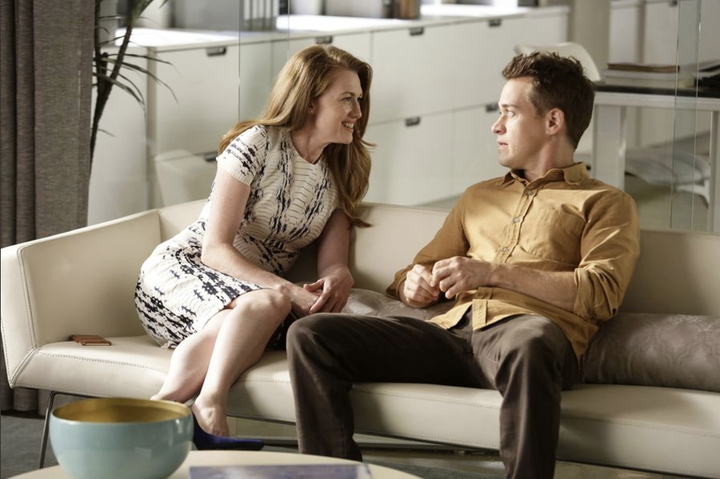 The conniving Margot (Sonya Walger) really messed things up last year and, according to Enos, she'll be doing the same in Season 2. Plus, she'll have some company in "Grey's Anatomy" alum T.R. Knight, who is returning to ShondaLand to play Alice's wayward sibling Tommy.
"There's a new character that T.R. Knight plays of Alice's brother and he brings a world of trouble with him," she insisted. 
We have a feeling this new romantic-comedy version of "The Catch" might be just what the doctor ordered. 
"The Catch" Season 2 premieres Thursday at 10 p.m. ET on ABC. Watch the full Build Series interview with Mireille Enos below. 
BEFORE YOU GO
PHOTO GALLERY
11 Reasons To Get On Board With Shonda Night