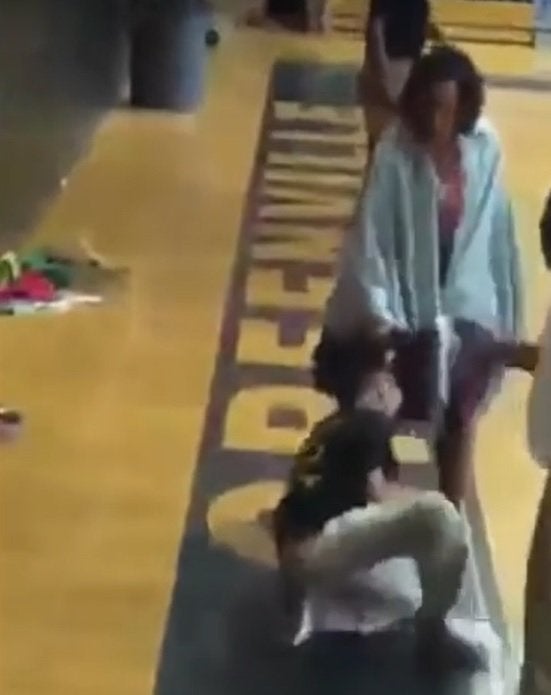 A Mississippi teacher, fired after a video appeared to show her abusing a special needs student, has been ordered to stand trial.
Washington County District Attorney DeWayne Richardson said a grand jury returned an indictment Monday charging Linda Winters-Johnson, 53, of Greenville, with abusing a vulnerable person.
The disturbing three-minute video, uploaded Oct. 6 to Facebook, appears to show Winters-Johnson, then a special needs teacher, pin a student to the gym floor before grabbing the child by her hair and dragging her across the floor, according to the state's Office of Educator Misconduct.
A second video, posted the same day, appears to show Winters-Johnson hit the child with a thermos.
The student, who has not been named, has been identified by local media as a special needs student.
The American Civil Liberties Union of Mississippi issued a statement after the incident was made public, saying, "We are hopeful and confident that Greenville school officials, community leaders and the community at-large will take appropriate action."
"The district is totally shocked by this incident," Greenville Public Schools Public Relations Specialist Everett Chinn told Jackson's WJTV News. "That behavior is not something that we will tolerate in Greenville schools, and it's not what Greenville Public Schools is known for."
The school board reportedly disciplined a second employee and placed Greenville Public Schools Superintendent Leeson Taylor II on paid leave.
According to The Associated Press, school board officials said Taylor was not forthcoming about how severe the incident was.
"We got a notice, but the severity of it was not provided to the board," Board President Loretta Shannon told the AP. "That didn't happen until the video came out on Facebook."
The Mississippi Department of Education is now seeking to revoke Winters-Johnson's teaching license. A revocation hearing has been scheduled for Dec. 7.
Winters-Johnson has not been arrested. She is scheduled to appear in court on Dec. 13.
The penalty for abusing a vulnerable person, a misdemeanor in Mississippi, is up to one year in jail and a fine of up to $1,000.
Attempts to reach Winters-Johnson for comment were unsuccessful. It's not clear whether she is being represented by an attorney.
BEFORE YOU GO
PHOTO GALLERY
Teacher-Student Sex Abuse Cases