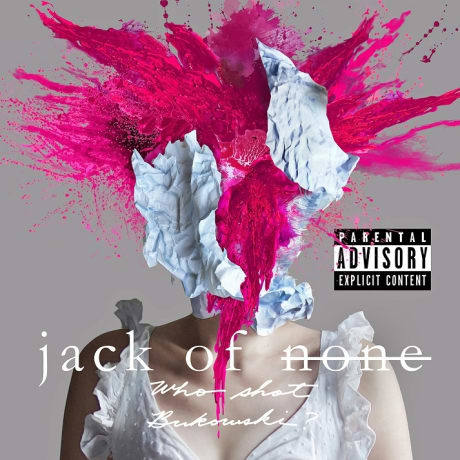 Jack Of None recently dropped a new album, called Who Shot Bukowski? And it's hecka-good, as in lit! The band is split between Manila, Philippines and Chicago, Illinois. Jack Of None consists of three siblings: A.G. Syjuco on guitar, bass and synths; Maxine Syjuco, poet-songwriter and vocalist; and Julian Syjuco on guitar.
Stylistically, Jack Of None is billed as an experimental rock/art band, but there's a lot more to their sound than experimental rock and art. First of all, it's extremely sui generis, emanating a distinctive sonic quality unlike anything else. Yet at the same time, there's an elusive familiarity to it, providing it with a mainstream flavor that separates it from the usual cacophony of experimental rock. Secondly, it contains elements of electronic music, garage rock, blues and new wave. All these elements combine to produce music jam-packed with a raw, rude, harsh-textured energy, almost palpable with dark resolves expanding on numerous sonic axes.
Who Shot Bukowski? contains ten tracks. The first track is "Strangest Bedfellows," which begins immediately, without an intro. A harsh, mechanical groove sets the beat while Maxine's resonant voice rides over the melody, which is unrelenting in its intensity. Electronic background harmonics give breath to scurrilous conjectures, while adding depth and layering. The intro to "Sticks and Stones" consists of an early warning beep, followed by a melody that borders on chaotic, heavy with an industrial feel. The guitar solo, enveloped in Maxine's staccato vocals, is raw and viciously evocative. "Sticks and Stones" is one of my favorites on the album.
"X-Y-Sex" starts off with a dark guitar-driven melody riding on industrialized percussive effects. There's a hint of new wave running through the melody at subterranean levels. The lyrics convey the disparate status of sex in today's world: "When the woes of the real / Are writing out our whens / While the whys / Oh the whys / Wretchedly unwind / All the virtues of our sins / Just like bleeding violins."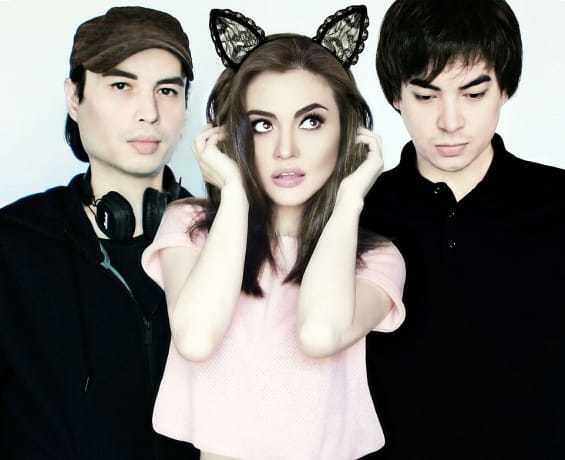 "Dear Georges (Vous Petit Monstre)" begins with tick-tock percussion, followed by discordant mechanized synth effects that provide secretive resonance to the tune. When the guitars ramp up, the intensity of the melody increases, as does the psychic aura of Maxine's wicked-sounding voice, a voice that descends to an impervious whisper. "The Brainwashers" presents a passionately strident melody that radiates an exacting actinic tinge. Harmonics from the synth mingle with Maxine's severely tight sighing vocals, as the lyrics flow with a muscular hip-hop-like cadence.
"Polyamorous Serial Monogamist" blends a new wave sensibility with fusion jazz elements, coalescing into a melody of cogent simplicity that's charmingly malevolent. Thick guitars punctuate the melody periodically, providing an encrusted effect. Maxine's sing-song articulation complements the melody with convulsive intensity. "The Princess and the Pistol" exudes a sense of imminence as the melody rides a shrill guitar and synth effects, like an incubator for a collection of neuroses. Maxine's mesmerizing voice adds to the eccentricity of the music's opaque density.
"Little Devil Girl' opens with a stylish guitar and a thumping groove that echoes mechanical sound effects. The mechanical/industrial feel of the song is almost desiccated, yet still emanates a bizarre multiplicity of layering that really works. This is another of my personal favorites because there's a monster-like sonority flowing out of the music.
The last track on the album is "Tenderly, She Said," riding a slightly jarring groove and a fuzzy, filtered guitar that's bright with intensity. Maxine's whispered vocals mirror and balance the chiming background synth. In fact, Maxine's voice is indispensable throughout the ten songs on the album. It oozes with the stillness of an implacable force brooding over an inscrutable intention. Put simply, it's an extraordinary voice, capriciously devious, but beautiful.
Jack Of None has it going on! Cogent melodies shaded with new wave, industrial resonance, lyrics replete with extravagant tropes, excellent arrangements and Maxine's waspishly attractive vocals make Who Shot Bukowski? a winner.
Preview Who Shot Bukowski? here.
This post was published on the now-closed HuffPost Contributor platform. Contributors control their own work and posted freely to our site. If you need to flag this entry as abusive,
send us an email
.