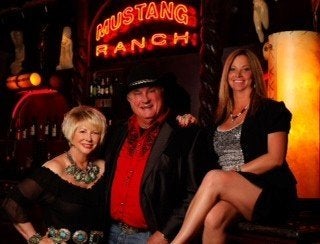 "Mustang Ranch: Labor of Love," a new reality show about a legal brothel, is coming to HDNet.
The new series about the first and oldest legal brothel in America debuts Thurs., May 10.

"We are beyond excited to open the doors of the Mustang Ranch to HDNet viewers across the country," Lance Gilman, Mustang Ranch owner, said in a statement. "There's a very compelling 'Wild West in 2012' story that we're eager to share, and it's so much more than most people might be expecting."
The show will follow Gilman and Madam Susan Austin who built and run the Mustang Ranch Resort. The half-hour episodes will also feature other various staffers, the working ladies and regular clients. Mustang Ranch Resort became the first legal brothel in 1971.
This isn't the first brothel reality show. HBO has followed the adventures of Dennis Hof and the ladies of the Moonlite BunnyRanch since 2005. Helen Mirren's 2010 film "Love Ranch" was loosely based on events that took place at Mustang Ranch.
In a press release, "Mustang Ranch: Labor of Love" is described as a "profound love story between Lance and Susan, and their unflinching commitment to providing a safe, sensual and emotionally supportive environment for the people they employ, and the public who understand and appreciate the world's oldest profession."
BEFORE YOU GO